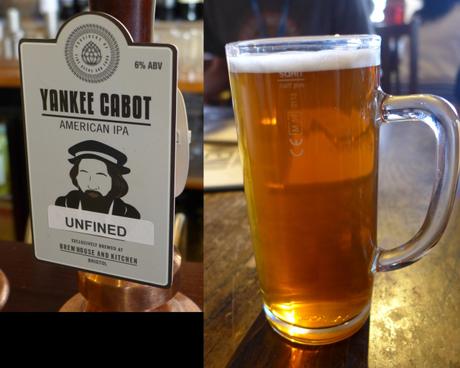 Brewhouse and Kitchen (Bristol): Yankee Cabot (England: IPA: 6% ABV)
Visual: Hazy off gold. Thin browned to off white head. Still main body. head leaves suds.
Nose: Dried apricot. Kaffir lime. Soft lemon. Light cream.
Body: Lightly creamy. Kaffir lime. Bready. Low bitterness. Kiwi fruit. Dried apricot.
Finish: Bready. Starting low, but rising to middling bitterness. Key lime pie.
Conclusion: It is a pity that they didn't have the keg version of this on as well – I would love to have done a head to head comparison. unfortunately as they are just starting out the keg availability is limited. Still, a real ale IPA – been a while since I have done notes on one of these. Should be fun to be back.
The base of this reminds me a bit of Acer from Bristol Beer Factory. It has a fair bready and solid base – not as much bitterness as I would expect – it is there but plays the long slow build game rather than hitting you up front. Over that bready base the flavours are soft gentle green fruit that use the real ale style to blend together nicely.
For an IPA the bready base does feel a bit too heavy – I compared it to the Acer from BBF which is a bitter and the base feels a lot closer to that. I think it needs a bit more room to let the hop flavours roam. However despite that it does manage a good dried fruit sugar sweetness that pokes through nicely. It is more the softer fruit elements which are held back by it.
With the hop level and base I do think more pale ale than IPA – apart from the abv it doesn't seem to own the style it is using. I think it would work better like that, flavor wise it is more towards the session end of the scale. It is a solid beer though – and has a good flavor profile for the most part. If they can tinker with the base this could end up as a very good ale. As is it is a solid but unspectacular one.
Background: I heard that this had opened up a while back, a new Brewpub in Bristol – part of a group of Brewhouse and Kitchens – though it seems each brew their own unique beers. So, when my friend and I were in Bristol I decided to give them a try. This is the cask version of the beer. Bias disclaimer: The people at Brewhouse and Kitchen gave a great friendly reception, and some free beer after I had done the notes – As always I have tried to not let this affect the notes, but feel full disclosure if always for the best. Many thanks to them for the hospitality.