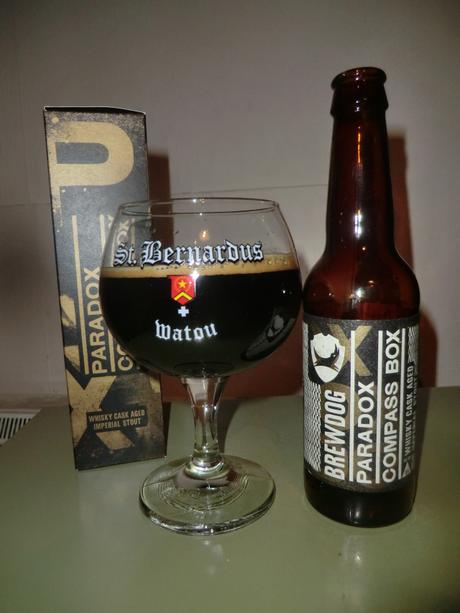 Brewdog: Paradox: Compass Box (Scotland: Imperial Stout: 15% ABV)
Visual: Black. Still. Froths up brown, but soon descends to a brown dash over the body.
Nose: Thick toffee. Boozy caramel and salted caramel. Coconut. Fresh custard doughnuts. Shaken bag of liquorice allsorts.
Body: Smooth bitter chocolate. Toasted teacakes. Cadburys' fudge fingers. Coffee. Boozy caramel. Bourbon. Froths up easily.
Finish: Bitter chocolate. Bitter coffee. Touch of Turkish delight. Toasted teacakes and butter.
Conclusion: Should I praise a beer for having an awesome aroma, or get shirty as it fronts what the body can't back up? I guess it depends on how my day has gone so far. So, not too bad today. You get the cheery version of the pretentious beer blogger today!
The aroma is thick and boozy, full on caramel in a salted style, backed by my favorite ever Imperial Stout note – coconut! If I could have a beer that was the very essence of its aroma, then I want this beer!
Oddly, despite my comments, the body provides much of the same – so why did I give it shit earlier on? Probably the lack of coconut in the body. Seriously I love coconut notes in my imperial stouts. It's my thing. There is also a lovely toasted tea cake character, and it still pushes the sweet notes large. Normally I find overly sweet beers a tad one note, but here the oak seems to have done something a tad unusual. Instead of the expected whisky notes, it seems slightly closer to sour bourbon – a subtle hint, but combined with the toasted tea cake it balances the sweetness very well. Finally the finish emphasises more bitter notes, underlying the whole experience.
So, yeah, my disagreement with the body basically comes down to the lack of coconut. You can't promise me coconut and then snatch it away!
So how is it? Well, despite the well done offset notes it still is very heavily on the sweet side. Also it lacks coconut and I hold grudges. It is however a very good imperial stout. The compass box doesn't seem to have brought quite the same complexity here that they do in their blended malt whiskies – but I'm not complaining at what they did bring.
While I am spoiled in high quality barrel aged imperial stouts, insanely spoiled, I still very much enjoyed this. Not so stand out to be one of the top in the world, but it has no real flaws to call out. Ok no flaws that aren't coconut related.
Background: Yet another of Brewdog's whisky aged imperial stouts. I'm not quite sure how this one works. Compass Box do blended malts – so take malt from many different barrels and mix them together. How does that work with barrel aged beer? Do they age some in each different cask? Or is there a final cask the whisky is married in and is this used for ageing? I am unsure. Anyway, as always I am not an unbiased actor on Brewdog beer.