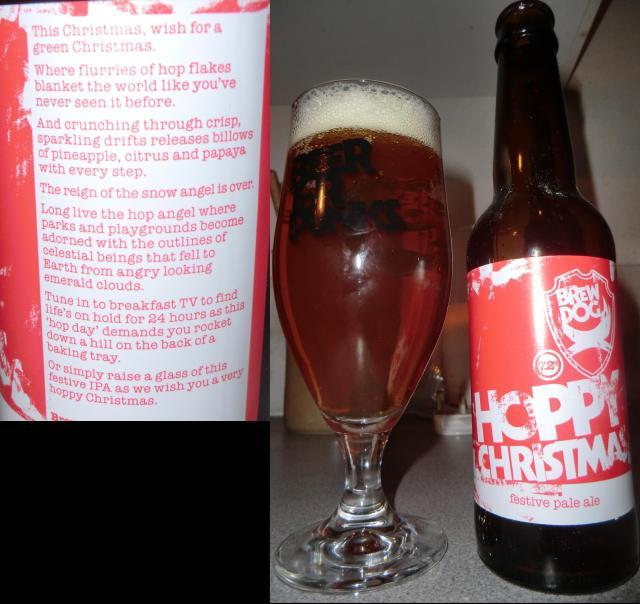 Brewdog: Hoppy Christmas (Scotland: IPA: 7.2% ABV)
Visual: Clear gold, low carbonation. A good size of white froth for a head.
Nose: Hops. Aubergine. Nicely bitter  and sweet cream behind. Buttery shortbread. Gingerbread touch.
Body: Sweet apricot. Bitter hops. Cream. Glacier cherry sweetness. Aubergine. Toffee malt.
Finish: Rising bitterness. Digestives. Cinnamon. Cream. Toffee.
Conclusion: After putting IPA Is Dead Simcoe on my favourites list a few weeks back I find this wonderful beer turning up which promptly takes it's place.  Holy heck this is a good use of Simcoe. That odd vegetable touch, great bitterness matched to a toffee sweet body with apricot fruit.
The joy of IID Simcoe was that it didn't go too big, and therefore gave the hops lot's of room to play without getting overwhelmed by either sweetness or bitterness.  This pushes the envelope a bit further, rising everything up a notch but without losing what made IID a joy. More sweetness and more kick, but still manages to leave the hop flavours in the limelight
The bitterness is still bracing, but not enough that it will punish an experienced hop head. The sweetness more than matches with odd cherry like elements adding unexpected character around the main flavours. It doesn't push the odd Aubergine flavours as much as IID, but gives more apricot which is probably what is hiding that element. The more restricted greenery is probably the only flaw, and probably only a flaw to people like me who love that element of the hop.
Still, it does trade off for that great drinkability between sweetness early on and growling hops later. You could drink this all too easily, and while it was on tap I often did.
Not a Christmas themed beer in the slightest, unless you count the fact it is a gift to drinkers everywhere. Bloody good though, and one of the best beers I have had for a long time. Very nice.
Background: If I remember rightly this is a single hopped IPA made with Simcoe, which is a hop I am growing to love. I've drunk this many a time at Brewdog Bristol, but they have run out now. So it is time to review my last bottle. Thinking I should maybe have bought more. As always I am not an unbiased actor on Brewdog beer. I am not a huge Christmas fan however, but can live with it. Drunk while listening to The Kominas: Wild Nights In Guantanamo Bay. Appropriate Christmas listening I am sure.