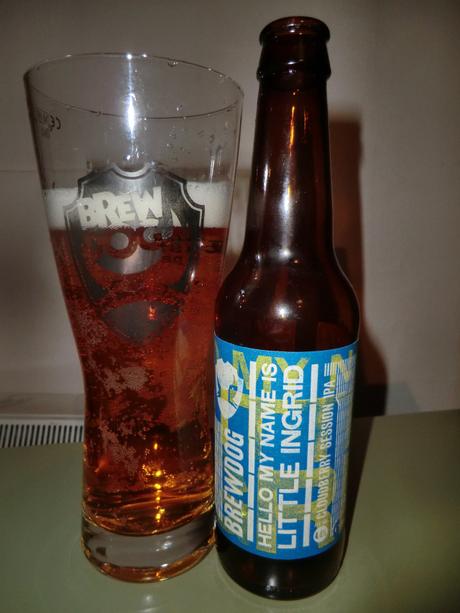 Brewdog: Hello My Name Is Little Ingrid (Scotland: Session IPA: 4.4% ABV)
Visual: Browned gold. Moderate off white head. Clear body with some carbonation.
Nose: Musty hops. Tart berries. Loganberry. Toffee and digestives.
Body: Prickly. Turmeric. Some bitterness. Brown bread. Light kiwi. Tart sour berries. Moderate prickly hops and bitterness. Dry. Toasted teacakes.
Finish: Brown bread. Turmeric. Tart gooseberries. Bitter hops. Earthy. Peppery touch. toasted teacakes. Toffee.
Conclusion: There are session IPAs out there I like. Honest. Despite the style's stupid name there are ones I highly enjoy and would recommend. This is not one of them.
OK, bit of a bad start there. May have put some of you off. Let's work on this. For all I would not recommend this overall, it does have the base elements down pat. The texture is nicely thick, especially considering the lower abv. They have the bitterness level racked in just right so to give a kick but still leave room so you could drink more. All the workman elements are locked down. However that is it. The part where it should shine is instead where we start hitting issues.
The hops feel slightly earthy, with a distinct lack of the huge amount of fruit that the hop load described should be capable of turning out, the added berries give some tart notes which are pleasant but without a real heft to them. If the hop flavor was up to the job then the berries would back it up well, on its own it can't do much against the base bitterness.
A much weaker beer than grown up Ingrid, and not just in abv. I think if they want to do this again in the future with other of the "Hello My Name Is" series then they really need to rework the recipe as this is not it. It delivers about the very base of what I would expect from an IPA but little more.
Background: So, I enjoyed Hello My Name Is Ingrid – a cloudberry infused double IPA, when it first came out – and later batches have gone from good to awesome. This is the session IPA take on the idea. Session IPA .. still sounds wrong as a term.. anyway. I think this is intended as a Sweden only release in bottles, but I could be wrong. As you may guess from the fact I am writing this, that is not 100% strict. Anyway, as always I am not an unbiased actor on Brewdog beers. Drunk with a bit of Dead Kennedys – Fresh Fruit for Rotting Vegetables in the background. Always up for a bit of old school punk, and it seems to suit Brewdog beers for me.