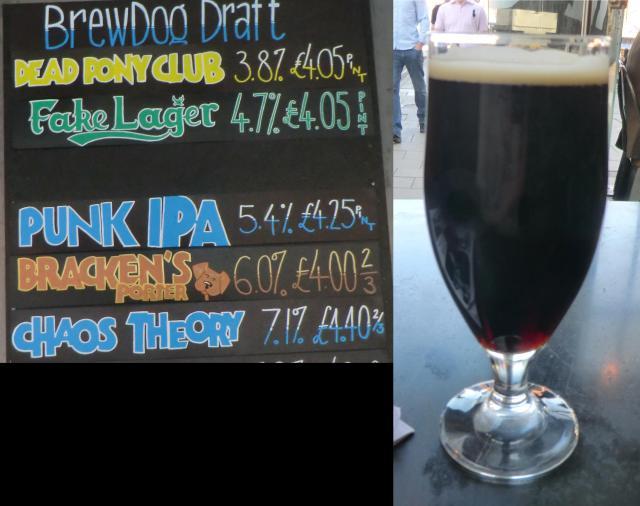 Brewdog: Bracken's Porter (Scotland: Porter: 6% ABV)
Visual: Very dark red to black. Coffee and cigarette ash dash for a head.
Nose; Bitter coffee. Smoke. Dry. Quite roasted. Dry roasted peanuts. Some milky chocolate undertow.
Body: Quite bitter. Liquorice toffee. Treacle. Slightly chalky. Coffee and chocolate liquore. Aniseed.
Finish: Bitter coffee and treacle. Smoke. Chalk. Toffee. Aniseed again. Dill and mint. Hazelnuts.
Conclusion: Ok, a beer brewed to mark a beloved brewery dog's passing. Deep breath and try best to impartial on the review. With all respect and commiserations to Brewdog, here goes.
It is an oddly treacle and aniseed influenced porter, bitter, especially on the aroma but feels like there is something more viscous squirming in its guts.  At the current moment of the first sips of drinking it feels too heavily chilled.  As a result the main body becomes slightly thin with the treacle trailed through. I've got a book with me (William Gibson: Neuromancer – never read it before, very much enjoying so far) so I'm going to read a few pages and give it some time to warm up, lets see if that helps it integrate the elements a bit.
Ok, ready to go with the warmer drink, just a few thoughts that came to mind while I was reading first. The beer does bring this light herbal touch when chilled and also a mix of aniseed and smoke. It is almost Christmas beer like flavours but done with a very light touch. The base elements tend towards dry bitter coffee, more on the nose, but present throughout.
Anyway, yes, beer warmer now, lets go. The texture has thickened nicely, the treacle now coming in heavier than the coffee – almost overpowering it. It is more satisfying if slightly sickly, though the chalk elements in the base come into their element now working to prevent it becoming overly syrupy.  There is coffee but now like a shot of coffee liquore in the mix.  The best part of the warming is a nice soothing dose of hazelnuts have come out. It really is a beer that is heat reactive and the more it warms the more this best element of hazelnuts comes out.
Overall a tad off balance, a bit thin when cold and a bit treacly when warm. Definitely better warm though, the hazelnuts dominate over the herbs and makes for a pleasant enough sipping beer that is lightly nutty and easy going. As said, it is off balance of the mouthfeel, but not bad. Not one of the greats and not as great as the dog that inspired it, but not bad.
Background: Bracken was part of Brewdog from the beginning, the dog that most likely inspired the company name. He passed away recently and this beer was brewed in memory.   Which does make it slightly awkward to review.  My sympathies to everyone at Brewdog. I never had the chance to meet Bracken when I visited the brewery but you could see the love everyone had for the dog. As always I am not an unbiased actor on Brewdog beers. Oddly while the board said 6% abv, everything else I have seen refers to it as 5.1% abv. Huh. I have no idea.