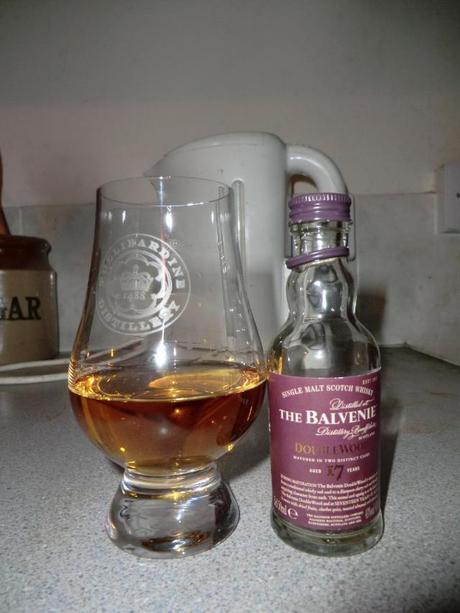 Balvenie: Double Wood 17 (Scottish Speyside Single Malt Whisky: 17 Year: 43% ABV)
Visual: Burnished gold.
Viscosity: Very slow thin streaks.
Nose: Pencil shavings. Menthol. Rum raisins. Battenberg. Meringue. Honey. Water emphasizes the raisin elements.
Body: Smooth feel. Fudge. Large amount of oak. Raisins. Raspberry pavolova. Some alcohol. The alcohol eases with water and adds cake sponge, custard. Treacle, spicy orange and blueberry.
Finish: Wholemeal biscuits. Raisins. Gin air rises. Water adds fudge cake and treacle. Then some dry oak, custard and chocolate.
Conclusion: Age and maturity, wisdom and…flavour? I'm not quite sure where I was going with that. Probably something about one does not always mean the other. Anyway, another double wood, this time with a few more years on it. Let's go.
There are a lot of touchstones shared between the two whiskys. The cakes sponge character, here pocked with fudge. The blueberry notes. The toffee and other such sweet notes. The biggest new note is the obvious massive raisins and dark fruit influence that has come with the extra years.
Taken neat this really doesn't hold up that well. It is over oaken and somewhat closed off. With a bit of water play it becomes much better. The texture is always smooth in that way that comes with age, but the water removes the alcohol fire that seems to still hold on otherwise. Even better is that the blueberry really comes out here, playing well with the raisins and playing well against the fudge cake in a very satisfactory way. Add in a touch of spice orange and it finally completes the flavor set it needed.
Other elements that didn't match so well also fade, with the menthol element diminishing. There is still a slightly odd air to it though that does not die easily, taking more water to drown.
Overall it is solid, and I like the fruitiness and extra weight that comes in here, but it just isn't exceptional. Without water it is very meh, with water it is much more solid, but everything feels like it could still shine more. It is like the base character is just a touch too leaden.
Not bad, but the Caribbean rum version gives much more for less.
Background: last of the three Balvenie's in the mini sampler set. This one an older 17 year take on the double wood. This has been aged in both bourbon and sherry wood. So Double Wood. Pretty simple really. This was picked up from Independent Spirit of Bath.