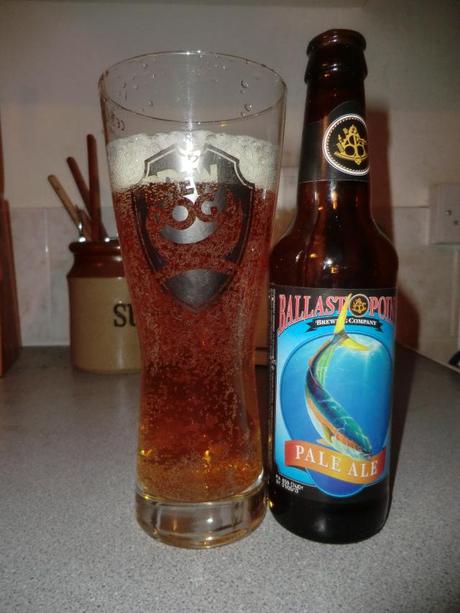 Ballast Point: Yellowtail Pale Ale (USA: Kolsch: 4.6% ABV)
Visual: Clear grain golden, a slight haze at the base of the beer. Lots of small bubbles for carbonation. Moderate off white bubbled head.
Nose: Apricot. Sour Dough. Slightly cloying. Biter and grit.  Lemon sherbet. Floral.
Body: Lemon sherbet. Bitter hops. Light lime. Dried fruit. Sultanas. Dried apricot and cream. Slight fizzy feel. Pineapple.
Finish: Apricot. Solid bitterness. Light liquorice. Dry. Sultanas. Sour dough. Eccles cakes. Gooseberry.
Conclusion: A quick look up online indicates that this is, despite its name, a Kolsch.  Which explains a lot. Now just give me a minute to recheck my expectations and return to the beer.
It does explain the lager like color and the fact that there is the sour dough elements coming in with the clinging bitterness. Refreshing yet almost cloying with the contrasting elements.
Initially the flavor keeps to dried apricot and hops, with a very light hint of sultana dark fruit underneath.  Sweet, but with gritty elements from aroma throughout.  Almost like fruit plants bursting up through concrete. While initially simple as time goes on you realize there is a good bit of play there, solid flavor and bracing bitterness. Mostly light fruit including a nice pineapple chunk coming out after the half way point, but with some darker fruits hiding in the depths. I'm not a big fan of the dry liquorice in the finish but apart from that it does decent with a growing juiciness that really helps it out on the refreshing stakes.
It is in fact surprisingly juicy for a Kolsch, which manages to not compromise the bitterness despite creditable amount of fruit flavours. It isn't exceptional, but solid and drinkable.  Very much a warm day wake up call. Liquid refreshment for the tongue and hop hit to keep the brain going.
Not a must drink beer, but it brings a lot to the style with a good amount of flavor behind the bitterness.
Background: Well I presume this is the Yellowtail pale Ale. The bottle image is the same but just says "Pale Ale". I've done a bit of googling and I'm fairly confident it is the same beer. If anyone knows otherwise please give me a heads up. Kolsch is an odd style, top fermented like and ale, then lagered.   The last of the Ballast Point beers I have in the cupboard for the moment. Drunk while listening to "The Offspring"- Smash album in a bit of a retro moment.  While they are pretty pop punk they were the band that got me into the punk scene so I've still got a bit of a soft spot for them.