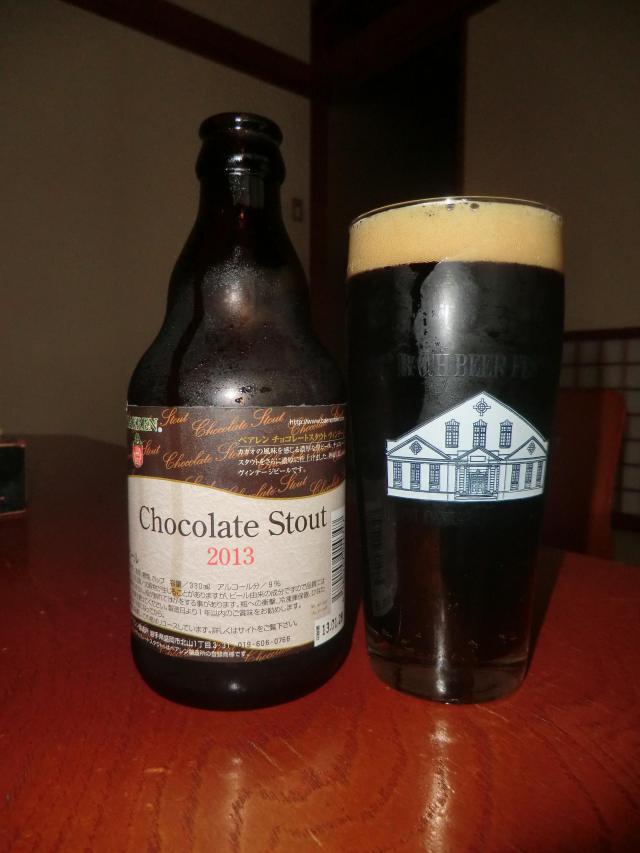 Baeren: Chocolate Stout: 2013 Vintage (Japan: Imperial Stout: 9% ABV)
Visual: Black. Moderate creamy head of a milky chocolate color.
Nose: Roasted. Peanuts and hazelnuts mix. Grated chocolate orange.
Body: Milky chocolate. Dry roasted peanuts. Noticeable alcohol. Big molasses. Very sugary sweet. Blue berry. Treacle. Chocolate orange. Toffee.
Finish: Gin. Bitter chocolate. Dry roasted peanuts. Liquorice and treacle. Cherries.
Conclusion: This is big and boozy. The alcohol isn't even attempted to be hidden. It uses a  thick treacle like alcoholic middle and the gin like air to the finish to let you know exactly what you are drinking.
The thing is, that is a big flaw, but they proper kick a wodge of flavor at you with it.
The chocolate is thick and heavy, textured and flavoured like treacle, and matched with sweet toffee flavours. That syrupy texture seems to be a big element of both the alcohol kick and the flavour, and as it rides out into the bitter chocolate finish I wonder how closely intertwined the two are.  It even manages to bring some chocolate orange and blueberry complexity with it.
It is like the anti-Swan Lake Imperial Stout, where that was very smooth to the point that the flavor had to take time to build up, this rushes to show you all its charms in the first thirty seconds.
It keeps well to style expectations with lots of dry roasted nut flavours in the mix as well. The rough edges of booziness means that it definitely lacks technical proficiency but it sure is fun. For all the strong alcohol booze feel it manages a thick and slick beer in a very satisfying fashion.
Rough edged but well flavoured, it you can live with a booze hit that feels Like Brooklyn Black  Chocolate Stout made ever more heavy and then some, then give it a shot.
Background: Picked up from Kyoto. Had in Takefu. Haven't I used those words before? Didn't know much about this brewery but decided to give it a go. For some reason it has "We don't forget Jan 11" (I can't see the year at the moment) on the bottle. If anyone knows why, please let me know. Anyway. I enjoy Imperial Stouts, but try not to drink them too often lest they lose some of the fun.