Splitting my time between Cape May, NJ and the Hudson Valley allows me to explore the beverage makings of Cape May while it is not tourist season.  On our way home from the boat show in Atlantic City we stopped at Cape May Brew Company to have brew and drool over the boats we saw.
The last time I tried to visit the Brewery it was Memorial Day and I couldn't get in the place.  The middle of winter is a much better time to explore.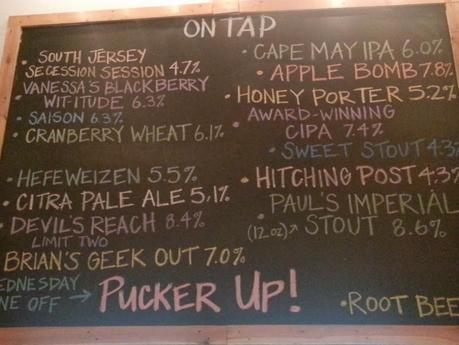 Explore I did with the sampler of 5 beers.
The beer I liked the least was the first one I tried..South Jersey Secession Session Scottish Ale (ABV 4.7%).  This beer is malt heavy and lightly hoppy ale.  My tasting note comments were eh.
Moving on to the Saison (ABV 6.3%) this is a refreshing medium to strong fruity and spicy ale.  You can taste the coriander it was brewed with which gives it a nice unique flavor.  I thought the beer tasted better as it warmed up and the flavors became more apparent.  Oh, my, similar to wine.
Brian's Geek Out (ABV 7%) is a Belgian Rye IPA and will definitely be a summer favorite.  If you are a Sauvignon Blanc wine drinker this is the beer for you.   This beer is finished with a touch of white wine and if I understood correctly, they used a local Sauvignon Blanc.  This beer is refreshing with hints of grapefruit.  A summer keeper
CIPA - Centennial IPA (ABV 7%) is intensely hoppy and a strong pale ale.
Bourbon Stout (ABV 4.3%) I am beginning to like this Stout beer.  Maybe it's age and my tasting buds have changed, but I never use to like dark beer.  This was really good.  They infused bourbon-soaked oak chips for two weeks to add to the flavor of the beer.  A must try, although it was a little on the sweet side.
Paul went for the gusto and ordered the Devils Reach (ABV 8.4%) The limit you to two of these.  Honestly, if I just had one, I'd have a good buzz on.  I did take a sip of it and liked it, but know I won't remember in the morning if I had one.