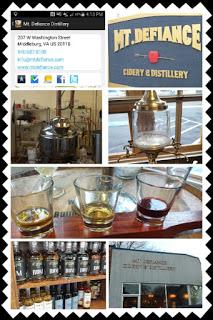 The Middleburg AVA is a popular destination in Virginia wine country and a couple years ago Mt. Defiance Cidery augmented the area wine offerings with craft cider. Soon afterwards the distillery section of the operation came online providing visitors an opportunity to sample classic spirits. And in past year Mt. Defiance Distillery has expanded their portfolio to now include three Rum offerings, Apple Brandy & Liqueur, Cassis, and Absinthe.
Because of the screwy Virginia ABC regulations, cider is sampled in Mt. Defiance's tasting room and the spirits nearer to the distillery. Visitors are allowed four one ounce pours of spirits per day. The distillery, like others in the Commonwealth, provide a range of cocktails so visitors aren't forced to sample neat. However, neat was my preference and so between two of us we chose the Amber Rum, Dark Rum, Apple Liqueur, Cassis, and Absinthe.
According to Distiller Peter Ahlf, previously the Amber and Dark rums were both aged for 6 - 8 months in small (15 gal) used rye barrels.  The difference is that Ahlf adds caramelized sugar to the Dark Rum just before bottling. Check your bottle label because Batch 12 was aged for 14 months in a 55 gallon used bourbon barrel and Batch 13 was a blend of 12 and previous methods. I don't know which version I sampled but the Dark Rum does have a pronounced honey-caramel profile when compared to the Amber - which is very smooth with a lighter honey accent. Both are very nice, but I preferred the lighter Amber style.
The Apple Liqueur is produced using a mash of sweet cider with crushed apples which is mixed with their Apple Brandy and additional sugar for sweetening. (The Brandy is produced by aging distilled hard cider and hen cutting to 80 proof). Thus, the liqueur is lower in alcohol at 50 proof / 25% alcohol and a bit on the sweeter side.
Cassis is a liqueur made from blackcurrants and Mt. Defiance's version is excellent. Ahlf says that his goal was to emphasize the liqueur's bright fruit flavor over sweetness and he succeeded. There's no syrupy or gritty sugar texture and the blackcurrant flavors are prevalent. Ahlf also mentioned that beet sugar worked much better than cane sugar as a sweetener. Interesting. 
The final spirit we sampled was the much anticipated Absinthe as Mt. Defiance utilizes the traditional brouilleur (water dripper) and sugar cube to prepare the spirit. They also use traditional ingredients such as Virginia grown Grand Wormwood, Lemon Balm and Hyssop; Aniseed from Andalucía, Spain; and Fennel Doux from Provence, France.  In general I'm not a great fan of Anise based spirits, but this Absinthe was rock solid - not overly liquorish - but relatively smooth. I was pleasantly surprised on this one.
To help navigate to Mt. Defiance or any of the Middleburg area wineries check out theCompass Winery, Brewery, Distillery Locator Mobile App. Cheers.