A weekend at TASTE!  Philly food wine and spirits event at the Valley Forge Casino…filled with lots of good food, wine and spirits ..and Celebrity Chefs… Thanks to all who stopped by my booth to sample Kangaroo Pita bread with the recipes from my Gourmand World Award Winning book The Basic Art of Italian Cooking: Holidays and Special Occasions-2nd edition.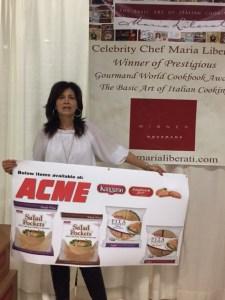 On the menu at my booth was  Italian Rice Salad  and Sicilian couscous salad served with a warm piece of grilled Pita bread..that's Kangaroo Pita bread…You can make these salads for a quick, healthy and yummy  lunch or dinner or you can serve the salad inside the pocket for an easy finger food appetizer.
Kangaroo Pita breads are made naturally in an artisan way, made with wholesome ingredients, light on sodium, carbs and calories, they make a perfect snack and also great for lunch and dinner. You can find them at all area ACME markets.
WIN A $5 ACME GIFT CARD-SHELFIE CONTEST
**And if you take a Shelfie of your self in front of the shelf of Kangaroo Pita Bread at any ACME supermarket and email it to  [email protected]  and you will be entered into  a drawing for a $5 Acme gift card. (Limited Number of Winners)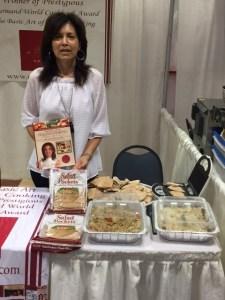 Italian Rice Salad
2 cups of arborio or carnaroli rice
1 cup of giardinera chopped
1/4 cup plain breadcrumbs
small handful fresh parsley chopped
1 can tuna packed in water-drained and flaked
3 tablespoons extra virgin olive oil
4 ounces black olives pitted, chopped
Cook rice per package instructions. Drain and cool, set aside. Place 1 tablespoon and 2 cloves garlic in saute pan, saute for 2 minutes, then place in bread crumbs and toast for 3 minutes or until toasted, set aside.
Place cooled rice in serving bowl, add in giardinera, flaked tuna, chopped olives(save a tablespoon for garnish) stir to mix, set aside. Drizzle olive oil over salad. Top with toasted breadcrumbs then garnish with chopped parsley and chopped black olives.
Serve with grilled or warm pita bread, or fill the pita with the rice salad for finger food. Don't forget to try the salad pockets..an easy way to eat healthy and quick..stuff the salad pocket with your favorite pita and ..go!