Held at Dubai Media City Amphitheatre from 13-15 March 2014, the 7th annual Taste of Dubai attracts crowds of foodies and their families. Year on year, crowds are drawn by the fabulous food, drink and music and the chance to sample delicious signature dishes from the fine-dining restaurants of Dubai, as well as rub shoulders with a celebrity chef or two and an abundance of epicurean exhibitors.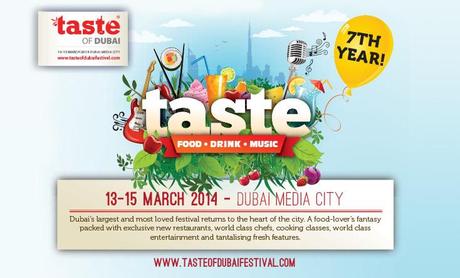 Dubai's favorite food festival, Taste of Dubai, is back with a bang; 2014 is all set to wow crowds anticipating its return. Scheduled to be held from 13 to 15 March 2014 at the Dubai Media City Amphitheatre, the festival anticipates over 27,000 visitors this year.
Celebrity chefs headlining the event include award winning master patissier and international baking star, Eric Lanlard, as well as Michelin award winning French super-chef, Jean-Christophe Novelli. Visitors can expect demonstrations, exclusive tips and a host of information about the origins of ingredients from the headline chefs visiting the show.
Speaking about his participation at Taste of Dubai this year, Jean-Christophe said: "I think it is a great opportunity to participate at Taste of Dubai for the first time, I'm very excited. Like other popular food shows around the world, Taste of Dubai is a great way to meet people of different nationalities as well as your fans. I hope the audience and visitors will love what I have planned for the festival".
Taste of Dubai not only brings restaurants, food and drink suppliers together, but also includes an agenda to treat visitors' taste buds. Visitors can enjoy master classes from some of the best chefs in town at the Chef's Theatre, try their hands at prepping, cooking and sampling recipes at the Kenwood Cookery School, or indulge in a variety of beverages from around the world at the Beverage Theatre. The kids have a dedicated zone all to themselves, with a host of edutainment activities including a play area, reading area and a live cooking station where chefs will teach toddlers to prep their favorite snacks.
New Restaurants that signed up to be a part of the food extravaganza this year include Almaz by Momo, Café Habana, Emporio Armani Caffe, La Porte Des Indes, The Act, Burj Al Hammam, St.Tropez Bistro and Ewaan, along with old favorites like Rivington Grill, Gaucho, Asado and Thiptara.
Chris Fountain, Managing Director of Turret Media said: "Taste of Dubai is proud of its position as the largest and most-loved food festival in Dubai. The festival, now in its seventh year, features top-class restaurants, world-famous celebrity chefs as well as a brilliant line-up of live entertainment and is delighted to have Jean Christophe Novelli and Eric Lanlard for this year."
Featuring a line-up of fine dining and crowd-favourite restaurants from across Dubai, renowned celebrity chefs and outstanding live music to entertain visitors, Taste of Dubai 2014 is aiming to surpass the success achieved in 2013. Tickets for the highly-anticipated social event of the year will go on sale on Sunday, 26 January 2014, and early birds stand a chance to enjoy some exclusive offers this year.
Festival timings:
Thursday 13th March: 4pm-12am
Friday 14th March: 12pm-12am
Saturday 15th March: 12pm-11pm
For more information, visit tasteofdubaifestival.com