Cradle Mountain Lodge
(March 1999)
{Continuation of my August 22nd post.}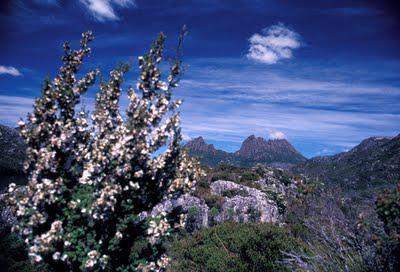 Cradle Mountain gets its name from the distinctive "cradle" between its peaks.
   [Excerpt from my diary of our three month trip to Australia in 1999.] The next morning we drove north from Queenstown to
Cradle Mountain National Park
, where we stayed for two nights in a pencil pine cabin at the edge of the park.  The cabin was part of the
Cradle Mountain Lodge
complex, which has activities and places to eat.  Most people come to Cradle Mountain to hike and the track that goes across the park is one of the world's most famous backpacking trails.  We did day walks which included portions along rushing rainforest streams, as well as stretches across open heathlands and up mountain trails.  We are slow walkers because we are always stopping to take pictures, but my calves still ache from the climb we did on Monday.
A Haven for Wildlife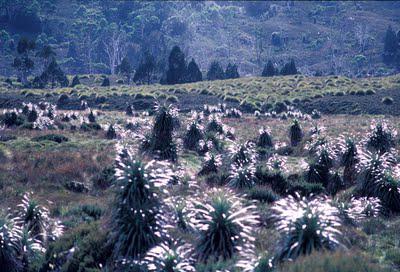 Silversword, a spiky plant, is unique to Cradle Mountain
   Cradle Mountain is a World Heritage site and has plants and animals that are found no where else in the world.  Most of the large animal life is nocturnal so one night we went on a night spotting tour where we drove slowly along the road with a spotlight looking for animals.  We saw lots of possums, wallabies, wombats, and even a little Tasmanian devil.
A Paradise for Hikers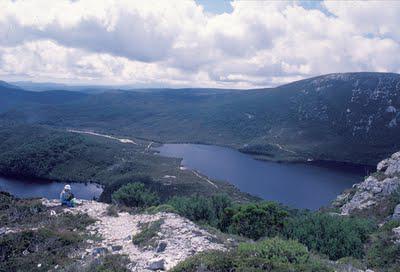 Our picnic spot beside the trail provided a spectacular view.
   Cradle Mountain is a wonderful place to go walking.  There are a variety of trails--some level, some steep--and all with interesting scenery.  The park people are very eco conscious and concerned about minimizing the damage to the environment so all the trails (at least all the day walk trails) are constructed of wooden planks or stone steps.  This keeps people from straying from the path and it also helps keep your feet dry as you walk across marshy areas. 
Day Life and Night Life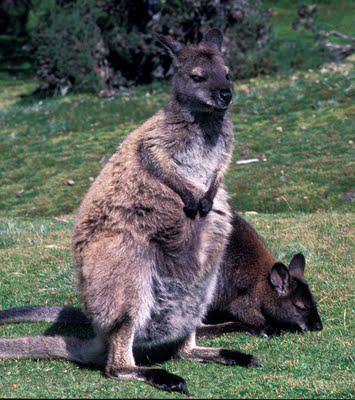 Pademelons, a medium sized member of the kangaroo family, are common in the park.
   On one day that we were there we heard that someone saw three tiger snakes on one trail.  Apparently they are common but I'm glad I never saw one. (They are deadly poisonous.)  The vast majority of the wildlife only comes out at night although some of the possums and wallabies hang around the lodge and cabins--hoping for a handout.  We were sitting on our porch one afternoon having tea and, as we unwrapped a cookie, a wallaby hopped out of the bush.  I think it has learned to listen for the crinkle of cookie wrapping!  Instead we gave it some apple.  
Local Food
   Several times while in Australia we've tried what is billed on the menu as scones with Devonshire cream but they have never been quite the same as we had in England--neither the scones nor the cream.  But when we were in Cradle Mountain I had a delicious apple crumble (made from fresh Tasmanian apples) with what they call King Island Cream.  The cream was thick and delicious and the closest we've come to Cornish clotted cream in Australia.
Honey and Glow Worms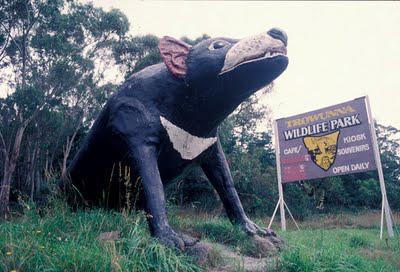 Inside the wildlife park, we saw real Tasmanian devils racing around their enclosure.
   On Tuesday we took a somewhat leisurely drive back to Hobart stopping at a wild animal park, a honey factory to see leatherwood honey being processed (it is whirled in a giant centrifuge) and at a cave where we saw amazing rock formations and glow worms.  The glow worms, which are actually the larva of a kind of fly, attach themselves to the ceiling of a large chamber in the cave and then wait to catch insects that are attracted to their lights.  When the guide turned off her light it was like being in a planetarium except that instead of looking at constellations, the ceiling was dotted with the lights of hundreds of glow worms.
Back to Melbourne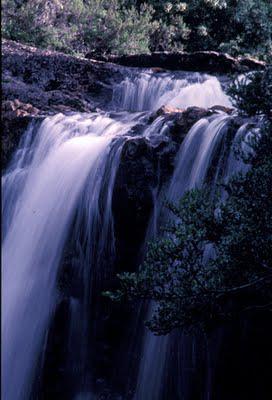 Waterfall at Cradle Mountain
   I decided that I needed to read something by an Australian author on the plane trip to Tasmania so I bought a book called
Mallawindy
by Joy Dettman.  It's a page turner and is the same kind of sweeping family saga as
The Thornbirds
.  I predict that we'll see it soon as a miniseries.   One of the interesting things about the book is that the main character has a double personality.
   Everyone told us after we came back that our trip to Tasmania was too short, and we agreed.  We could easily have spent much more time at Cradle Mountain and we never had time to explore the coast along the east side of the island.  Someday, we'll have to go back.
Making Reservations:
  For this trip I made all our reservations through the travel service at the RAC (Royal Auto Club) in Melbourne, which has a reciprocal arrangement with the AAA, of which we are members.