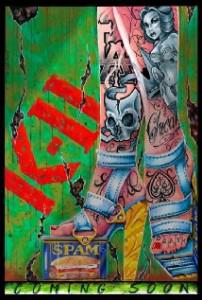 True Blood's Ginger, Tara Buck is in a new film, K-11. The film is about a record producer who comes around after binging on drink and drugs. He finds himself in a section of the Los Angeles County Jail reserved for homosexuals, which is ruled by a transsexual named Mousey.  In the film, Tara plays the part of Crystal, who was born a boy and lives in K-11. Staring with Tara in the film are Goran Visnjic of ER as Raymond Saxx Jr. and Kate del Castillo from Weeds as Mousey.
Below, Crystal and her alter ego, Tara Buck, are interviewed and asked to tell us a little bit about themselves:
Crystal: I'm a junkie with a rap sheet a mile long, mostly minor offenses but in Cali we have this fu*@# up three strikes law. Drugs mostly, but some BS prostitution charges too. I was born a boy but I'm hella foxy and I ain't about to let this hot ass go to waste. That's probably where the trouble started. Honestly I'd rather be in K-11 than on the outside, so for me it's home. Mousey's my girl but when she ain't looking you can be sure that I'm gonna get mine.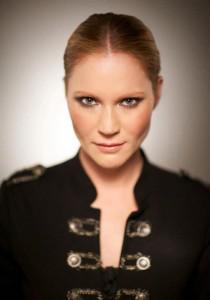 Tara:
I grew up in Idaho mostly, one of two children raised by a single Mom. I spent most of my childhood entertaining myself. We didn't have a television so I created my own stories and spent days lost in my imagination. I rode horses, played in mountain creeks and constantly had skinned knees and a sunburned nose. I moved to Los Angeles immediately after graduating from high school to pursue acting at The American Academy of Dramatic Arts. Shortly after graduating I landed my first recurring television role on the hit series Party of Five. I've been in Los Angeles chasing the dream ever sense.I gravitate to roles where I get to bring a voice to the underdogs in life, whose stories are less often told. I enjoy the transformative leap into a character and the freedom that gives me to indulge my imagination. Working on K-11 was a delightfully twisted diversion from my day to day life and I hope that audiences will enjoy a similar escape when they go to see it.
In addition to playing the part of Ginger on True Blood, Tara has also guest starred in numerous other television shows including Nip/Tuck, Bones, Southland, Justified, Cold Case, The Closer, The Shield, The X-Files, Sabrina the Teenage Witch, Without a Trace, Navy NCIS and most recently NBC's Prime Suspect. Tara also just wrapped production on the indie film Boot Tracks starring alongside Stephen Dorff, Michelle Monaghan and Willem Dafoe.
source: facebook.com/notes/k11thefilm