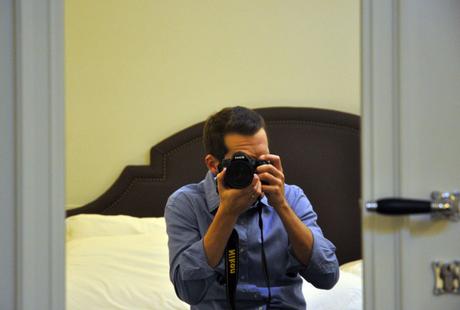 I live in a state closing in on 300 breweries, among countless others who send their packaged beer to be sold in grocery chains, convenience stores and specialty bottle shops in North Carolina. There is a lot for beer lovers to enjoy.
Yet, exposure to new breweries and brands comes at a slow pace. Shifting a budget from "go-to" beers or trusted businesses is a psychological act as much as an economic one, so finding something new and exciting is most heavily influenced by something like travel. Whether across the Tar Heel State or onto new locales that require a ticket or multiple refills of my gas tank, getting to know new cities and breweries has gone hand-in-hand.
In June, I was asked to join a small group of peers in Madrid, Spain as part of a multi-day programming event hosted by Mahou San Miguel. The nearly 130-year old brewery produces 70% of Spanish beer consumed worldwide, although U.S. beer enthusiasts may know the company best for its partial ownership stakes in Founders Brewing and Avery Brewing. That was certainly my point of reference.
For a company built on lager, things are rapidly changing, although not ironically on a "micro" scale. The company sold almost 12 million barrels of beer in 2017 (for comparison Miller Lite sold 1 million more in the U.S.), but perhaps unsurprisingly, the "simple" beers that make up the majority of sales are now helping to fund new projects , including a barrel program and nanobrewery in downtown Madrid. Over the course of four days, a series of vignettes became a part of my stay as I considered what it meant to be a tourist considering this brewery, at this time, in this place.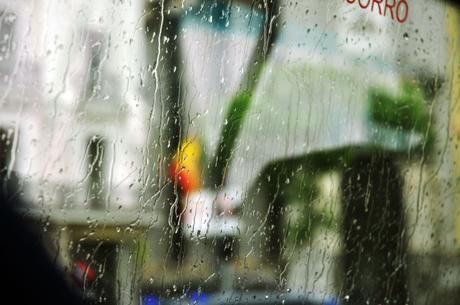 Rain is falling, and in a city, it makes the space feel unique. Maybe it's my bias growing up in farm country of New York's Finger Lakes, being overwhelmed by a metropolitan space and the subtle ways nature can change its aesthetic.
Seasons - and even weather patterns - are different. Sky-scraping concrete makes every fallen raindrop, leaf or snowflake feel a little outside the norm. It's Nature asserting itself, reminding this giant cluster of humanity who can still be in charge. Or, at least, a gentle realization that even as you construct buildings or street grids or underground transport, you still have to react to what goes on around you, even after infrastructure is built to try and minimize that reality.
A group of nine is leaving Madrid's city center bound for Mahou San Miguel's production facility about 60 kilometers northeast. The sky is gray, muting the world below, but making the earth-toned buildings seem darker. An occasional pastel umbrella accents the sidewalks. Madrid is alive, but quiet. I don't think I've heard so few car horns - this morning none at all - in an international center.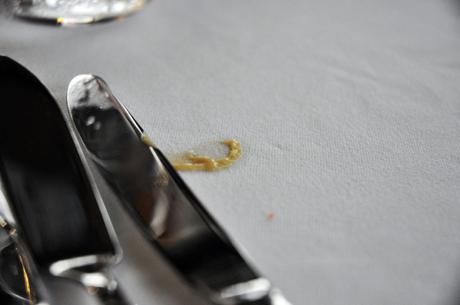 Not long after my arrival I had learned that Spaniards, at least the two I was talking to, don't like bacon. They say their preference is pretty widespread because the meat is often prepared with light frying, finishing it somewhere between pink and brown, wiggly with its own grease. My ears send this to my brain, which registers it as an gastronomical abomination. American flags unfurl in my imagination. Millions of meals at small-town diners across the U.S. prove this process foolish at best. Red, white, blue, brown, and crispy. My taste memory rejects it right out.
Bacon is "bacon" when spoken in Spanish, I'm told, but of course it actually matters where you are and who's telling you. "Tocino" is the right word, but you could just as easily get away with saying "bacon" and spelling it "beicon," as I learn through an impromptu language lesson. What an oddly perfect example of American exceptionalism. Our creation has tried to wedge its way into vernacular, only to be turned away, depending on your partner in conversation.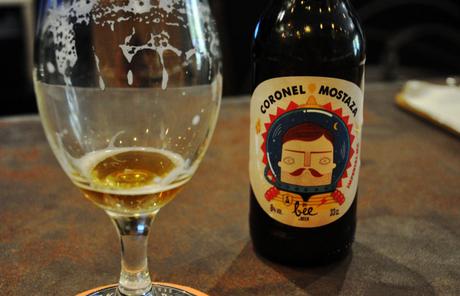 There is less patriotic ambiguity when I visit Bee Beer Craft Beers And Cheeses. I sip a brown ale made with hot peppers and smoked malt. It made my think of barbecue from back home, just 24 hours after I landed from North Carolina. I followed that up with a double IPA brewed with mustard seeds. Is there anything hazy and juicy?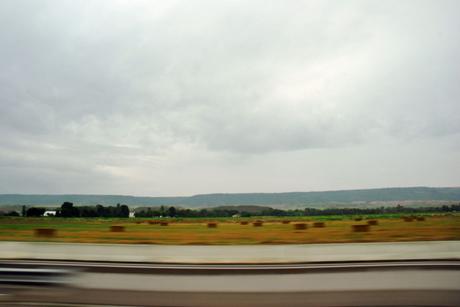 I'm here for a reason. The road to Mahou's brewery is like any other highway from some major metropolitan hub. Office space and six or seven-story apartment buildings dot the landscape. There's an Office Depot. Something proudly named "Asia Store." Giant black on a red background.
Graffiti on medians and underpasses mainly appears the same: words spelled out in big, block letters. Many creations seem to be randomly chosen words to drivers passing by. We have no time to stop and consider what "CLUB" or "SLAB" means in their greater artistic sense. Hope somebody got the message.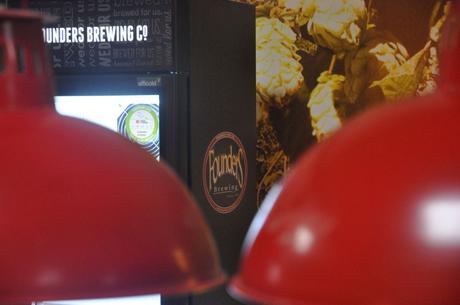 I came to Spain and one of the first things to find at one of the country's largest breweries is an unstocked fridge meant for four-packs of Founders Brewing beer. Mahou memorabilia is all around it, sitting solemn in the brewery's gift shop. Branded wooden crates full of serving trays, glasses and socks. The fridge is a promise yet to come true almost four years after the conglomerate bought a 30% stake in the Michigan company. For 12.50 Euro, shoppers will at some point be able to take home beers.
In a private dining room space on another section of the brewing compound, I find a replica of the cooler, this time filled with Centenial IPA, All Day IPA, Mosaic Promise and more. They were a little older than what I'd find at home, but a three-month old Backwoods Bastard still tastes pretty great wherever you can find it, to be honest.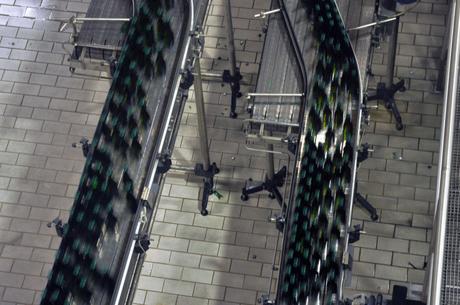 The warehouse where millions of bottles, cans and kegs are packaged each day smells of spilled, warm beer and cleaning solution. The cause of, and solution to, one of the common accidents in a place where things could get much worse. Among the perpetually-moving conveyor belts and whirling cogs, I suppose losing a limb could be just as easy as a fresh bottle of Mahou Cinco Estrellas.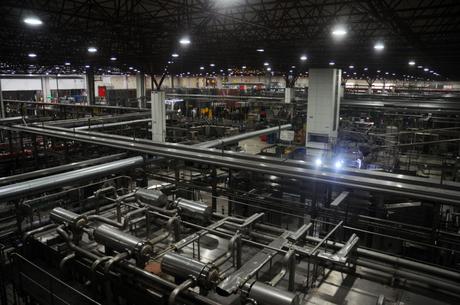 The space is football fields long, whether you want to measure in an American field or European pitch. 3.4 million bottles and 2.3 million cans pass through on an average day. A sea of metal shipping waves of glass and aluminum. It sounds like it, too. Polite clinking of the glass crowded on their own moving walkways, barely registering over the humming of machines. The air is more humid, and paired with the aromatics coming from the floor below, it feels like an indoor pool party gone wild.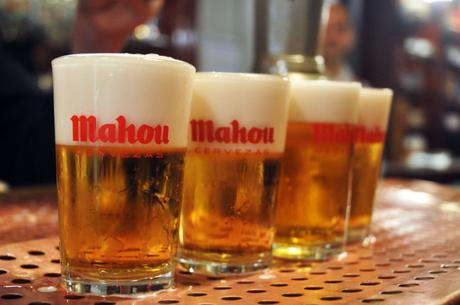 There's a discussion of how a beer is poured. Or how it's poured in Madrid, says Mahou's in-house sommelier Manuel Lazcano. You'll find examples elsewhere in the world - . The caña famously with Pilsner Urquell - but this is something that would not be favored in America, lest we lose the to-the-top potential of the Iceman Pour , an American sample-size pour, is ubiquitous and delicious. After filling a glass three quarters of the way, it's then topped off with foam, helping to present a "correct" beer pushed along by our biological impulse to prefer creamy and aromatic. It's marketing, but it's also not bullshit. The beer decidedly presents different and if you hadn't had it in this way before, it's going to offer a new experience.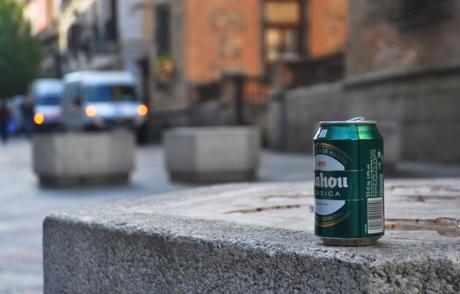 There's a man looking in the bushes. His arms, clad in long sleeves, have disappeared into the six-foot high, manicured brush of the Plaza de Oriente. After rummaging through for several seconds, he right hand emerges, grasping a green can of Mahou Clasica, camouflaged by its temporary home. He is smiling as the top is flicked open. At 9:50 a.m., with the sky clear and the sun shining, it's much warmer than a lie from my weather app telling me it "feels like" 59 degrees. Truth is malleable in this moment, a distinctly summertime pause too early in the day but perfect to sit in a sunbeam with a beer. So this man does.
Cans of Mahou were scattered sparingly on the sidewalks around the nearby Plaza de Sol, and based on my early nights by Spanish standards, it would be a guess whether they were left by young revelers, of which there are many, celebrating birthdays, engagements, or life. The beer could have as easily been left by those not as fortunate, a 12-ounce opportunity to turn around one's luck for a brief time.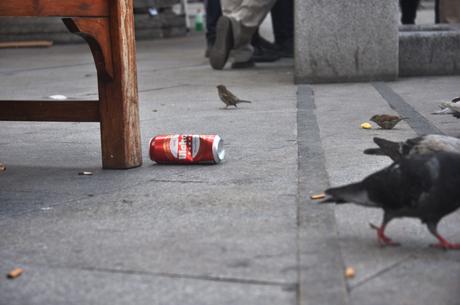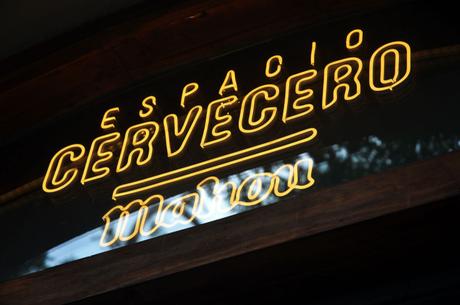 The balance between acting as a tourist and guest of a brewery highlights a distinct value proposition, especially for someone who's never been to Madrid before. On one side, Mahou's lagers have created a space unto their own, which is to say, almost everywhere. Their green and red cans seem ubiquitous in stores, the name a familiar one on tap handles in every bar and restaurant I enter. But Mahou is also looking toward the future, which includes a barrel-aging program that now features 1,300 wooden casks, more than double the 600 that were housed by the brewery last year. Heaven Hill and Jack Daniels barrels sit calmly in temperature-controlled rooms at 10 degrees C.
As you could probably say for so many businesses these days, lager was a past, but America is a future.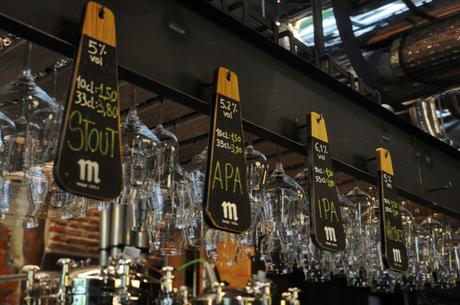 Mahou has opened a brewpub in downtown Madrid where passersby can drink styles that would definitely seem out of place for locals. In a small dining area, stacks of board games sit on a bookshelf: Settlers of Catan, Scrabble and others. At a bar, drinkers can order a hefeweizen, stout, pale ale or IPA. The latter two are juicy, but not too cloudy. A reflection of modern tastes from elsewhere in the world.
Between sips there is shouting outside. All of a sudden a street is filled with people - a protest is taking place. Just a week earlier, Prime Minister Mariano Rajoy was forced out of office following continued revelations of corruption related to his conservative People's Party. I was drinking an American pale ale, brewed with hops only from 40 minutes into the boil and onward. Amarillo and Cascade accenting a slightly hazy golden hue. It almost felt like home.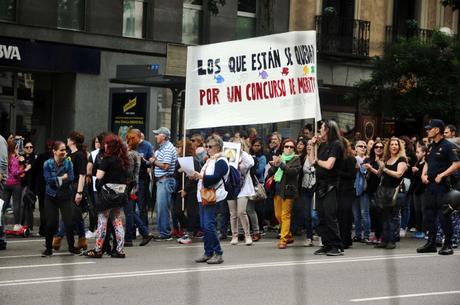 As hard as we might try, a handful of days never feels like enough to know a place. It's not to say the task is impossible, but requires a focus and usually sore feet, too. Wandering a city, eating and drinking and talking, trying to figure out what it holds for you, its people and the rapidly diminishing time you have left.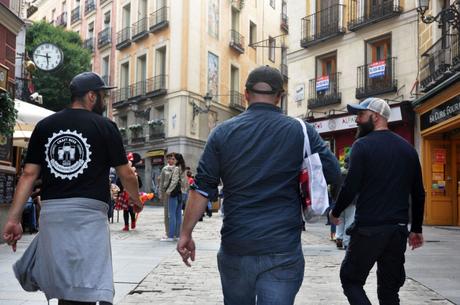 I'll be posting dozens of photos from my trip to Madrid over the coming weeks on my Instagram account if you'd like to follow along.