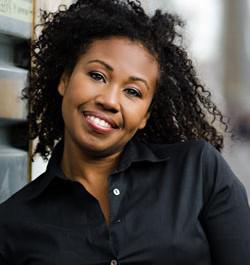 Tanya Wright, who plays the often sassy Deputy Kenya Jones on True Blood, admits in a new interview with NaturallyCurly.com that succumbing to the pressures of Hollywood is definitely as easy as it sounds. Expectations of having the perfect face, body, and hair blanket nearly everyone who sets foot in Tinseltown, and Wright readily divulges that for her, wanting to look like all the other successful and attractive women was very much her reality.  Even at a young age Wright was fearful about standing out, especially where her hair was concerned:
 I struggled with my hair all my life! I've straightened it, relaxed it, braided it, colored it — you name it — all in an attempt to get my hair to look like everyone else's. In Hollywood, most folks wear weaves, so that's what I did too. Anything to not "stand out."
And after four seasons on True Blood, Wright is thrilled that she'll be rocking her natural curls in season 5. Watch out, Bon Temps, because we have a feeling Kenya is about to get even sassier!
Wright has kept herself busy outside of True Blood, notably with her directorial debut (and book) Butterfly Rising. Most recently she shot a movie, Predisposed, with Jesse Eisenberg, Melissa Leo, and Tracy Morgan which premiered at the 2012 Sundance Film Festival. When she's not busy, she likes to spend her downtime doing things she loves:
Bronx born and bred, I'm a native New Yorker who LOVES dark chocolate, playing with my black Labrador dog, nature, hiking, movies and yoga. I LOVE to eat and am quite serious about some foods, especially pizza – did I say I was a New Yorker?
To read the interview in its entirety, please click here.
Photo Credit: Nathaniel Johnston