Here in Sydney spring begins in late winter, if you know what I mean. Now that it's September the season is well and truly underway, and the generous feeding that I gave my citrus trees in August is bearing both flowers and the beginnings of another crop of fruit.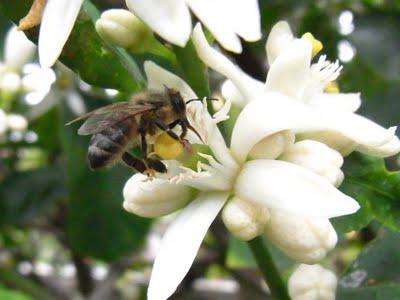 This little guy and his pals were everywhere this morning. I wonder if lime pollen has a citrus tang? Probably.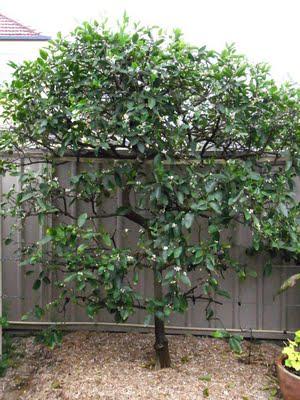 Standing back for a moment, here's the espaliered Tahitian lime tree which I have managed to keep alive for several years now. When I say 'espaliered' I mean that the branches are trained to grow sideways on some wires strung between two posts. I did a posting back in 2008 on how I set up the espalier, and if you're interested

you can read it here

.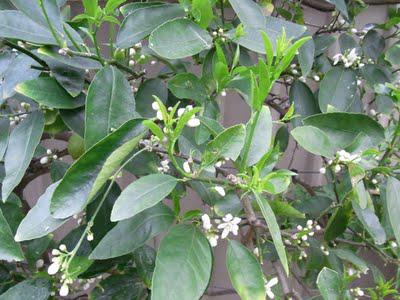 Every year I feed my two in-ground citrus trees generously at the end of winter (August) and towards the end of summer (February). With the assistance of some steady watering, both citrus trees respond with delight, flowering their heads off and sending out new growth. I mostly use the well-known Australian product, pelletised chicken poo sold here as the beautifully named product, Dynamic Lifter. As it pongs to high heaven I am sure my neighbours probably don't love Dynamic Lifter as much as I do!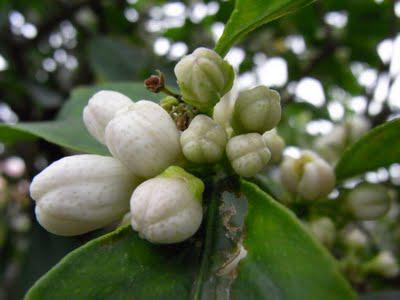 Lime flowers are white, and they mostly appear in clusters like this.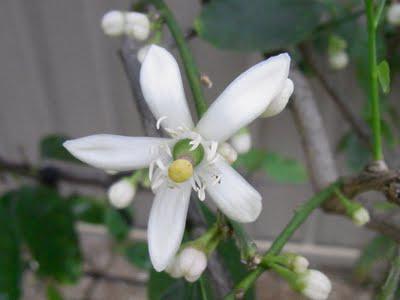 A bit of a rarity, here's a single lime flower with the beginnings of a fruit already there.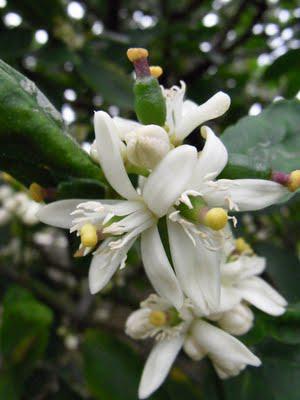 A much more common sight is a cluster of flowers and baby fruits, clinging to their mother branch.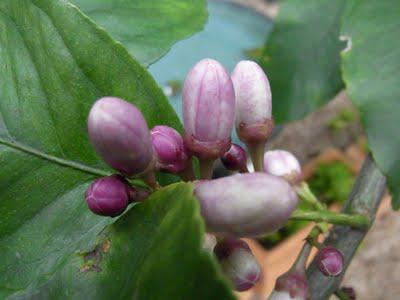 On the other side of the garden path, it's the same story with my 'Eureka' lemon, except that the flowers are pinky coloured.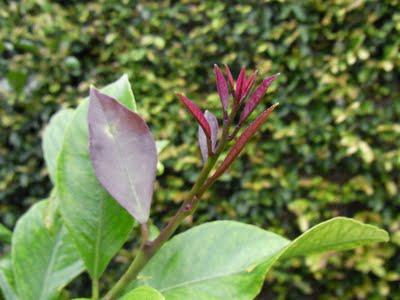 The lemon is also sending new growth in all directions.
If I was hanging around in Sydney all I'd need to do for the next couple of months is make sure of a steady water supply, either courtesy of Huey's heavenly garden shower service, or my trusty garden hose.
Fortunately my next door neighbour Katarina loves watering gardens and every time we come back from any holiday I could swear our garden always looks better thanks to Katarina's skills. And so, when Pammy and I get back from our travels in America I am sure the lime and lemon trees will be lush with green foliage and their branches drooping gently under the weight of growing crops, all thanks to Katarina's neighbourly skills.