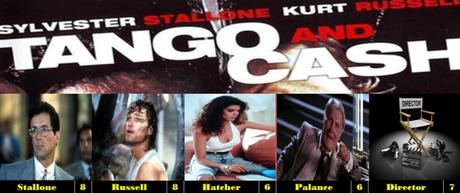 Director: Andrey Konchalovskiy, Albert Magnoli
Writer: Randy Feldman (Screenplay)
Starring: Sylvester Stallone, Kurt Russell, Teri Hatcher, Jack Palance, Brion James, James Hong, Marc Alaimo
Plot: Two cops are framed and must clear their names.
There may be spoilers the rest of the review
Verdict: Puntastically Fun Action Comedy
Story: Tango & Cash starts as we see smartly dressed Beverly Hills cop Lt Raymond Tango (Stallone) take down another drugs bust, as well as laid back street smart cop Lt Gabriel Cash (Russell) having someone try to kill him. The two have been taking down the same drug lord Yves Perret (Palance) who has a plan to get rid of the pair.
When the unlikely pair get framed for a murder of an FBI agent they both get sent to a maximum-security prison to deal with most of the men they have put away. The two must work together using both their sets of skills to bring down the biggest drug ring to have hit the city and clear their names.
Tango & Cash is an action comedy that brings us a buddy cop movie together with two of the biggest stars of the time Stallone and Russell. While the story is very generic odd couple cops must work together to solve a crime no one else believes risking their lives against seemingly endless amounts of enemies it does everything it needs to for the story. The comedy comes from the endless amounts of puns going on through the film which at times poke fun at what are used in serious film but in this are designed for the laughs.
Stallone and Russell are great together getting to poke fun at the characters they have played before with Stallone poking fun and Rambo and Russell getting an Elvis reference in once again. As for the villain, we don't get too much time with him while the henchmen are what you would expect in these films. Hatcher is written to be tough but only their really to add an extra dimension to the relationship between Tango & Cash. In the end this is purely a great fun film that is easy to watch as long as you don't want anything too serious.
Overall: 80s Fun all in one movie what more could you ask for?
Rating