Tanghalang Pilipino's latest production, "Walang Kukurap", is an original play that combines traditional theater with live interviews and unscripted performances to blur the line between reality and fiction, as it attempts to shine a light on the politics and practices that define public governance in the Philippines today.
Created by the theater collective of playwright Layeta Bucoy, director Tuxqs Rutaquio, TP artistic director Nanding Josef and the TP Actors Company, "Walang Kukurap" is a suspense-thriller that offers a penetrating analysis of corruption and graft. Its text take off from the findings of artist-researchers as well as first-hand testimony from government whistle-blowers and anonymous syndicate insiders, ultimately leading to questions about the coopting and destruction of national character.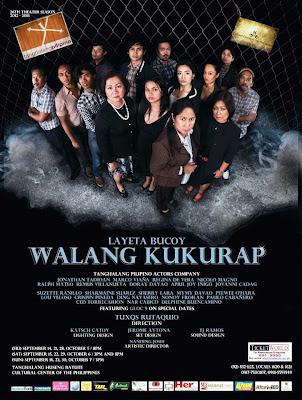 In the cast are Suzette Ranillo, Sherry Lara, Mymy Davao, Crispin Pineda, Pewee O'Hara, Lou Veloso, Ding Navarro, Nar Cabico and Delphine Buencamino, along with the TP Actors' Company of Jonathan Tadioan, Marco Viana, Regina de Vera, Nicolo Magno, Ralph Mateo, Remus Villanueva, Doray Dayao, April Joy Inigo and Jovanni Cadag.
Gloc-9 makes a special appearance in certain performances.
"Walang Kukurap" opens Sept. 14 and runs until Sept. 30, with performances at 8 p.m. on Fridays, 3 p.m. and 8 p.m. on Saturdays, and 3 p.m. on Sundays, at Tanghalang Huseng Batute, Cultural Center of the Philippines.
Audience restricted to 16 years old and above only.
For tickets and further details, call 8321125 local 1620-1621, 8323661, 2183791, 0917-7500107 0918-9593949 (look for Cherry Bong Z. Edralin), or email [email protected]
Regular price is P600, students at P300, senior citizens with 20-percent discount on regular prices. Tickets also available in all TicketWorld outlets.