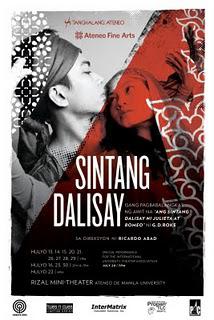 Tanghalang Ateneo opens its 33rd Season this July with Sintang Dalisay, a dramatic piece forged from two sources--the awit "Ang Sintang Dalisay ni Julieta at Romeo" written in 1901 by G D. Roke, and Rolando Tinio's translation of William Shakespeare's "Romeo and Juliet."
The adaptation is set in Sampurna, a fictional Muslim community, with the Mustafas and the Kalimuddins as two prominent families mired in an age-old hatred for each other. Caught in this family strife are Rashiddin and Jamila, two lovers, secretly married, who are forced to separate from each other after Rashiddin kills a member of the Kalimuddin clan to avenge the death of his cousin. A demand for justice, Rashiddin's exile to Dapitan, a clandestine tryst, a missing letter and a plot that goes awry culminate in the death of the lovers and the reconciliation of the two families smothered in grief and regret.
Kalil Almonte plays Rashiddin while Tasha Tañada essays the role of Jamila. Zennon Gosalvez and Vannah Pacis are their understudies. The ensemble, doubling as chorus members and characters in the play, includes Ariel Diccion, Cindy Lopez, Brian Sy, Charles Yee, Joenel Garcia and Exzell Macomb.
Igal, the traditional dance of the Sama people, will serve as the production's movement motif, taught to the cast by master teachers from Tabawan, South Ubian, Tawi-Tawi province. An ensemble of musicians from Kulintangang Ateneo and the University of the Philippines' Kontemporaryong Gamelan Pilipino (Kontra-GaPi), will accompany the dance and the action of the play.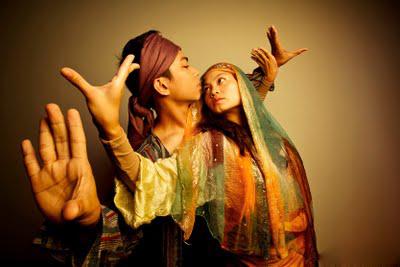 Ricardo Abad, who shaped the performance text together with Guelan Luarca, directs the production. Matthew Santamaria draws the dance and movement patterns from the lessons imparted by Tabawan experts Calsum Telso, Abdul Said K. Hailaya, Nur Perong, and Dalino Kamamih.
Pedro Abraham Jr. does the music and sound design, Meliton Roxas, Jr. handles lights design, Mike Parker works on graphic design, while National Artist Salvador F. Bernal does the honors for production design.
"Sintang Dalisay" runs July 13-16, 21-23 and 26-30, 7 p.m., with 2 p.m. shows on July 16, 23 and 30 (Saturdays), at the Rizal Mini-Theater, Ateneo de Manila University. A gala show for delegates of the International University Theater Association Conference is scheduled for July 20. For inquiries and reservations, contact Regina Aquitaña at 0915-1129301.
The production is staged in cooperation with the Ateneo Fine Arts Program and the Performing Arts Cluster.