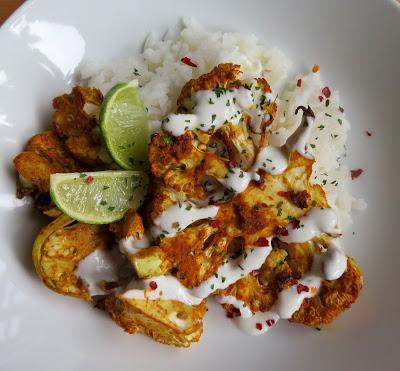 One thing which I really have come to love are Indian spices and flavours. They were not something I grew up with. In fact my mother could not stand to even smell them.  I gained an appreciation for them as a young Bride in Calgary, Ontario and have been in love with them ever since.  I love their colour and warmth and their smell as well. Spicy and aromatic, they can really get the tastebuds tingling.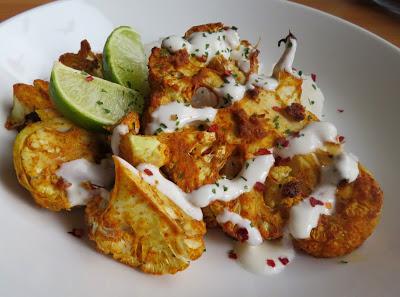 Of course I have been really lucky. Although I did not grow up in a wealthy home, I have never known a time of true hunger or need in my lifetime. This has been one of my life's greatest blessings. Unfortuntately that is not so in much of the world.  I have read statistically if you go to bed tonight safe, warm, fed and adequately clothes, then you are amongst the top 2% wealthiest people in the world, which kind of helps to put things into perspective.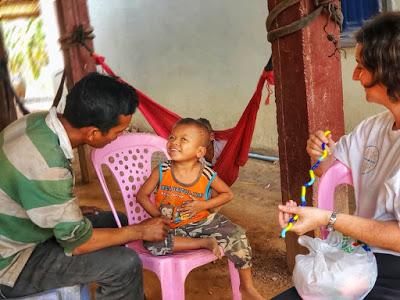 Cambodia has one of the highest disability rates in the developing world.  Disability and poverty are inextricably linked. Statistically speaking, families with even one disabled family member are highly likely to be more disadvantaged and poorer than their non-disabled peers. In a country where there is limited access to health care and relatively few disabiliy rehabilitation centres, this puts them at an great disadvantage.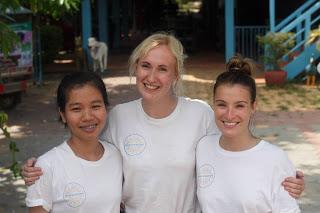 The charity
EmbraceAbility
is a not for profit charitable organisation who provide therapy, education and support to children with disabilities and their families in Cambodia. 
A short distance from the capital city of Cambodia, Koh Dach, or Silk Island, is its own world of farmers and floodplains; silk weavers and shortfall. It is here that EmbraceAbiliy has made its home, providing services aimed at empowering children with disabilities and their families to lift themselves from poverty; promoting their dignity and independence so that they may participate fully in their communities. 
EmbraceAbility will be opening a daycare centre on Koh Dach Island, the first of its kind, to provide a safe space for children to receive rehabilitation and education tailored to their needs and abilities.  Malnutrition remains critical in Cambodia, with stunting affecting 332% of children under the age of 5, among the highest rates in the region.  Your donation can help play a vital part of tackling food insecutiry by providing two nutritious hot meals a day alongside a healthy snack at the daycare centre. 
If you would like to find out where and how you can make a difference to these children in need check out the
EmbraceAbility
website to learn more.  Just a small amount can make a huge difference to these children.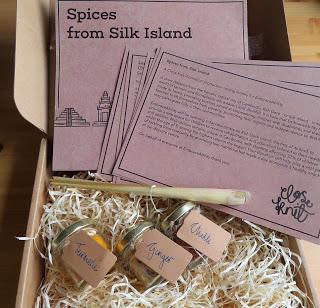 For a small donation you can receive a box of spices and recipes to use them in.  I used some of the spices today to make my curry.  The Lemon grass was bruised and cooked with my jasmine rice to give it flavour, along with some red chilli flakes, and the  ground ginger and turmeric were used in the Tandoori Cauliflower and in making my Tandoori Spice mix.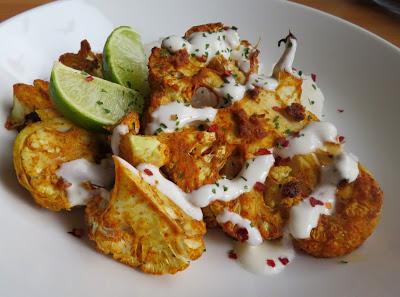 We enjoyed a delicious and simple meal and had the added pleasure of knowing that children would be helped as well.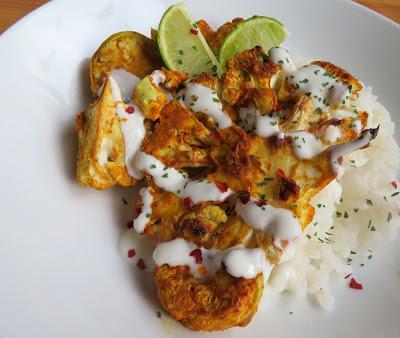 I have never eaten actual Tandoori in India, or even been to India for that matter, but my brother has. He could tell you if this had authentic flavours or not. I can't.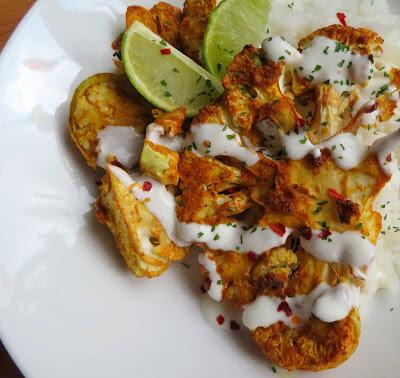 I can only tell you that it was flipping delicious!  The cauliflower was well flavoured and crispy tender, some of it cut into steaks and the remainder broken into florets. The steaks were dipped into a flavourful yogurt mixture prior to being browned in a skillet, and the florets were rolled in the remainder of the yogurt mixture.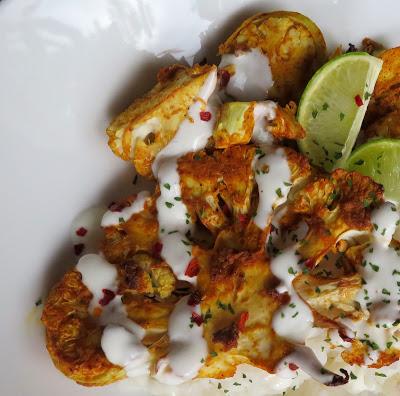 Both the browned steaks and the florets were finished off by baking them in a moderate oven for about half an hour or so to perfection.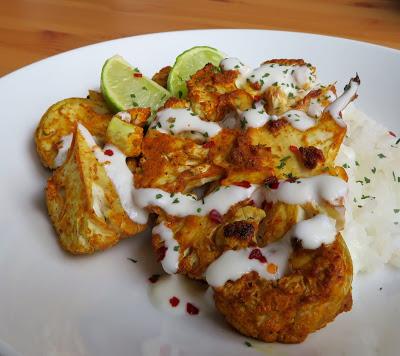 They smelled really good in the cooking and got our tastebuds really tingling with anticipation!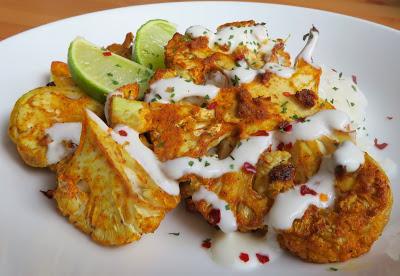 Beautifully coloured and beautifully flavoured . . .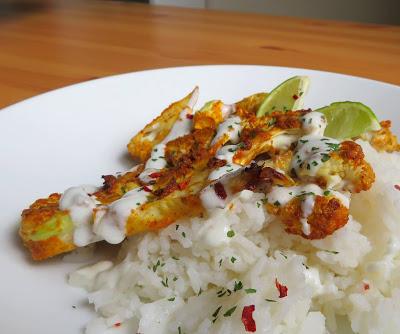 I served them with sticky jasmine rice and drizzled with some thinned yogurt to help cool down he spiciness a bit  . . .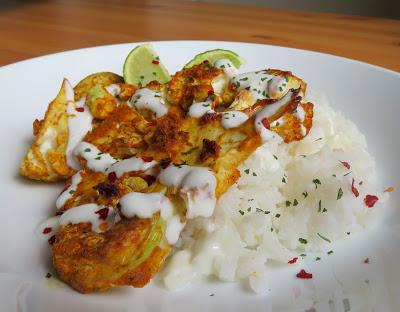 I also sprinkled Todd's portion with a few extra red chillies as he loves the extra heat . . .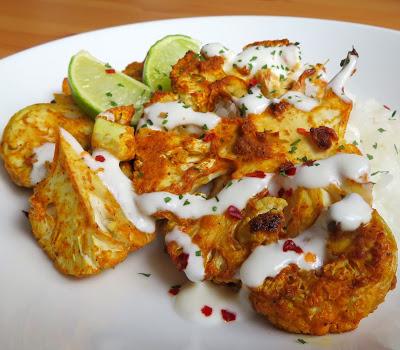 I presented them with lime wedges, ready to squeeze over every thing adding a lovely tang . . .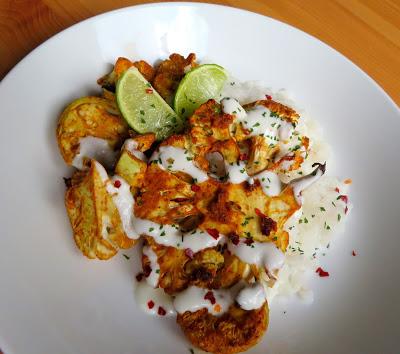 This was quite simply delicious.  There is no other word for it.  Healthy too!  
Tandoori  Cauliflower
Print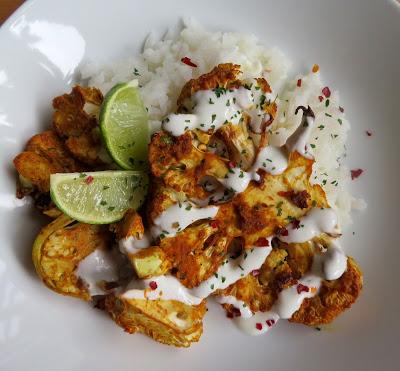 Yield: 3 - 6
Author:
Marie Rayner
prep time: 10 M
cook time: 40 M
total time: 50 M
A simple yet incredibly delicious way and easy to cook cauliflower. You can use this as a side dish with a more substantial meal for six, or as a main dish for 2 to 3.
Ingredients:
1 medium cauliflower, leaves trimmed off and discarded
125g plain thick unsweetened yogurt (1/2 cup)
1 garlic clove, peeled and crushed
1 TBS of grated ginger
1 TBS of tandoori spice (see note below)
salt and pepper to taste
1/2 TBS light olive oil
To serve:
Thinned yogurt
red chili flakes
lime wedges
steamed jasmine rice
Instructions:
Preheat the oven to 180*C/350*F/ gas mark 4.  Line a baking tray with some aluminium foil. Spray lightly with low fat cooking spray. Set aside.
Trim the cauliflower and cut 3 (1/2 inch thick) steaks out of the centre, slicing down horizontally.  Break the remainder into florets. 
Heat the oil in a large skillet.
Whisk together the yogurt and all of the spices and seasonings. Dip the cauliflower steaks into this mixture on both sides. Place cut sides down into the hot oil.  Cook for 1 minute per side, flipping them over. Remove to the baking sheet.  Take the cauliflower florets and stir them into the remaining yogurt mixture and scatter them over the baking tray.
Roast in the preheated oven for 35 to 40 minutes, or until the point of a sharp knife slips easily without much force into the cauliflower.
Serve hot with hot steamed rice.  Drizzle with some thinned yogurt and red chilies (optional) and accompanied with lime wedges for squeezing over top. Delicious!
notes:
To make your own Tandoori Spice:
   Mix together until well combined,  1 teaspoon ground ginger, 1 teaspoon ground coriander, 1 teaspoon paprika, ½ teaspoon ground cumin, ½ teaspoon turmeric,  ½ teaspoon salt, ¼ teaspoon garlic powder, ¼ teaspoon cayenne pepper, ¼ teaspoon ground nutmeg,  ¼ teaspoon ground cloves. Store in an airtight container out of the light. Makes about 2 TBS.
Did you make this recipe?
Tag @marierayner5530 on instagram and hashtag it #EnglishKitchenCreated using
The Recipes Generator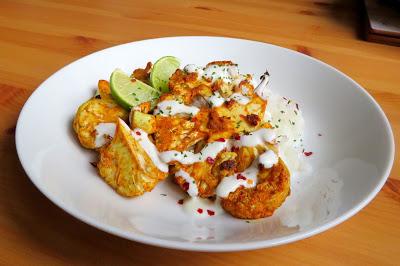 This sure has been a weird summer weather-wise.  It has fluctuated between being hot as hades and oddly autumnal.   I suppose that old saying about the weather in the UK is true. It is very changeable and totally unreliable.  

Follow my blog with Bloglovin