SYMA [Srinivas Youngmen's Association]  has been in the field of Social service since 1977 ~  in the past few years, our initiative in the field of Education 'SYMA Growth' has been prospering.  SYMA Growth – a fullfledged tuition centre, is our  cherished  initiative in educating the economically poor children, uplifting their standards and making them responsible citizens. In the initial years, we tried our hand in helping the students of our locality by guiding them and offering them tuition classes nearer their examination.  Education is best imparted only by trained teachers and there needs to be professionalism in that.
We live by the axiom that 'Education is the only tool which can uplift the Society and empower the lower echelons of the Society'. The foremost responsibility of a Social Service Organisation is to improve the society and help the underprivileged.  This is better done by providing the children good education.   Arising out of various reasons, some students could lose focus and would tend to fade away.  A Social Service Organisation's objective is to help the society.  We want better citizens.  We want to inculcate in them great qualities and we felt the need for taking care of those students who are on the margin and would not succeed if no personal attention is provided. 
From smaller experimentations to full-fledged quality educational assistance in the form of SYMA Growth was born on 6th July 2008, a very auspicious day, inaugurated at NKT National Girls Higher Secondary School, Triplicane by Shri R Sekar, IPS, (the then) Commissioner of Police, Greater Chennai. We  have nicely moved along having completed 6 successful years. Almost all of our students are from the lower echelons of society and some of them are first generation students with no support in the family. Many do not have conducive atmosphere at home, nor the proper support – still they strive to achieve is what heartens. Life often is a struggle for have-nots and there are many who have to struggle for even ordinary things.   We try to learn from our experiences trying to iron-out the rough edges.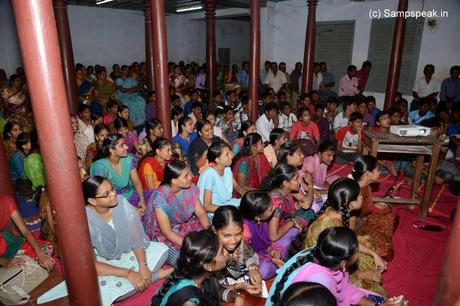 File photo of SYMA Growth students 2013-14 during a motivation speech organised by us.
At SYMA Growth, we have  X Std Tamil Medium; X Std English Medium; +2 Commerce Group and +2 Science Group.
There are anxious moments in life ~ the day when results are announced is one of that. In earlier days, SSLC was a great landmark and results used to be published in Newspapers.  In fact, local dailies would run a special supplement and finding one's number in the paper would give the student the greatest joy.  The SYMA administrators relive that anxiety these days when the results of +2 / X are announced, as we care so much  for the future of our students from SYMA Growth.
Today, the State Board +2 results have been announced.  5 of our students have secured more than 1100/1200 in Commerce Group – and 1 in Science group has got more than 1100.  Our topper TP Rangan has got 1164 [200 in Accountancy & 199 in Economics].
 We have had good results but are saddened by the fact that 1 in Commerce and 5 in Science group could not pass.
In the State, around 8, 26,117 candidates appeared for the  examination of which  - 3,30,480 male students and - 4,14,211 female students passed.  The 1st rank in the State is - Shusanthini, Sri Vidhya Mandir, Uthangarai – 1193; 2nd  A.L.Alamelu, Sri Vijaya V.T.M Hr.Sec.School, Dharmapuri – 1192; 3rd rank is Thulasirajan, Green Park Matriculation Hr.Sec. School, Namakkal &  S.Nithya, Prince Matriculation Hr.Sec.School, Madipakkam, Chennai – 1191.
No words can describe our gratitude to the management of NK Thirumalachariar Educational Trust and NKT Boys Higher School.  We thank the NKT Management for providing us the infrastructure and all the support.  We thank  Smt. Leela Sekhar, Secreatry of NKT Trust and the Head master of the School Mr S Venkatadri. We pray to Almighty for continued success of this project and look forward to continued support of you all.  The success is due to the blessings of Lord Parthasarathi who guides us in all our steps.  We must place on record our thanks and gratitude to those teachers who taught these students with great dedication, commitment and devotion.  
We thank all our teachers  and all of you who have been supporting us in all our endeavour
Respectfully yours,
S. Sampathkumar, Secretary SYMA
9th May 2014.