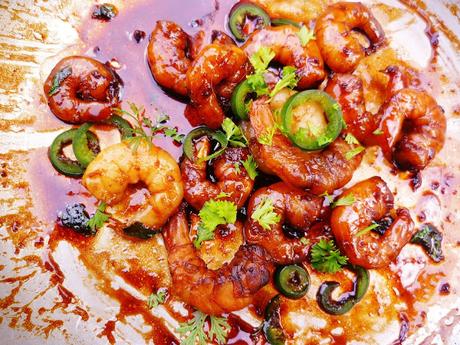 tamarind and honey prawns (assam prawns)
I've used Malaysian tastes for my influence with this marinade. Nothing could be simpler, just sweet with honey and bold with the sour taste of tamarind. It is lovely with prawns but very good with chicken too.

Serves 4
Skill level: Easy
ingredients: 
500g king prawns, peeled and deveined
vegetable oil
1 fat green chilli, thinly sliced, to serve
fresh coriander, roughly chopped, to serve
marinade:
2.5 tbsp runny honey
1 tbsp tamarind paste
boiling water (optional)
2 tsp ketjap manis or dark soy sauce
salt to taste
directions:
Whisk all the marinade ingredients together. You may need to loosen it with a splash of boiling water. Alternatively gently warm in a small saucepan until well-combined. However, it must be cool before you use it as a marinade. Season to taste.

Pour the marinade over the prawns. Set aside in the fridge for at least 1 hour (but preferably a bit longer) before using.

Drain the prawns and set aside, reserving the marinade.

Pour the marinade into a small saucepan and bring to the boil. Simmer for about 1 minute before taking off the heat.

Heat 2 to 3 tablespoons of oil in a large frying pan or wok. When the oil is very hot, pour in the drained prawns (you may need to do this in several batches). Stir-fry until the prawns are cooked through, stirring constantly (about 3 minutes). Sprinkle over the green chilli and fresh coriander, with the cooked marinade on the side.
tip:
Serve with steamed rice or as a topping for noodles.