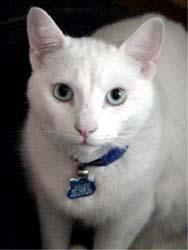 I know, I know, but it's what happened, 6:30 this morning, I was stroking (and talking to, in English) a big white cat in my living room. It was exactly like the cat in the image but it had 'sheeplike' fur on its chest bone and extremely strong arms. It propped itself against the sofa, on the floor.
Very weird things were said by it.
It pushed me away when I asked questions about its origins. Didn't wanna know. Just stopped talking.