Problem
More people in the United States are killed, or kill themselves by firearms than in any other advanced country in the world. There are more mass shootings in America than in any other country in the world.
Factors
The 1994 Federal Assault Weapons Ban outlawed 19 types of military-style assault weapons, but expired in 2004 and was not renewed.
In 1996, Congress effectively blocked government agencies from data collection and research on gun violence.
The AR-15 semi-automatic, assault-style rifle has been used in five of the six deadliest mass shootings in the last six years in the U.S.
Gun laws and their effective enforcement vary from state-to-state, background checks are uneven, and the FBI National Instant Criminal Background Check System (NICS) is flawed.
Recommendations
Make mandatory reporting by states and federal agencies to the NICS of all required data on those prohibited from purchasing firearms, including those adjudicated to be mentally ill, and increase incentives and/or penalties for compliance or non-compliance.
Establish a national universal background check system that effectively closes the gun show and on-line purchase loophole.
Promulgate standardized national qualification requirements and waiting periods for firearms purchases.
Impanel a "firearms policy advisory committee" to develop a comprehensive report for Congress on firearm purchase and ownership policy changes aimed at both keeping firearms out of the hands of people who shouldn't have them, and reducing the confusing, bureaucratic hassle of purchase and ownership for law-abiding citizens.
Fund research by the CDC into firearms related death and injury, as the major health crisis it is.
BackgroundThe Epidemic of Gun Violence in America
More Americans have died from gunshots in the last 50 years than in all
of the wars in American history
.
More people in the United States are killed, or kill themselves by firearms than in any other advanced country in the world.
Compared to other such countries
:
Gun homicide rates were over 25 times higher
For young Americans 15- to 24-years-old, gun homicide rates were 49 times higher
Gun suicide rates were 8 times higher
Unintentional gun deaths were over 6 times higher
Gun homicide is the
3rd-leading cause
of death for American men 15 to 29.
There were 61,527 incidences of
gun violence in America in 2017
(not including suicides), accounting for 15,593 deaths, an average of 1300 per month. There were 346 mass shootings.
There are
more mass shootings in America
than in any other country in the world.
There are twice as many suicides by gun in America as homicides, and suicides are a
leading cause of death in America (see chart
). More than a third of women who commit suicide use a firearm; over 55% of men use a firearm.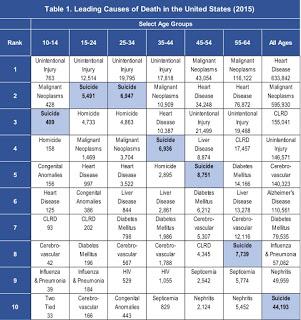 Firearms and Gun Control
The 1994 Federal Assault Weapons Ban (FAWB), signed by then President Clinton, outlawed 19 types of military-style assault weapons. A clause directed that the ban expire in 10 years unless Congress specifically reauthorized it, which it did not.
Going back to 1982,
more semi-automatic handguns
have been used in mass shootings than semi-automatic rifles, like the AR-15. However, the AR-15 has been used in five of the six deadliest mass shootings in the last six years in the U.S.
Under federal law, one must be 21 to buy a handgun from a firearms dealer. Eighteen year-olds can buy an AR-15.
Gun laws and their effective enforcement vary from state to state. There is a 3-day waiting period in Florida to purchase a handgun, but no waiting period to purchase an AR-15 -- the weapon used in the MSD High School mass shooting on February 14, 2018.
The Brady Handgun Violence Prevention Act (Brady Act) of 1993 mandated that Federal Firearm Licensed (FFL) dealers run background checks on their buyers.
In 1998, the FBI launched the
National Instant Criminal Background Check System
(NICS) "to instantly determine whether a prospective buyer is eligible to buy firearms."
Background checks are only required if a firearm is purchased through an FFL, which includes retailers and some individuals.
Background checks are not required
if a firearm is purchased online, through a gun show, or through some private sales. A recent estimate is that
22% of sales take place in this way.
Some states (including Washington) have passed new laws expanding Brady background checks to all gun sales.
Mental illness in and of itself is
not necessarily a disqualifier
for firearm purchases. Furthermore, reporting on mental illness by states to the NICS is voluntary, and spotty.
Washington Gun Laws
Washington gun laws require a 5-day waiting period before purchasing handguns. No such waiting period is required for
semi-automatic rifles, such as the AR-15
.
A current bill before the Washington Senate,
SB 6620,
would require the same background check procedures to purchase semi-automatic rifles as is currently required for handguns, and would raise the age for purchase to 21.
The Washington Senate passed
SB 5992
on February 27, 2018, banning bump stocks, an accessory that allows semi-automatic rifles to simulate automatic fire.
In 2016, Washington voters approved Initiative-1491, Extreme Risk Protection  Orders. It is now  7.94 RCW. It temporarily prevents individuals who are at high risk of harming themselves or others from accessing firearms by allowing family, household members, and police to obtain a court order when there is demonstrated evidence that the person poses a significant danger, including danger as a result of a dangerous mental health crisis or violent behavior.I-1491 passed 70% to 30% state wide, but by narrower margins in the 4th Congressional District. WA is currently one of only five states to have adopted such "red flag" laws.
In 2014, Washington voters approved I-594 by a vote of 59% to 41%, Universal Background Checks for Gun Purchases. The measure applies currently used criminal and public safety background checks by licensed dealers to all firearm sales and transfers, including gun show and online sales.
The measure was defeated in the 4th CD, 42% to 58%.
An opposing measure, I-591, which would have prohibited the restrictions imposed under 594, was defeated state wide, but
approved 56% to 44% in the 4th CD
.
Lack of Data and Research Impede the Development of Comprehensive Strategies to Reduce Gun Violence
In 1996, a Republican-controlled Congress in effect banned research on gun violence by cutting the CDC's funding by the exact amount that was used for gun-related public health research at that time. In 2015, a GOP-led panel blocked a proposal within the House Appropriations Committee that would have reversed the ban.
The newly passed
Omnibus Spending Bill H.R. 3354
, says the CDC can't use taxpayer funds to promote gun control, but also states the CDC can still conduct research. It remains to be seen whether funding for such research will be provided.
The government's antipathy towards gun violence research has cast a pall over topic as a health issue. In relation to mortality rates, peptic ulcers are researched more than gun violence. Gun violence research was the least-researched cause of death and the
second-least funded cause of death
after falls.
Without better data on guns, gun owners, gun deaths, gun injuries, the nexus of mass shootings and mental illness, guns and gangs, the "gun culture," and any number of other factors, the explosion of proposals for curbing gun violence that come after yet another incident of carnage is essentially shooting in the dark.
What We Know
Too many states
, and some
federal agencies
(e.g., military) fail to submit records to the FBI's NICS that establish someone is prohibited from owning a firearm under current law, either due to criminal history or adjudicated mental illness.,
Universal background checks appear not to be enforced aggressively in some states (including Washington). Eleven states and the District of Columbia have adopted universal background checks.
Straw purchase of firearms
is a significant source for illegally acquired firearms, defeating the purpose of background checks.
Mass shootings by people with serious mental illness represent less than 1% of all yearly gun-related homicides, and perpetrators of mass shootings are unlikely to have a history of involuntary psychiatric hospitalization (their illness has not be adjudicated). Thus, databases, such as the NICS, intended to restrict access to firearms and established by firearm laws that broadly target people with mental illness will
not capture this group of individuals.
States with
right-to-carry (RTC) concealed handgun laws
have seen an increase in violent crimes by 13 to 15 percent within 10 years of the law's enactment.
The Concealed Carry Reciprocity Act, H.R. 38, passed on Dec 6, 2017, amends the federal criminal code to allow a qualified individual to carry a concealed handgun into or possess a concealed handgun in another state that allows individuals to carry concealed firearms.
Rep. Newhouse (R-WA4) was a co-sponsor
.
Twenty-three states have adopted "stand your ground" laws since Florida implemented its law in 2005. A study released in 2016 showed that the
implementation of Florida's stand your ground law
was associated with a 24.4% increase in homicide and a 31.6% increase in firearm-related homicide.
Washington State law (RCW 9A.16.060), includes a "Castle Doctrine," which permits the use of deadly force under certain circumstances, e.g., against intruders, but is limited to real property, such as one's home, yard, or private office; there is no duty to retreat.