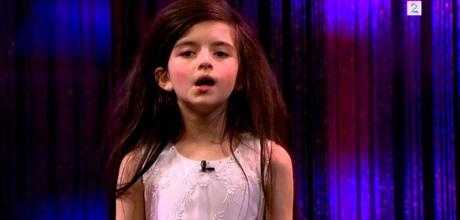 Talented Eight-Year-Old Norwegian Girl Performs "Fly Me to the Moon"
0
Eight-year-old Norwegian, Angelina Jordan Astar, a finalist on "Norway's Got Talent", made an appearance on "Senkveld",back in March. She performed her version of "Fly Me to the Moon" which even Sinatra himself would be amazed by.
She fell in love with singing at the age of two when she heard Whitney Houston for the first time and she was singing ever since. This is somehow inspiring and makes you believe that there is kids who actually listen to and love true quality music. Angelina had made it all the way to the semi-finals on April 14 when she sang "Bang Bang (My Baby Shot Me Down)," and she won.
You know when you know someone is absolutely going to be famous when they grow up? This is the amount of talent we're talking here! Play the video, close your eyes and just keep in mind that you are listening to an eight year old.
You can follow Angelina on the official page  or her Facebook page.