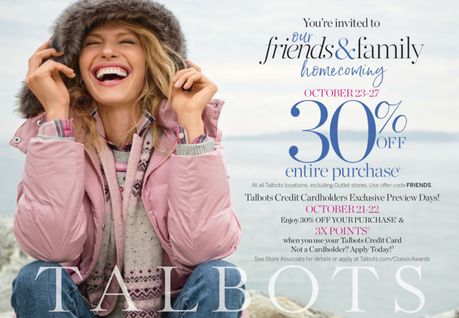 From October 23 - 27 2019, Talbots is having their Friends and Family sale where you can get 30% off your entire purchase with promo code FRIENDS. I am a big fan of Talbots; I love their size range (Misses, Petites, Tall, Plus, and Plus Petite). I think their quality is great. Also, I think many have a dated view of Talbots. I find much of their clothing stylish and modern, it's all about styling it and making it your own. Click here to see all my outfits featuring Talbots. See? Great stuff, and some of the longest-living pieces in my wardrobe. Below I am sharing my picks from the Talbots Friends and Family sale, but also with styling tips and why I think they're worth a look.
My Picks for Dressing Up and Holiday
I know, Halloween hasn't even happened but you know how this time of year goes. Once Halloween is here it's like a holiday train out of control. It rolls down the hill until it's New Year's Day and you don't have the ability to catch up. With this sale, you can buy pieces now to be ready for Thanksgiving, Christmas, holiday parties, and when the ball drops at midnight New Year's Eve. For the past few years, most of my holiday looks have been from Talbots so I feel I can share these picks with a bit of authority!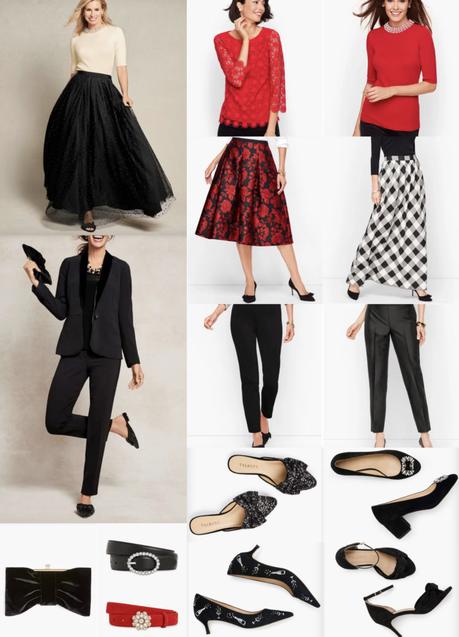 I love a ball skirt. It feels so... formal but it's actually a wonderful and versatile piece. This one is black mesh overlay with tiny glittery dots and it's machine washable! Pair with a black cashmere turtleneck and sparkly earrings for a winter-friendly glam look. Pair with a simple black fitted tee and fabulous earrings for a fun yet festive evening. Style with a crisp white shirt for an evening wedding or fundraising gala. In a warmer climate? Choose a silky camisole or shell top and dressy black satin sandals. Add a pop of color with a cashmere or silk knit tee in red, hot pink, pastel pink, or aqua and a sparkly necklace in the same color or clear. And who says this only is for formal affairs? Pair it with a graphic tee and your favorite denim or leather jacket for a super fun look. Misses and petite sizes.
You know what I love more than a ball skirt for dressing up? A lady tux. I'm going on my third year rocking a Talbots lady tux (see mine in this post and this post; the pants alone in this post, the blazer alone in this post). I was thrilled to see that Talbots has another one this year. Here is the link for the blazer, and here is the link for the matching tuxedo pants. This year's version has a proper button, making it more timeless. Pair with a white blouse and tie a satin bow at the throat (or pin a brooch). Wear with a black silk tee or shell to a company cocktail party, switch out for a silk or beaded cami for an evening out when you want to feel more romantic. Add color with a shell in silk, beading, or even cashmere. I also think a lady tux like this looks super sharp with a turtleneck, it can be a silky fabric, a bit sheer, or a knit like cashmere or merino. This suit comes in Misses, Petite, Plus, and Plus Petite sizes.
A dressy top is such a must in most wardrobes, and these two are great. Here is the link to the red lace blouse, which also comes in black and in Misses, Petite, Plus, and Plus Petite. Pair with jeans for a night out with your girl friends. Wear with black work trousers for a company happy hour. Style with an ankle pant in a dressy fabric (could be the tux pants from the lady tux above or the pants mentioned below) with sparkly earrings and a dressy shoe for a holiday party. It can tuck in to a pencil skirt or high-waisted jeans. This is a piece that is stylish three seasons of the year and can work with denim, black, ivory, cream, and metallics. As for the sweater with the embellished neckline, it comes in black, ivory, and red and I am in love with it. To be honest, I don't think the photos on the site do it justice. The knit is a great weight that skims without clinging. The sleeves are long enough to give some warmth while looking more elevated. The embellished neckline is elegant, not cheesy. This would look smart untucked with ankle pants or tucked into a ball skirt. It can be worn to work with or without a blazer, styled with jeans, or glammed up with wide-leg crepe, silk, or matte jersey trousers. It comes in black, red, and ivory and also available in Misses, Petite, Plus, and Plus Petite.
More festive skirts! All the suggestions I have above for the ball skirt will work with these two. The red floral jacquard skirt is a great length for daytime or evening and can dress up with bare legs or sheer hose, or dress down with opaque tights. The fabric has enough weight that it can handle being paired with a thicker sweater; don't think you have to stick to black. I think a cream or ivory sweater or blouse with it would look quite elegant! Misses, Petite, and Plus sizes. The black and white buffalo plaid maxi skirt is essentially the same skirt I got from Talbots last holiday season. As you see in this post, I wore it with a crisp white shirt and sparkly earrings. I also wore the skirt for Thanksgiving with a black Universal Standard Foundation tee, and to a friend's party I wore it with a black fitted turtleneck sweater. I think this skirt one is just as pretty, whimsical, and versatile and it is available in Misses, Petite, and Plus sizes.
As I mentioned above, I'd be featuring dressy pants. I am always glad to have a pair of dressy pants in my wardrobe. The style on the left is a velveteen ankle pant that also comes in red. This is the link for the velveteen pant in Misses and Petite; this is the link for the pant in Plus and Plus Petite. The pant on the right is of silk gazar and comes in burgundy as well as black. This is the link for the pants in Misses and Petite, and this is the link for the pants in Plus and Plus Petite. Everything looks more glam with a pair of party pants - your favorite sweater, a silk or cotton blouse, a beaded shell, an ivory blazer and black shell in a dressy fabric, even your wildest Ugly Christmas Sweater has a touch of elegance with dressy pants!
The best way to elevate a look, especially at the holidays, is with footwear! I am a fan of Talbots shoes, I think they fit well, are made well, and often come in widths. These were my four favorite festive shoes: the sequined mules which are flat, have a bow front and will look so chic peeking out from a pair of trousers; Talbots' iconic (and quite comfortable) Isa Pump glammed up for evening with a velvety finish and jeweled buckle; a black suede ankle strap heel that is elegant but comfortable and will look chic all year round; and a kitten heel pump embroidered with champagne bottles and glasses begging to be worn with everything from jeans to ball skirts for all your holiday events!
Finally, I share my three favorite accessories part of this sale: a velvet clutch shaped like a bow, and two belts to glam up most everything. This belt is leather with a crystal and pearl buckle, and this belt is silk suede with a crystal buckle and comes in red and black.
My Picks for Shoes
I already shared four dressy shoes, but Talbots also has great shoes for work and for weekend: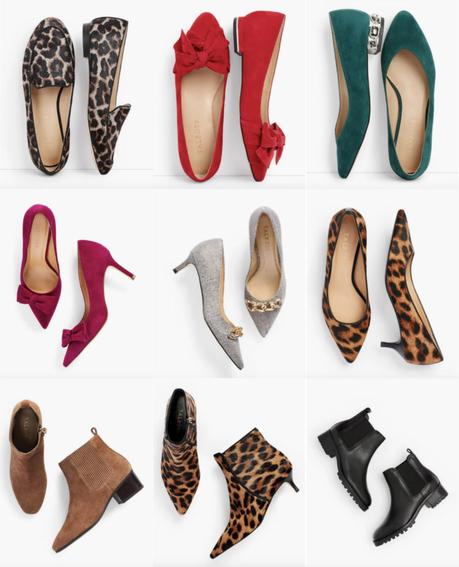 Calfhair loafers in a cool grey leopard print (available in three widths). By the way if you like these shoes, Talbots also has a bag in this same exact fabric that is uber chic and a wonderful size.
Suede bow-detail flats that come in three colors and three widths
Bejeweled suede flats that come in two colors
I own these suede pumps with a bow detail and find them some of the most comfortable pumps in my wardrobe. Available in two colors.
I mean come on now, how chic are these pumps with the gold chain detail? You need to see them up close to admire the fun pattern!
For the past 15 years I have owned a pair of leopard kitten heel pumps like these in my wardrobe. They go with everything and I love the walkable heel hight. Three widths to choose from.
The perfect weekend boot, and highly rated too! Two colors to choose from.
Leopard is a neutral and you'll find these kitten heel booties will go with so much!
These are the kind of boots that will just get better with wear and time.
My Picks for Outerwear
I love Talbots for outerwear, they create pieces that are elegant and timeless yet so chic. I've worn them before on the blog in this post, this post, and this post. Whether or not the cooler temps have arrived where you live, they will be here soon so it's smart to buy them while there is selection and a great sale.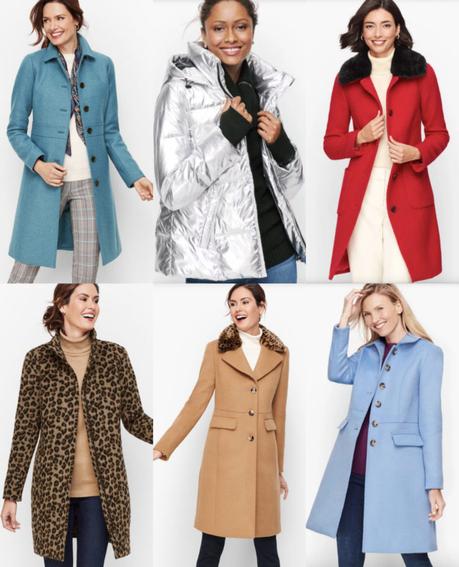 I am partial to this blue lady coat because I own it! You can see it on me in this blog post. It comes in four great colors and in Misses, Petite, Plus, and Plus Petite.
How awesome is this silver puffer coat?
This red boucle wool coat with a faur fur collar is classic chic. It comes in three colors and Misses, Petite, Plus, and Plus Petite.
You know I love leopard so I adore this leopard wool stadium coat! It comes in Misses, Petites, and Plus.
Of course then I am drawn to this camel wool coat with a leopard faux fur collar. It comes in Misses, Petites, Plus, and Plus Petites.
This light blue brushed wool coat has a feminine silhouette, comes in three colors and Misses, Petites, Plus, and Plus Petites.
My Picks for Fashion
And now for the meat and potatoes: apparel for work, weekend, and everything in between. Several of these items I own and can attest to the fit and quality.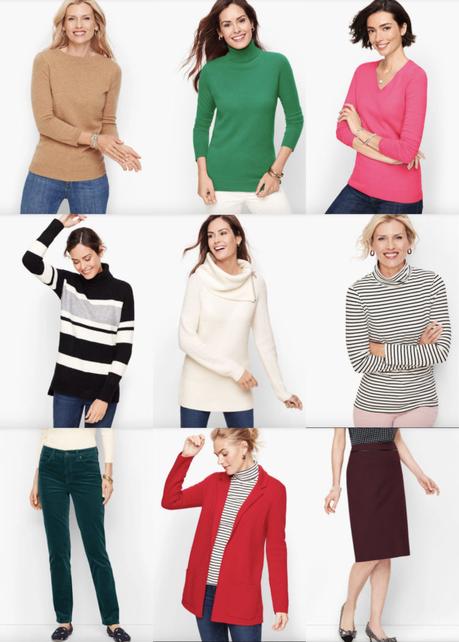 The Audrey Cashmere Sweater is a favorite of mine, I currently own two but I am considering getting a third with this sale. They have 17 colors to choose from, Misses, Petite, Plus, and Plus Petite sizes.
I also love Talbots' cashmere turtleneck. Ten colors to choose from in Misses, Petite, and Plus.
I don't own one of their cashmere v-necks... yet. Eleven colors in Misses, Petite, and Plus.
This cozy striped turtleneck will look great with leggings, with jeans, with ivory cords, and more. A bonus, it's machine washable. Misses, Petite, and Plus sizes.
A lot of tunics look lumpy and frumpy, this split neck tunic sweater is totally chic. Three colors in Misses, Petite, and Plus.
I just got this striped turtleneck and love the silky knit and how it's fitted but not skintight and the neck isn't too high or too narrow. I love it under a blazer, a sweater, and under jumpsuits and coveralls to winterize them. Two colors in Misses, Petite, Plus, and Plus Petite.
I love the classic and clean silhouette of these stretch cords. They come in 13 colors and Misses, Petites, Plus, and Plus Petites.
The perfect office cardigan, weekend layer, topper at work with nice trousers, and a way to snuggle up on the couch at the end of the day. Five colors in Misses, Petite, Plus, and Plus Petite.
With such high customer ratings I had to share this classic and elegant ponte pencil skirt. Three colors in Misses, Petites, Plus, and Plus Petites.
Shop my Favorites from the Sale:

There are many many more wonderful items at Talbots this season. If you make a purchase, do let us know in the comments what you get. And if you own any of these pieces please share your review, positive or negative, to help the rest of us!