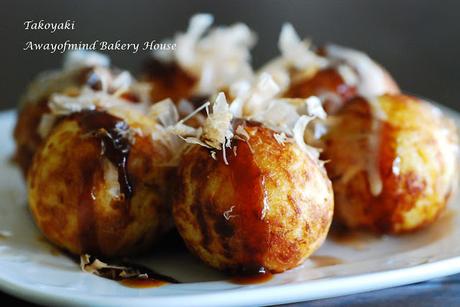 First time making Takoyaki, I'm using a recipe given by a friend. The ingredients used are a bit different from the traditional Takoyaki as there is Parmesan cheese and milk in it. 
When I recount how I had tracked and bought the Takoyaki machine, I laugh at myself and I believe the friends whom went through that moments with me will still laugh together with me too. That's how the life I had in Qatar, miss you all over here.
Yield: 38 pieces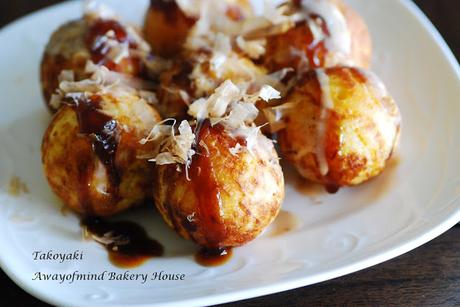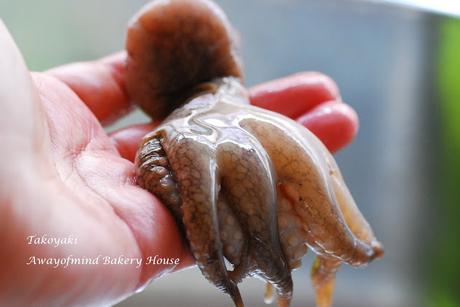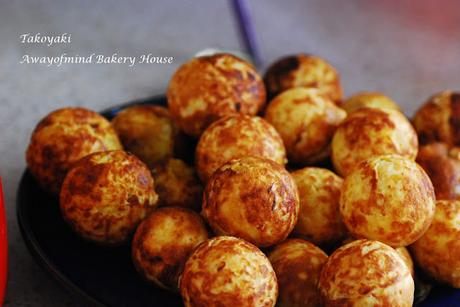 Ingredients:
1.5 cups cake flour
1 tbsp corn flour
1 tbsp baking powder
1 egg
1 cup full-fat milk
1/2 tsp peppers/salt
1 tbsp salad oil or vegetable oil
2 tbsp Parmesan cheese
3 tbsp shredded carrot
4 pieces of baby octopus, cut into small
Topping:
Roasted sesame sauce
Bulldog Ouchide Honkaku Okonomi sauce
some Bonito flakes 
Method:1. In a mixing bowl, add cake flour, corn flour, baking powder, egg, milk, peppers/salt, vegetable oil, and Parmesan cheese. Mix well. Then add shredded carrot.2. Heat up the Takoyaki machine with some oil coated on each holes. (As my machine not able to adjust the heat, I switch it off when the machine is over heating, or else you should use medium-low heat to cook the Takoyaki balls) 3. Pour the batter into each of the holes, top with a piece of octopus (if the octopus piece is very small you can put 2 or 3 pieces), use two skewers to flip the excess batter inwards to the hole, in the mean time, turn and flip each balls to 180 degree, you will see it starts to form nice round shape and keep turning until the ball is evenly brown. 4. Top with some roasted sesame sauce, bulldog Ouchide Honkaku Okonomi sauce and sprinkle with some bonito flakes, serve warm.