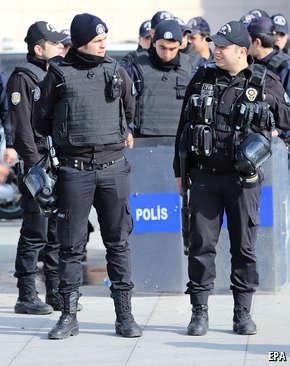 Another successful operation
ON MARCH 31st two members of DHKP-C, a Marxist revolutionary group, strolled into Istanbul's main courthouse disguised as lawyers and armed with guns and hand grenades, and took a prosecutor hostage. Hours later the prime minister, Ahmet Davutoglu, boasted that security forces had conducted a "successful" operation, killing both gunmen. No matter that the prosecutor, Mehmet Selim Kiraz, had been killed too. Three days later 166 websites, including Twitter, Facebook and YouTube, were blocked for publishing images of Mr Kiraz held at gunpoint by his killers. Only when they complied with a court order to remove the pictures did they come back online.
Such crackdowns have become routine under Recep Tayyip Erdogan, the Islamist president, who calls social media "the worst menace to society". He sometimes claims social media are being manipulated by an unnamed global "mastermind" trying to overthrow him and his Justice and Development (AK) party. A foreign diplomat in Ankara, the capital, says Mr Erdogan is creating imaginary enemies to stoke artificial crises and justify repression.
…
The Economist: Europe