Tailor made for golfers, the Personal GPS Watch allows users to view locations and surroundings, calculate distances from the hole, and keep track of their score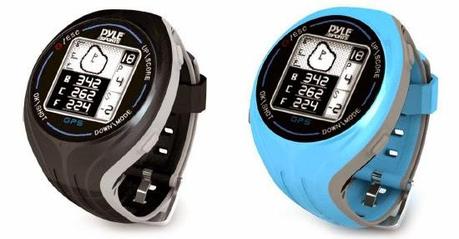 NEW YORK – (April 10, 2014) – Pyle Audio®, manufacturers of outdoor recreational sports gear and home, car and pro audio equipment, announces the Personal Golf GPS Watch. Pyle's Golf GPS watch conveniently comes pre-loaded with over 20,000 golf courses information and uses space-based GPS technology to easily detect golf courses near it, making it ready to go from the point it is purchased. Some of the courses that are included are Pebble Beach, Augusta National, Pine Valley and Merion. The Golf GPS Watch automatically calculates shot distance, while clearly displaying a hole number, par score and stroke information. Personal Golf GPS Watch is now available for $149.99 at pyleaudio.com.
Aside from its navigational features, Pyle Audio's Personal Golf GPS Watch detects and records golfers' information and score. It gives users the option to input stroke totals to save and track their progress, and the ability to constantly view their round cards.
The stylish and comfortable watch comes in black, blue, silver or white and is packaged with a cable and USB charger. When updates for the watch are available, users can easily download them by plugging the included USB charger into any computer.
Pyle Audio's Personal Golf GPS Watch is now available for $149.99 at pyleaudio.com.
About Pyle Audio
With more than 40 years experience in the manufacturing of high-quality audio products, Pyle has established itself as a premier source for car audio, home audio and professional audio & musical instruments. Product lines include Pyle Pro, Pyle Car and Pyle Home. The company has recently expanded into outdoor recreational gear with its Pyle Sports line. For more information, please visit www.PyleAudio.com.