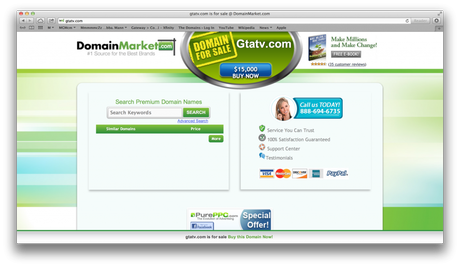 Take-Two Interactive Software, Inc makers of the widely popular Grand Theft Auto games, filed a UDRP's today against Mike Mann's Domain Asset Holdings, LLC on four domain names with WIPO.
All four domain names are listed for sale at Mike Mann's DomainMarket.com.
Here are the domains, registration date and the Buy It Now (BIN) price listed for each of the domain names on DomainMarket.com:
Grandtheftautovideos.com registration date  August 9, 2012 for sale for $350.00
GTAextreme.com  Registration date August 2, 2010 for sale for $8,000
GTArevolution.com Registration Date August 8th 2011 for sale for $10,000
Gtatv.com Registration Date April 6, 2011 for sale for $15,000
None of the domains go to a parked page, just to a for sale page as the one on the screenshot above.
Separately Take-Two filed a UDRP on the domain name Gta.Tv which is owned by iCity Corp. of Mississauga California and another UDRP on the domain name grandtheftautocodes.net owned by Ozhan Hassan of Sydney .…