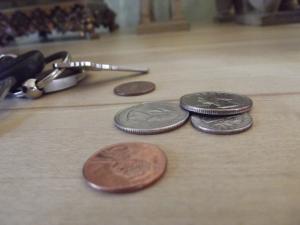 When I first started this crazy sidebar of writing many moons ago, one of the first pieces that pushed its way through my subconscious haze was an essay that wrangled with the question of whether it was spiritually legit for Christians to make money. Or, I should say, to want to make money.
I argued that it was okay. (Really, what did you expect?) Thus the "Shrinking the Camel" blog was born.
But making money is only one piece of the work-faith-life fulfillment puzzle. I wrapped up that piece by talking about giving back:
"If by God's grace, I can reach a point in life's pursuits where I am well compensated for doing something I like and something I am also good at, then I would suggest that surely God is pleased and that I am blessed. And by passing on these gifts to others thus continues a generous circle of His will being done on earth as it is in heaven."
The integration of a business career and spiritual life is a mysterious conglomeration of expressing one's gifts and chasing dreams and tapping into God's creative expression. But at the end, what makes it all worthwhile is in giving back to others.
My good friends over at the online magazine The High Calling have recently launched a development campaign to support their online mission, which is "to create a community by actively listening and educating people about work, life, and God." See how that fits so exactly with my writing life?
So I made my donation yesterday with a couple simple clicks, and you can make yours too by clicking here. Even ten dollars is something, because every dollar is matched. (Thank GOD for loaded Christians.) And doesn't it feel good to give back?
I concluded my little making-money tirade with a benediction – the sort that you would never, ever hear from your church pulpit. So please take this blessing with you to work, to that next job interview, wherever you go.
Now go ahead, you Christian men and women, I urge you to go out into the world, get educated, work hard, and be shrewd. Don't be afraid to take on greater responsibility and new challenges, because God is with you.
Discover and use all of your gifts and talents to the fullest, and prosper!
Make a killing!
And then do good with it. Give it away — to your family and friends, to the church, to the homeless and unloved, to your alma mater, to those in your back yard and to those around the world.  Amen.