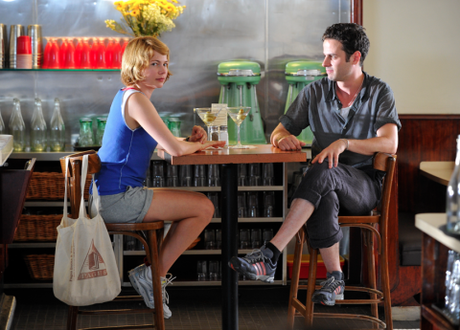 Take This Waltz with Michelle Williams
The background
Actress turned director Sarah Polley's new movie, Take this Waltz, features Michelle Williams as Margot, a married freelance journalist whose belief in her happy marriage is shaken when she meets struggling artist Daniel (Luke Kirby) on a plane ride back home and is immediately infatuated with him. This infatuation is then given space to develop into something more serious when the two find out that they happen to live across the street from one another, and Margot is caught in a haze of confusion choosing between her sweet, caring husband, played by Seth Rogen, and her newly discovered, exciting, mystery man.
Keeping the story real
This movie focuses on the realities of long-term relationships and raises many questions that the audience can relate to, reported Jenny McCartney from The Telegraph, such as "do people fall into affairs to be with someone new, or mainly the chance to reinvent themselves, to be freshly visible once again? Must every relationship inevitably perform the same trajectory, sliding towards television dinners and careless sharing of the bathroom?" Phillip French from The Guardian agreed that "Like the Cohen song, Polley's movie touches on familiar feelings and evokes common experiences in a way that goes beyond what can be explained or paraphrased."
Stunning, real acting
The acting was terrific, most critics agreed, especially Rogen, who gives a "breakable sweetness to Lou he's never shown before", said Timeout London. Williams' character Margot also draws the viewers' empathy. Though we find her irritating, and perhaps a shade unfair at times, we can still relate to her, and not dislike her for it. "Margot is stubborn, decent and disciplined, but also selfish, needy and coy," suggested A.O. Scott from The New York Times. "Nobody in this film is just one way," he continued, explaining, "Ms. Polley, as a writer, a director of actors and a constructor of images, excels at managing the idiosyncrasies and contradictions of her characters so that our knowledge of them is both intimate and mined with potential surprise."
A must-see
Most critics had only good things to say about this movie, chiefly because of its deep grounding in reality. Take this Waltz may not be a perfect movie, concludes Scott The New York Times as it seems to stagger a bit towards the end, but "perfection may not have been Ms. Polley's chief concern, especially since the great theme of this wonderful movie — a source of delight as well as distress — is that imperfection is all anyone ever learns from love.