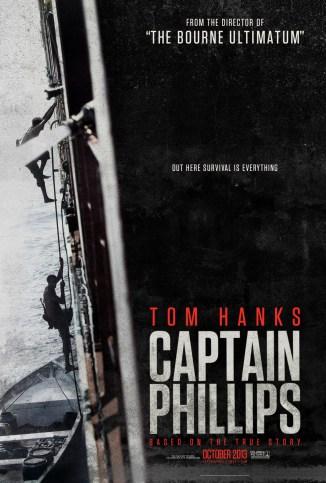 In 2009, when armed Somali pirates boarded the MV Maersk Alabama and took its captain hostage in the cargo ship's lifeboat, the world was captivated.
Captain Phillips, directed by Paul Greengrass, retells this harrowing tale, and manages to recapture our fascination, while shedding light on all that really happened that day.
The magic of this film is in its authenticity.  It has a documentary-like quality.  As the pirates storm into the ship's bridge not only can you see the fear in Captain Richard Phillips' (Tom Hanks) eyes, you can feel it creeping down your spine.
Adding to its real-life feel, are the four Somali pirates — Muse (Barkhad Abdi), Bilal (Barkhad  Abdirahman), Najee (Faysal Ahmed), and Elmi (Mahat M. Ali).  All are played by Somali-American refugees.  Their performances are fueled by experience, and all are inspiring.
The film skims the surface of the poverty and desparation that has driven these men to this point.  It's a brief exploration, but effective.
The rest of the pirates story rests safely in the hands of newcomer Barkhad Abdi, who commands the attention of not just the Captain and his crew, but also us, the audience.  It's a truly simple, moving and heartbreaking performance.
More than a simple story of survival, Captain Phillips explores a broader issue of power.  While the Somali pirates and Phillips are the main players in this story, as the Navy Seals close in and the media swirls around the story, it becomes clear that neither side has the power.  They're pawns in a much bigger game, and have much more in common than you might think.
In the end, the anticipated sigh of relief is thwarted, by an overwhelming sense that the problem was never resolved.    At least we can take comfort in the fact that this film which could have easily been a black-and-white action flick is far from it.
_______________________________________
…just for fun: