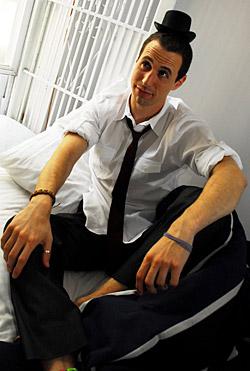 Avi Wisnia
Laurel Fehrenbach, public programs assistant here at American Art, spoke with Avi Wisnia of the Avi Wisnia Quartet about their upcoming performance at Take 5! on Thursday, May 19, from 5 to 8 p.m.
Eye Level: You have such an eclectic mix of jazz styles in your sound, but Bossa comes out the strongest. What is it about bossa nova that you are drawn to?
Avi Wisnia: There are so many things about bossa nova that have completely won me over. The most striking things are how complex the music is, how poetic the lyrics are, how complicated the rhythms get, and how subtle the chord changes become. But ultimately, when all those elements are put together, the music seems so simple; all the pieces fit just so. It is really inspiring to look at what Jobim and other Brazilian composers have done. Of course, the way the music immediately transports you is something else, too. Even if you have never been to Rio de Janeiro, you listen to the music and feel as if you are there.
EL: What other types of music inspires you? What do you have on your iPod right now?
AW: My influences are pretty much all over the place. I think when you listen to my music you'll find a few pretty obvious influences that pop out, in addition to the bossa nova: classic American songwriters like James Taylor, Joni Mitchell, and Stevie Wonder, 1950s west coast jazz artists like Chet Baker, contemporary pop piano players like Bruce Hornsby and Gabe Dixon. A website once called me "Ben Folds meets Norah Jones, if they had a lovechild in Brazil." And I feel that is probably pretty accurate.
I also love the rhythms of hip hop. The Miseducation of Lauryn Hill is always on rotation in my headphones. Lately, I have been getting really into the progressive sounds of The Dirty Projectors.
EL:You have experimented with deconstructing pop songs and other tunes and rebuilding them in your own way. (Like TLC's "No Scrubs," a personal favorite!) What does that process look like from start to finish?
AW: There's nothing I love more than taking apart a familiar song and turning it on its head. I start with considering the listener's expectation—how can I surprise the audience? I'll usually play the song a few times to see if all the chord changes work or need to be changed, and how to make the melody work for me. The best part is getting to bring the reworked song to my amazing ensemble, allowing us to feed off each other and really make the song our own. I come from the perspective that if you're not going to do something completely new with a cover song, what's the point in covering it in the first place?
Right now, we're working on a few crazy covers of tunes by Cyndi Lauper, Soundgarden and CeeLo Green. You can expect a few of those at our May 19th Smithsonian performance.
EL: Do you see yourself trying to expand your repertoire into different styles, or does your music tend to evolve organically?
AW: When I first started composing and performing, I was very focused on bossa nova and other Brazilian styles. But as I have starting writing more originals, my songs have started to incorporate other styles—raggae, drum & bass, rock, folk. I think that is a result of all my influences trying to reconcile themselves within the framework of my personality. I think you can probably expect me to get more purposefully experimental in the future, but for now, I write whatever comes naturally.
EL: You speak Portuguese and travel to Brazil quite a bit. What do these experiences add to your music and exploration of jazz and bossa nova?
AW: A huge part of understanding Brazilian music has to do with understanding where it comes from. There is only so much you can read about. There is a spirit and pride that is so evident among Brazilians and Brazilian artists. I have been fortunate enough to have learned from and played with some incredible musicians and teachers over the years. I love singing in Portuguese and I just came back from an amazing trip where I played several shows in Rio and Sao Paulo. I'm always learning more, I am by no means an expert, but I love the color these experiences bring to my own music. I certainly did not grow up with it —no one in my family spoke Portuguese, no one has lived in Brazil— but there is definitely a sincere connection to the music for me. I'm just a Jew from Jersey and somehow I have come to identify with it.
Check out Avi's debut album Something New, available for purchase at his website, and other information at www.aviwisnia.com.