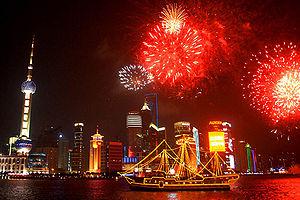 Image via Wikipedia
Lots of people who are familiar with Chinese language learning are all recognizable that there are indeed various ways of acquiring it. People might take to learn Chinese in Shanghai and enroll to its situated language schools; they might even log on to language learning websites and start the basics on their computer screens; or just be independent by relying on books, audios, videos, and computer applications.
A person can always find his own ways in acquiring Chinese language as long as he is decisive and persistent to chase your dream in learning a language such as Chinese.
But you know what, as you go along the process, there will really come a time when you'd feel like the learning itself gets so procrastinating. It would eventually lead you to boredom; especially that language learning requires repetition.
So how are you going to boost it up?
Well, a certain site like the Memrise can find solution to that. According to Kim Komando, a writer in Fox News, the Memrise turns learning a new language into a game. And in fact, it "rewards repetition". Sounds fascinating, isn't it?
Komando narrated how this game changes the tedious perspective of Chinese language learning. First, a learner must select a language. Its featured idiom is Mandarin Chinese but it also includes other languages. Its versatility can actually lead you to learn English language also, right? It does sound great!
Now, when you get to select your language, Memrise will give you a couple of words to start. The site will present the words as seeds. You then memorize them all and take a quiz. Once you've learned them, the words are planted in a digital garden.
As you log back in, you are actually adding more seeds to your "garden". "You can then nurture the existing seeds and allow them to grow by remembering your learned words correctly. In the end, you'll have to have a full garden and of course, a new language!
Isn't this great? You get to enjoy a grand "Zen Garden"-like feature while taking pleasure in learning a foreign language! Would you like to try this feature? You can actually log in to their site by searching Memrise in your search engine.
Transform your boring Chinese language learning and make it exciting through game playing.