Glass competitors were inevitable and now here we have one of the first here, Recon jet.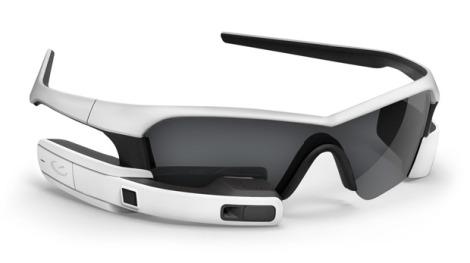 Inside Recon, you'll find a dual-core processor, WiFi, GPS, Ant+, Bluetooth and an HD camera, plus all the sensors you could want (altimeter, thermometer, accelerometer etc).
Recon Jet comes with its own open platform (which is similar to Android), and will have some existing native apps (video streaming, Facebook integration, etc.)
Check the video here;
Recon Jet is an activity specific heads-up display with a truly open platform that delivers information instantly, effortlessly and unobtrusively direct to the user's eye via a microcomputer and high-resolution widescreen display. Jet has a dual core processor, dedicated graphics, Wi-Fi, ANT+, Bluetooth, GPS, HD camera, and a comprehensive suite of sensors. All of this is mounted on a precision-engineered, fashionable pair of sunglasses on par with the best in the world.
Don't know about the rest yet but it certainly looks better.
N.