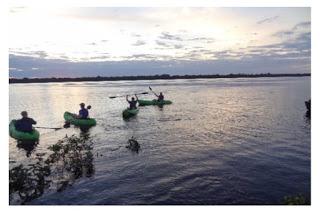 If you have ever considered exploring the Amazon, and love kayaking, then join a Tucano Cruise. The Tucano runs true expedition cruises, focused on thoughtful and intense exploration of the rainforest ecosystem. The excursions are led by highly trained naturalist guides with years of experience, and are done in very small groups, which makes the experience very memorable.
A cruise on a ship like the Tucano lets you go deep into the jungle, far from the lights and noise of civilization. Tucano cruises are very active and very focused, with multiple optional excursions off the vessel every day. These excursions are quite varied, from exploring tributaries in a skiff to jungle walks to visiting small villages and family homesteads.
Among the popular options is Tucano's quiet, guided kayaking excursions that let you drift close to wildlife during the prime feeding hours at dawn and dusk. During certain times of year when the forest floods, one can even kayak at the level of the treetops, as beautifully described by our own Jack McCabe.
Kayaking in the Rainforest Canopy. Seriously!
At certain times of the year you can actually Kayak the flooded forest. This is what Vaya's Jack McCabe recently did when he cruised the Amazon River aboard the Tucano. He was there during the high-water season, when the river level rises up to 65 feet - much higher than during the dry season. Jack had his first experience kayaking through the flooded forest canopy, gliding through the tops of trees that are usually high overhead. This is definitely one of those rare and memorable moments in life.
The staff and crew of the Tucano are consistently praised for their warmth and energy as well as their knowledge and training, and many of our clients mention the personal connections they enjoyed on the boat. Travelers also appreciate how the company emphasizes sustainability and observes a zero-impact policy that includes not removing anything from the forest and leaving nothing behind. They are dedicated to the preservation of the rainforest's fragile ecosystem as well as respectful interactions with local Amazonian communities. The Tucano is a first-class operation, and a highly recommended way to see this unique region.
Ready To Plan Your Amazon Cruise Aboard The Tucano? 
To explore current packages and tour schedules call 1-800-342-1796 to speak with a Destination Specialist, or visit the Vaya website.