Jazz musician (and DC native) Andrea Wood will present the music of Washington's legendary Shirley Horn at Take 5! on Thursday, August 15th from 5-8 p.m. Laurel Fehrenbach, public programs coordinator, interviewed her about the upcoming concert.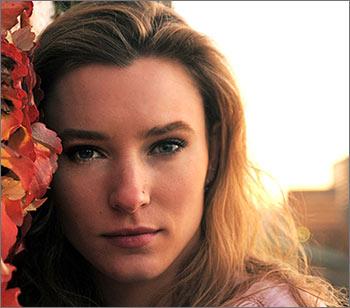 Photo courtesy of Andrea Wood.
Eye Level: I am looking forward to having you back at Take 5! What have you been up to since you were last here?
Andrea Wood: I am excited to be back at Take 5! as well! I have been completing my masters degree at The Manhattan School of Music in New York City. I graduated this May! It was a tough, but amazing two years. I have been writing a lot of new material and playing with some really great musicians. But I love to come back home to DC as often as I can to play with some of my favorite people.
EL: This concert will focus on the late Shirley Horn, a DC native and jazz legend. Can you tell us a little about who she was and her impact on jazz?
AW: Shirley Horn was a fascinating woman and musician! She was a DC native and a graduate of Howard University who never left her native city, preferred to perform for small crowds, turned down an acceptance to Juilliard because she couldn't afford it, and turned down an offer from Quincy Jones to sculpt her into a main stream vocalist (an idea he later admitted was mistake). Despite all of these unorthodox choices, she still managed to become an extremely successful and highly respected musician.
Discovered by Miles Davis, Shirley was one of the premier female pianist/ vocalist (the predecessor and inspiration to Diana Krall). She had quite limited vocal ability though, often compared to Billie Holiday, but became known for the most captivating and incomparable ballad performances to this day. She also kept the same trio for 25 years.
EL: What about her inspires you, as a musician following in her footsteps?
AW: Shirley Horn has been one of my favorite musicians since I was introduced to her by my band director in high school. I am in love with her phrasing! She would sometimes leave an uncomfortable amount of space between phrases, but always maintained control and conveyed the mood or story of a song in a way you never experienced before. She also swung so incredibly hard and played the piano like no other. Her fills were tasteful and melodic; her feel was floaty and soothing on ballads, yet solid and invigorating on swing tunes.
What inspires me most about Shirley is her emotion and ability to turn a simple, unappreciated song into an extremely effective and interesting piece of music. She kept things sparse but vulnerable, revealing the core meaning of the song. Her death was such a loss to music world.
EL: Will the concert be your interpretation of her music? How did you prepare the arrangements?
AW: Shirley was not known for composing. She did, however, have a distinct arranging style and a set of songs that she was known for signing, such as her hit song "Here's to Life." I am approaching this concert with the goal of staying true to her style and repertoire, and what I believe to be her intention behind singing these songs.
Characteristics of Shirley's arrangements include orchestrated into's and outro's, multiple repeats of the melody coupled by a gradual build in dynamics and energy, and a lack of scat singing. I will incorporate these elements in my arrangements of songs from some of my favorite Shirley Horn albums.
EL: What other influences do you consider important in your own music?
AW: I have a lot of influences. I grew up listening to soul, R&B, classic rock and classical music. I think my composition style is heavily influenced by soul/R&B and usually has a back beat and a "feel good" chorus. Vocally, I am most influenced by Stevie Wonder, Whitney Houson, Sarah Vaughan, Betty Carter and of course, Shirley Horn. I have spent many hours copying every lick on many of their albums! I am also obsessed with Brazilian music and love the way they play with rhythm.