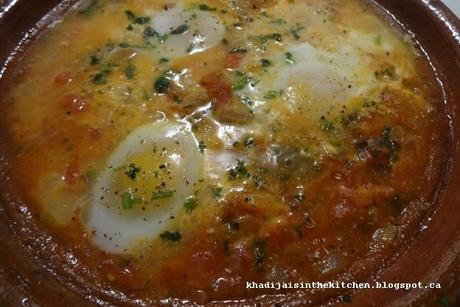 INGRÉDIENTS / INGREDIENTS / INGREDIENTES
المكونات
/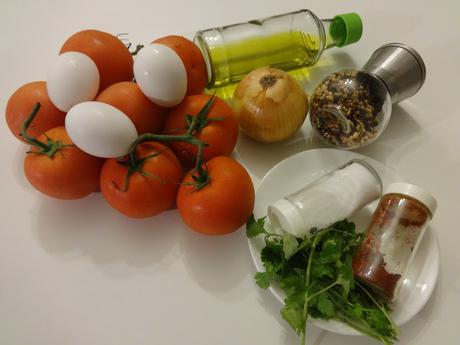 4 tomates
1 oignon
3 œufs
2 cuillères à soupe d'huile d'olive
Sel, poivre et paprika (au goût)
De la coriandre (ou du persil)
*************************
****
4 tomatoes
1 onion
3 eggs
2 tablespoons olive oil
Salt, pepper and paprika (to taste)
Cilantro (or parsley)
*****************************
4 tomates
1 cebolla
3 huevos
2 cucharadas de aceite de oliva
Sal, pimienta y pimentón (al gusto)
Cilantro (o perejil)
*************************
****
4 حبات طماطم (بندورة)
1 بصلة
3 بيضات
ملعقتان كبيرتان زيت الزيتون
ملح و فلفل اسود و فلفل أحمر (حسب الذوق)
كزبرة
PRÉPARATION / HOW TO / ELABORACIÓN /

طريقة التحضير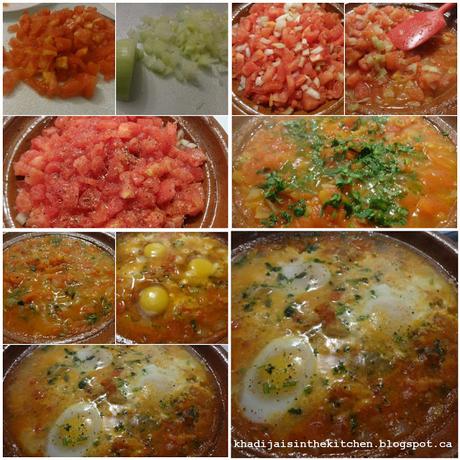 Mettre l'huile d'olive dans le tajine, ajouter l'oignon coupé en petits dés. Laisser cuire environ 5 minutes, sur feu moyen. Ajouter les tomates pelées, épépinées et coupées en petits dés. Ajouter les épices, mélanger un peu et laisser cuire une dizaine de minutes.
 
Ajouter la coriandre, mélanger un peu puis faire des petits trous dans la sauce et casser les œufs dedans. Rectifier l'assaisonnement. Laisser cuire à feu doux jusqu'à ce que les œufs soient presque cuits.
Saupoudrer de coriandre hachée.
**********************
Put the olive oil in the tagine, add the onion, diced. Cook for about 5 minutes, over medium heat. Add the tomatoes, peeled, seeded and diced. Add the spices, mix a little bit and cook for about ten minutes. 
Add the cilantro chopped, mix a little bit,then make small holes in the sauce and break the eggs inside. Taste and rectify the seasoning. Let cook on low heat until the eggs are almost cooked.Sprinkle with chopped cilantro
**********************
Poner el aceite de oliva en el tajine, añadir la cebolla cortada en cubos pequeños. Cocer durante unos 5 minutos, a fuego medio. Añadir los tomates pelados, sin semillas y cortados en cubos.
Añadir las especias, remover un poco y cocinar durante unos diez minutos.
Agregar el cilantro, mezclar un poco y luego hacer unos huecos en la salsa y romper los huevos en estos huecos. Rectificar la sazón. Cocinar a fuego lento hasta que los huevos estén casi cocidos.
Espolvorear con el cilantro picado.
*****************************
يوضع زيت الزيتون في الطاجين، يضاف البصل مقطع إلى
مكعبات صغيرة.يطهى لمدة 5 دقائق على نار متوسطة الحرارة. تضاف الطماطم مقشرة،
منزوعة البذور ومقطعة إلى مكعبات. تضاف التوابل ويحرك الخليط قليلا ويطهى لمدة

عشر دقائق.

تضاف الكزبرة وتمزج الخليط قليلا. 

تشكل حفرات صغيرةو يكسر البيض

وسطها

. تضبط التوابل. يواصل
الطهي على نار هادئة حتى ينضج البيض تقريبا. يرش بقليل من الكزبرة المفرومة. 

 
Hope you'll enjoy!!
*******************
Merci de votre visite / Thank you for your visit/ 
Gracias por su visita /

شكرا على زيارتكم