Recently I attended a demo for Taiwanese Dumplings 台湾饺子.  It was enlightening as I learnt why my dumplings often became soggy and why the frozen dumplings always stick together despite when
I froze them individually.
After weeks, I finally found time to experiment what I had learnt.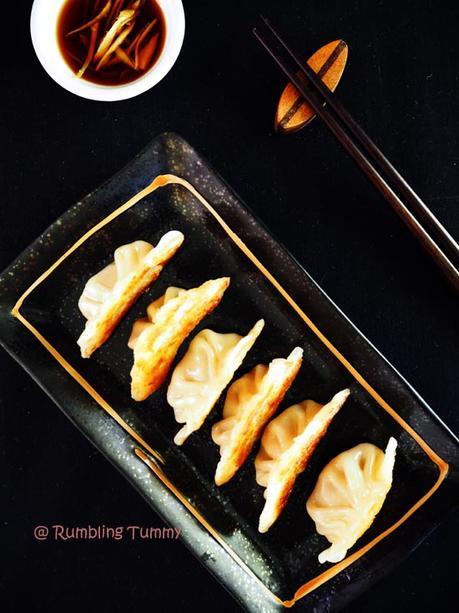 Findings: After freezing the individual dumplings for the specified timing, the dumplings indeed did not lump together when packed.  Due to the careful sealing, mine did not split open which is a good news.  
The skin is thick and chewy and the sauce that I bought from V is really yummy. 
My girl who initially turned down having a bigger serving changed her mind after the first bites.
As for the skins, opt for those without alkaline.

Thanks for sharing your learning experience V.
Adapted: Here
What you need:Dumplings:
1kg minced pork / 
五花肉
 1 tsp salt
2 tsp pepper 6 tsp light soy sauce
6 tsp Shaoxing Hua Tiao Chew / 
花雕酒
1 tbsp grated fresh ginger 3 tsp sesame oil
250ml Chicken Stock / 
鸡高汤
(ready fr pack - Swanson)
1 med Chinese cabbage (in a large bowl, combine the chopped cabbage with 1 tsp of salt. Mix well and set aside for 20 minutes. This process will leave the cabbage to wilt, making it easier to mix later on)
Spring onion, chop into tiny pieces
Method by boiling:
Bring a pot of water to boil before adding in the frozen dumplings.
Bring to boil again and add ¼ cup of tap water into the pot.  Repeat this process 3 times.  (this will ensure dumplings will be fully cooked and maintain the QQ texture).
Method by pan frying:
Heat a non stick pan, add in frozen dumplings.
Fill with water until it covers half of the dumplings. 
Let it cook on medium heat until water dried up.
Add oil and panfried the dumplings until crispy on the base.
Proportion of the spicy sauce mix
2 Tbsp Chilli oil (
老干妈
 brand w black bean)
3 Tbsp light soya sauce (
头抽
)
1 Tbsp vinegar (taiwanbrand)
1 tsp Caster sugar
1-2 drop Sesame oil
Important notes:
The meat has to be very dry before mincing.  If pre-minced, then you have to drain it well.
When blending the marinade with the meat, must only stir in one direction.
Diced cabbage can be added without salt but only add to meat when ready to wrap.
When meat mixture turns watery, stir in one direction until moisture is absorbed back into the meat.
When sealing the dumplings, use minimal water and press pleat tightly but not pulling the skin. 
Frozen the individual dumplings for 1.5 hours before packing them up.  This will ensure dumplings are fully frozen before packing into packs.
If you have enjoyed this post by
Rumbling Tummy
, be sure to follow this Rumbling Tummy on
Facebook
, Instagram, Pinterest, Twitter and
Google+
.