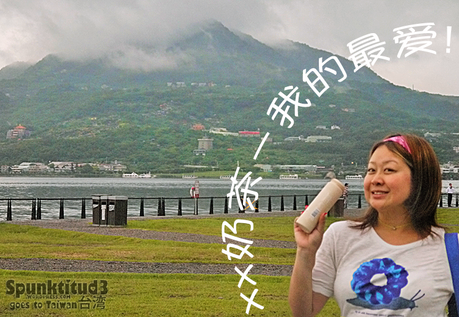 The scenery was so awesome at Tamsui – I was tempted to do a mock commercial here LOL
Travel in a Day: Beitou -> Fisherman's Wharf -> Danshui Old Street

The laidback coastal town of Tamsui (also known as Danshui) located to the north of Taipei and named after the Tamsui River (meaning 'fresh water'), serves as a quick getaway from Taipei's busy city life. Located at the end of the Tamsui Train Line, the former fishing town is famous for two things – viewing gorgeous sunsets along the dock or Fisherman's Wharf, and signature local snacks at Gongming Street/Tamsui Old Street. We combined our day travel with a hot spring visit to Beitou before heading to Tamsui in the afternoon.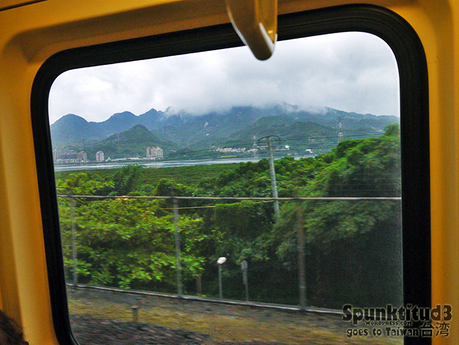 Take in mountainous view of Bali township on the train journey to Tamsui
Bali makes for an enjoyable afternoon in the sun. Rent a bicycle and cycle along waterfront, head to the beaches to spot crabs or feast on freshly-caught peacock clams.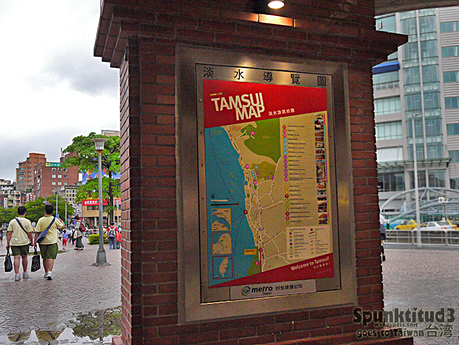 Tamsui at a glance
Most of the main sight-seeing spots are within walking distance. The famous Gongming Street, also known as Tamsui Old Street 淡水老街 is just 5 minutes away.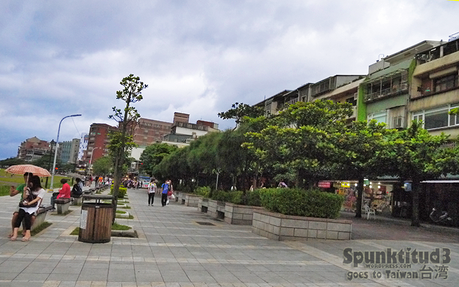 Historically Tamsui is a significant place in Taipei history, where it was one of the main settlements for the Spanish in the 1600′s and one of the biggest ports in Taiwan in the 19th century. The waterfront promenade is now a pedestrian-friendly street lined with shops selling interesting knick knacks, old-school game stalls and local snacks.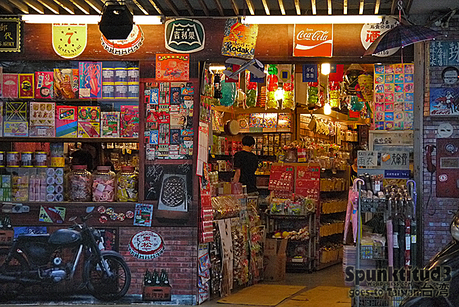 Very interesting shop selling things of yesteryear. No I don't recognise any of them….*pretend pretend*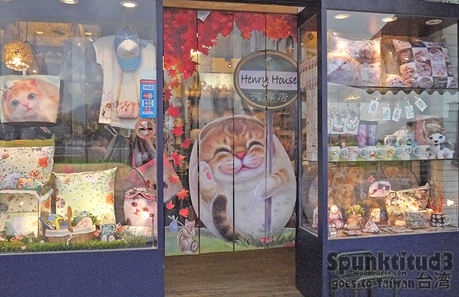 Adorable beyond words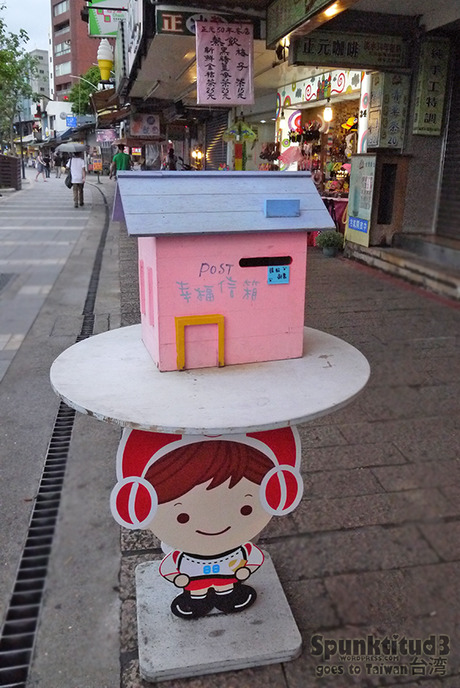 Lucky postbox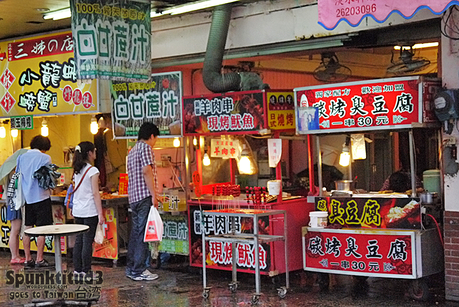 Streetside snacks and seafood galore
I am steering clear…the face gets rounder by the day, sigh.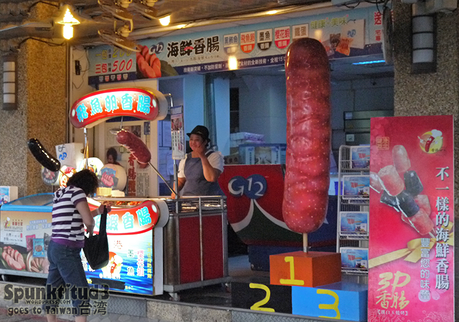 Giant sausage!
Even the aunty can't resist a bite. ;)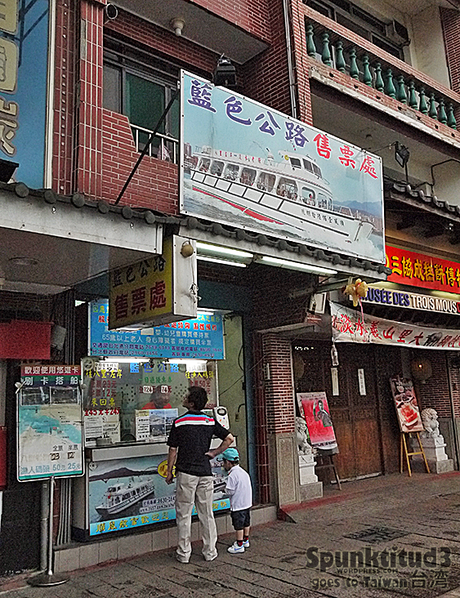 Taking a ferry to Fisherman's Wharf
You can either take Bus Red-26, 836, or 837 (from Tamsui train station) or a ferry (pier behind the train station) to Fisherman's Wharf for sunset viewing. We chose to take the ferry which cost about 100TWD round-trip. The journey by bus or ferry is about 15 minutes.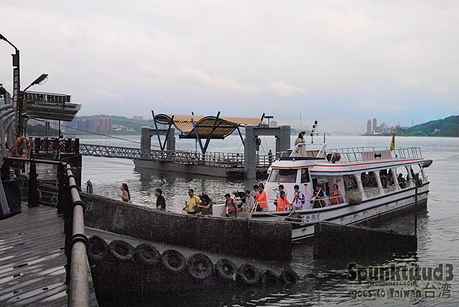 Our ferry is here!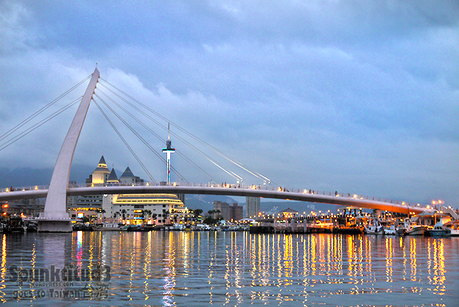 SO, this is the famous Lover's Bridge 情人桥
The 196-metre white-colored cable bridge derived its name from its launch date of 14 February 2003 (she's 10 this year!). The bridge has quite a reputation as a romantic spot to view breath-taking sunsets. We came on a rainy day, so we saw none. Might as well, since all of us were ladies, no hanky-panky!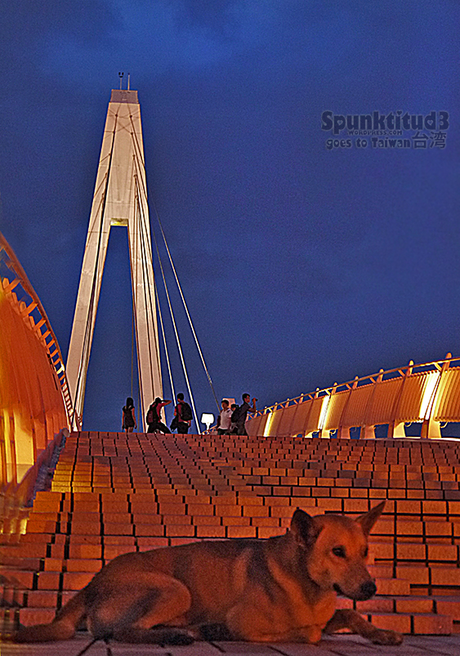 Hello doggy, will you be my Valentine?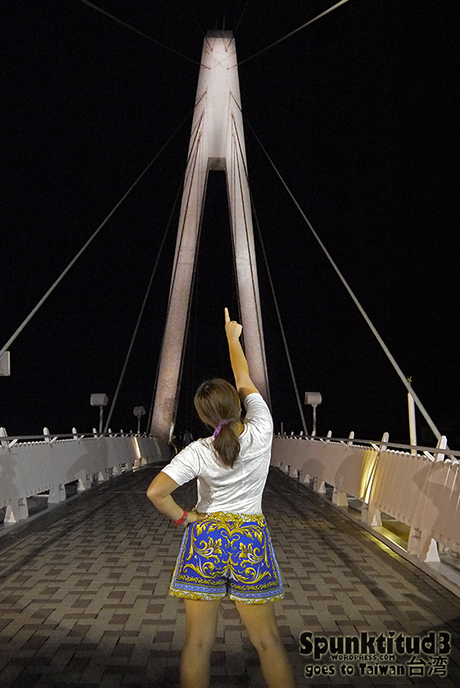 I must say the bridge is quite fun for photography :)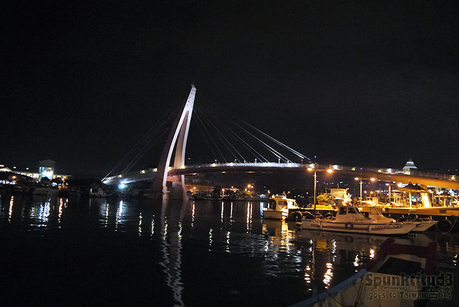 While having sightseeing and leisure facilities, Fisherman's Wharf still functions as a harbor for fishing boats.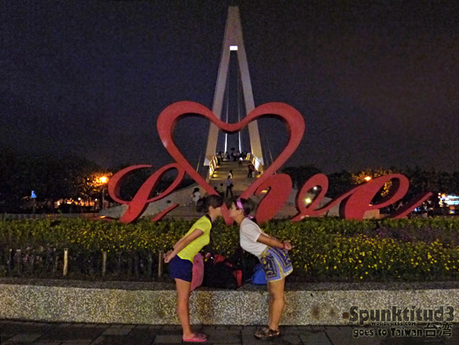 Keeping the love bytes alive at Lover's Bridge
We almost died laughing posing for this shot. After that we quickly scooted back to mainland before anyone reported loonies at the bridge.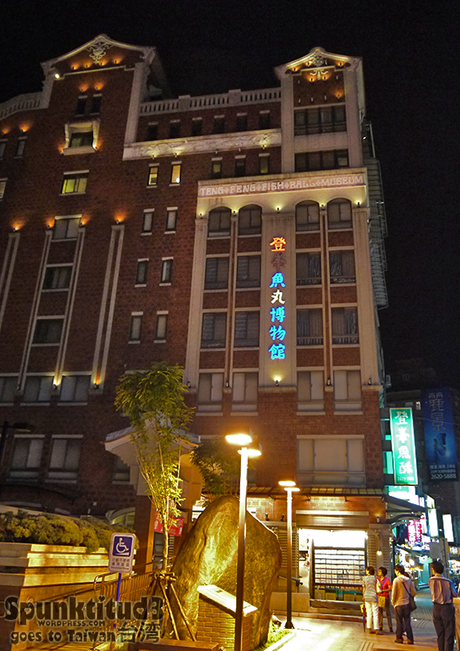 Off to feed hungry tummies at Gongming Street/Tamsui Old Street 淡水老街
Fun fact: It is called 'Old Street' cos' many old Japanese colonial style buildings from the 1900′s still stand nicely preserved along the street, and one of them now houses Teng Feng Fishball Museum 登奉鱼丸博物馆. Wow, fishball is really big business in Tamsui.
Tamsui Old Street, a short 5 minutes stroll from Tamsui train station, is excellent for its street food and traditional local snacks. It's also a great place to get some unique souvenirs/snacks home. The must-try snacks here include Ah Gei, iron eggs, fishballs and tower ice cream. Exotic-sounding huh.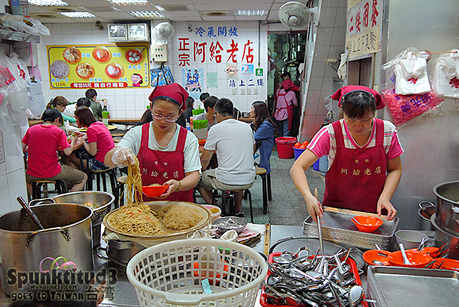 Ah-Gei 阿给
A speciality food originating from Tamsui, ah-gei is basically friend tofu stuffed with glass noodles and sealed with meat paste. It is typically served with a plain soy-based or a sweet chili sauce. A-gei is commonly eaten with a bowl of fish ball soup in the winter or cold soy milk in the summer.
The name ah-gei was derived from aburaage (油揚げ), a fried and stewed Japanese tofu packet from which the ah-gei is made. According to Wikipedia, it was created in 1965 by Yang-Zheng Jinwen (楊鄭錦文) who combined various food items sold at her Zhenli street (真理街) food stall to sell as a new food item.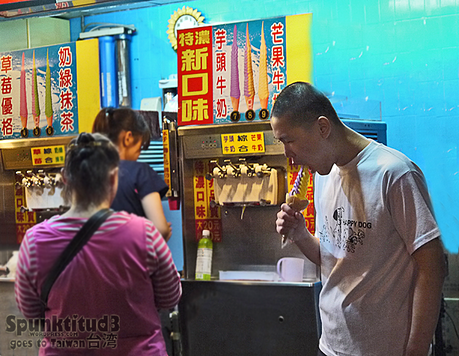 A sight to behold – tower ice cream (TWD25). I'm trying not to let my thoughts run wild. You go, dude :D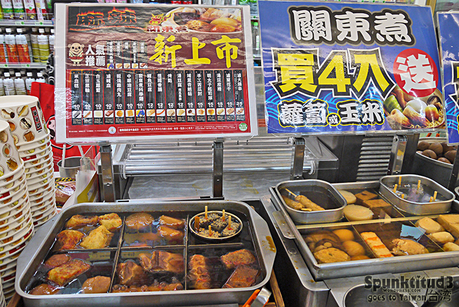 Another place I would recommend to check out – are the 24-hour convenience stalls. They are pretty localised, tempting me with all sorts of snacks. I'm gonna get fat if I stay in Taiwan!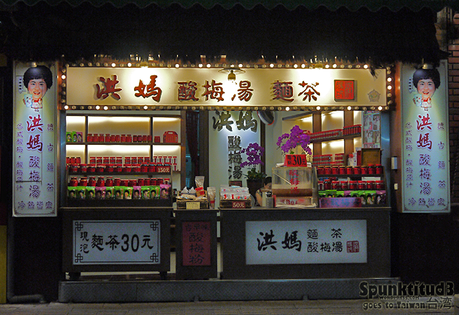 Hong Ma Sour Plum Soup 洪妈酸梅汤
I was attracted by the cute momsy character. Turns out – it was the best thing I brought home.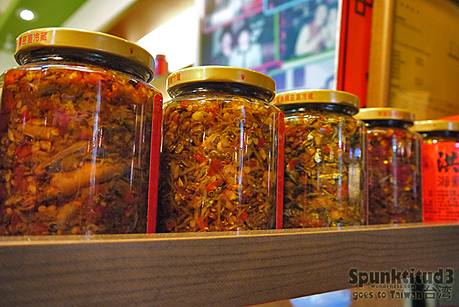 These jars of spicy preserves were DELISH! I am still thinking about them and how I can order online :D They go really well with porridge and Chinese dishes. I'm gonna mail a carton back next time.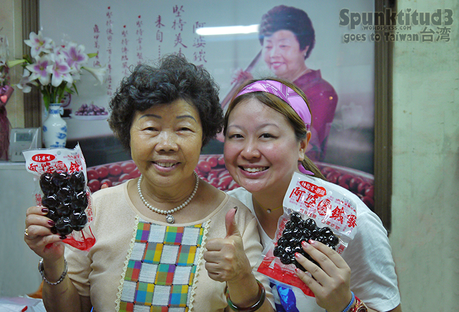 And the most famous Tamsui specialty – Ah-Po Iron Eggs 阿婆铁蛋 at 135-1 Zhongzheng Road. This is the original stall – remember Grandma's face!
Iron eggs were reportedly created by Huang Zhangnian 黃張哖 who sold noodles by the seaside dock about 50 years ago when Tamsui was a fishing town. When Grandma Huang had less business, she had to continually re-cook the braised eggs which were continually blown by the sea breeze. The repeated recooking and drying process eventually resulted in eggs that were dark, chewy and flavorful. The eggs were a big hit with the locals who referred to them as 'iron eggs'.
Ingredients used include chicken/quail eggs, five-spice powder, rock sugar, soy sauce and salt. The eggs go through many cycles of braising and drying until the egg white shrinks and turns chewy.
Grandma Huang eventually founded a new business based on her iron egg recipe, selling them under the brand Ah Po Tie Dan. It was also a convenient food for fishermen who were out at sea for long periods of time. See – every cloud has its silver lining ☺
More on Taiwan:
Taiwan: Blooming Delights and Cultural Richness in Daxi 大溪
Taiwan – Nature's Wonders at Yehliu Geopark 野柳地質公園
Taiwan – Jiufen's 九份 Golden Nostalgia
Taiwan – Urban Respite at Beitou Hot Springs 北投溫泉
Getting to Tamsui
Take the train to Tamsui station on the red Tamsui line.
Getting to Fisherman's Wharf 淡水漁人碼頭/Lover's Bridge情人桥
Take Bus Red-26, 836, or 837 from Tamsui train station. Alternatively, take a ferry from Tamsui Ferry Pier.

Tamsui Sights (if you are opting for a full day trip)
Historical attractions:
Hongmao Castle/Fort San Domingo (No. 1, Lane 28, Zhongzheng Road), Mackay Hospital, Tamsui Presbyterian Church (No. 8, Majie Street), Huwei Fort (No. 34, Lane 6, Section 1, Zhongzheng Road), Old Oxford School, Residence of Dr. Mackay, Tamsui College
Natural sceneries:
Lover's Bridge, Mangrove (Hungshulin) Conservation Area, Cape Shihhu, Chunglun Jetty
Temples and churches:
Longshan Temple, Herzhong Temple, Catholic Church, Tamchian Church, Xingchung Temple, Fuyou Temple
25.189574
121.457045