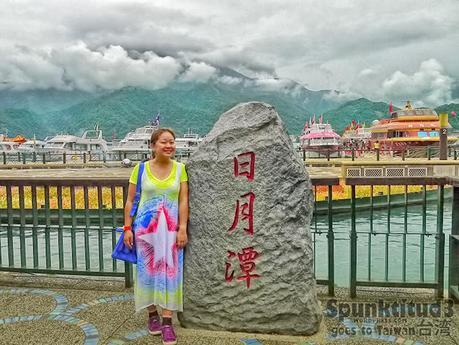 Named as one of the Eight Wonders of Taiwan, Sun Moon Lake 日月潭 located in Yuchi, Nantou County is the country's largest freshwater lake nestled in a basin surrounded by picturesque mountains. Divided by the tiny Lalu Island, Sun Moon Lake got its name from the unique terrains that look like the sun on the diamond-shaped eastern side and crescent moon on the curved western end.
The lake's scenic beauty has given rise to such names as "Pearl in the Mountains," "Honeymoon Lake," and "Lovers' Lake." It is also called the "Heart of Taiwan" for its role as a major hydropower generator. A very popular tourist destination, Sun Moon Lake welcomes more than six million visitors a year who come in awe of its beauty. A visit to the lake, combined with the Formosa Aboriginal Cultural Village, usually takes an entire day. More adventurous visitors can also try the lake cycling trails which has been dubbed by CNN one of the most beautiful cycling trails in the world. During the Mid-Autumn Festival, the lake also hosts a mass swim event, with over a hundred people swimming 3km across the lake (with all the huge fishes in it).
Top visitor spots in the area include:
Ci'en Pagoda 慈恩塔
Formosan Aboriginal Culture Village 九族文化村
Grandma's Tea Eggs 阿婆茶葉蛋
Hanbi Peninsula 涵碧半島
Ita Thao Village 伊達紹村
Lalu Island 拉魯島
Meihe Garden 梅荷園
Qinglong Mountain Trail 青龍山步道
Shuishe Village 水社村
Wenwu Temple 文武廟
Xiangshan Visitor Center 向山遊客服務中心
Xuanguang Temple 玄光寺
Xuanzang Temple 玄奘寺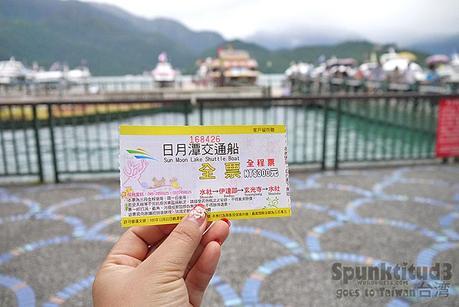 A visit to Sun Moon Lake is never complete without a yacht tour. Boats stop at three piers: Shuishe Village, Ita Thao Village and Xuanguang Temple. A usual route is Shuishe Village > Ita Thao Village > Xuanguang Temple (look out for Lalu Island on the way). Information about the various spots is broadcast onboard (in Chinese).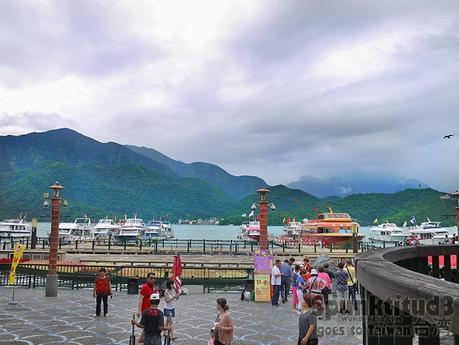 Tickets can be purchased at the piers, and service runs from 9:00AM to 5:00PM (differs from seasons, so do check the schedule). The approved fare is NT$100 per trip and NT$300 for the entire lake. Promotional offers from different boat operators are available, but do avoid buying from scalpers.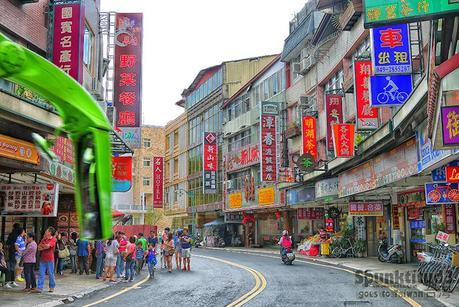 We started our journey from Shuishe Village. Eateries, gift shops and guesthouses (min su) line the streets of Shuishe Village. You can tell how heavily dependent the town is on tourism. Throngs of visitors, including local Taiwanese, descend upon Sun Moon Lake over the weekends for a leisurely getaway. I must say it's a great place to destress.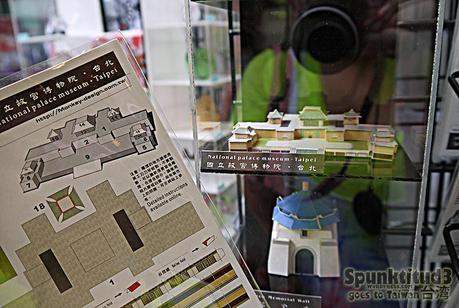 I was intrigued with this DIY souvenir featuring famous Taiwanese attractions at one of the shops. I think I bought the whole of Taiwan.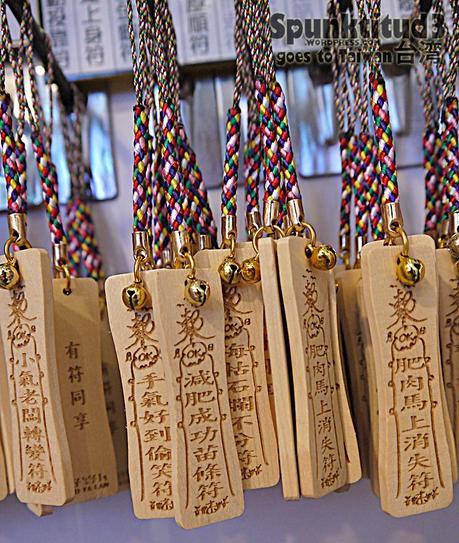 These talismans were absolutely hilarious, and made really good souvenirs. Of course, I kept the "Succeed in Dieting & have a Svelte Figure" talisman.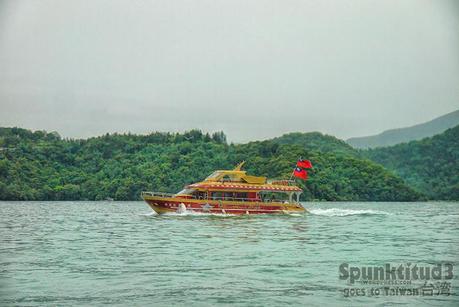 Off we go!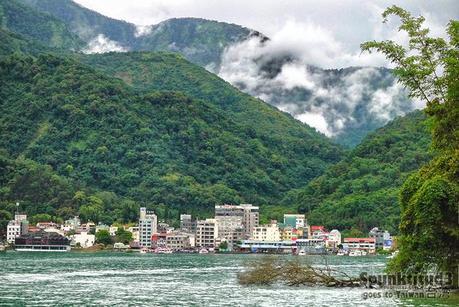 Sun Moon Lake's 760-metre elevation above sea level gives the impression of a Chinese landscape painting complemented with emerald water and mist-laden mountains (山水画). The constant changing mist makes the scenery ever-changing and alluring to visitors.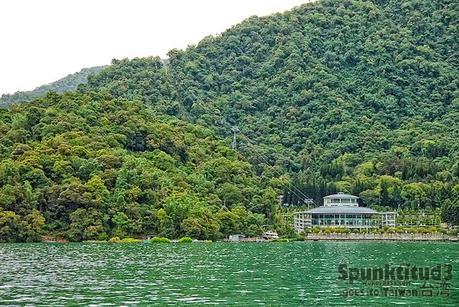 First stop – Ita Thao Village
You can also see the ropeway (cable car) leading to Formosan Aboriginal Culture Village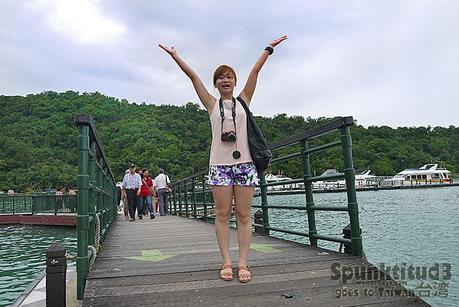 Our happy/crazy travel companion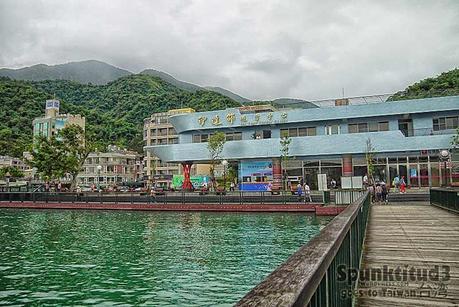 Ita Thao 伊達邵 (means "we are human beings" in Thao language)
Sun Moon Lake was the ancient settlement of the Thao people, one of Taiwan's 11 aboriginal tribes. They consider it to be the home of Pashala, their highest-ranking ancestral spirit. Thao-themed entertainment is offered in the evening at the pier area near its visitor centre.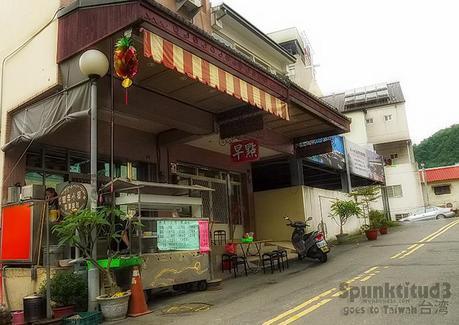 Once known as Dehua Village, the Thao settlement's streets are now lined with tourist-oriented gift outlets and eateries. Some of the homes have set up stalls outside to sell snacks to visitors.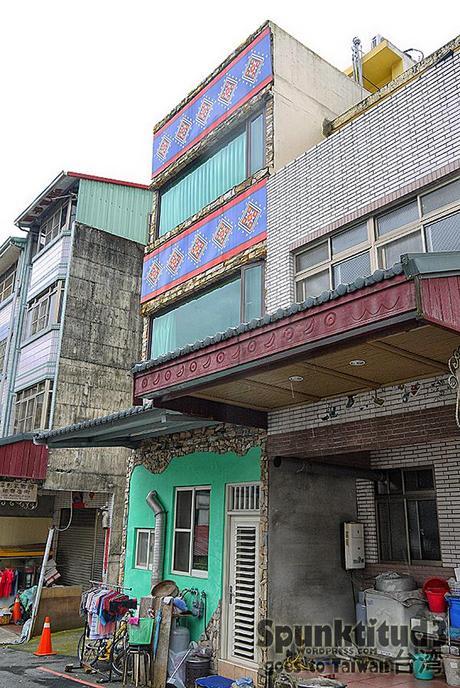 Building decorated with aboriginal motifs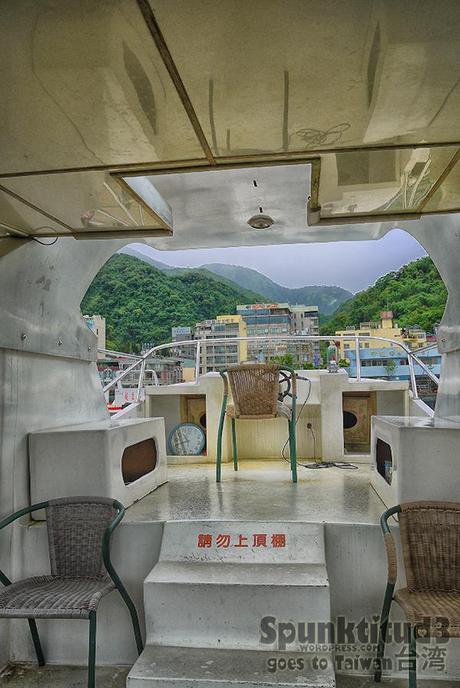 Off to our next stop – Xuanzang Temple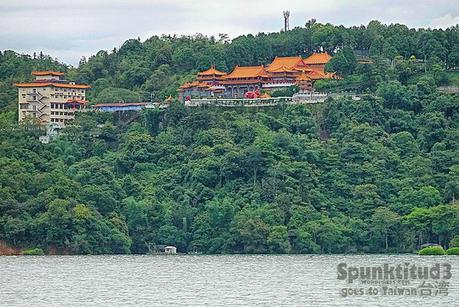 Wenwu Temple文武廟
Look out for the scenery and interesting architecture like this temple on your boat tour. Built in China's Northern Dynasty style, the temple's distinctive yellow glazed-tile roofing easily draws your attention. Wonder what's the two vermillion-coloured objects at the front? Read on…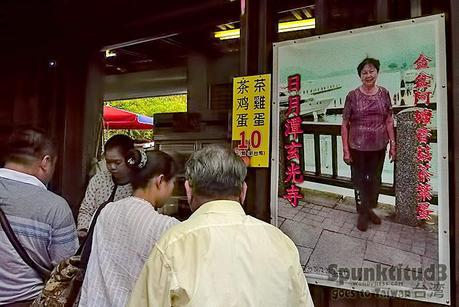 A must-try local snack at the entrance of Xuanguag Pier is Grandma's Tea Eggs 金盆阿婆香菇茶叶蛋. The fragrant eggs are braised with mushrooms, tea leaves and spices. You can also buy the mushrooms, in addition to the eggs, to try.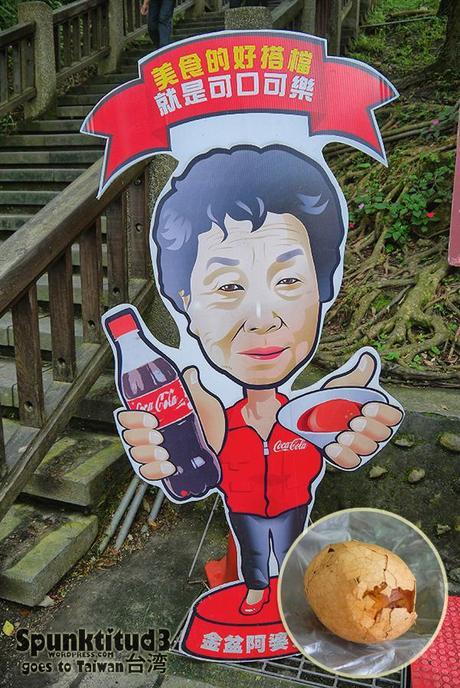 It seems that even Grandma has caught up with the times endorsing Coca Cola. I do wonder if the traditional tea leaf egg really tastes well with the fizzy drink. Burp.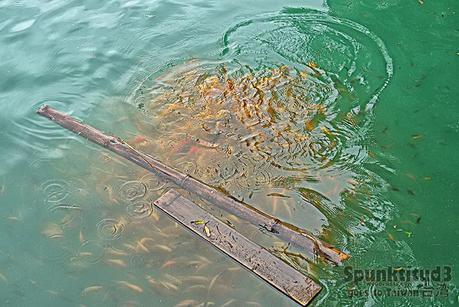 A school of fishes feasting on – tea leaf egg shells. Yes, shells. Apparently they love it and it helps to build up their calcium. Talk about supplements. Or pure gluttony.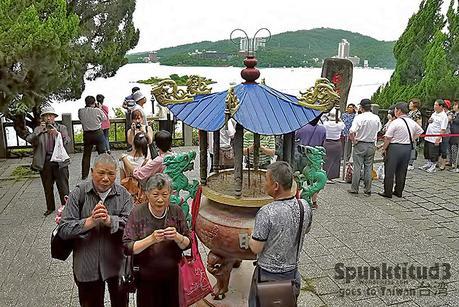 Xuanguang Temple
Built around 1955, the parietal-bone relic of Tang Dynasty Buddhist monk Xuanzang (Journey to the West), along with a golden statue of the Sakyamuni Buddha are enshrined here. Tourists also line up at the Sun Moon Lake stone marker (right) for a souvenir photo with the lake as background.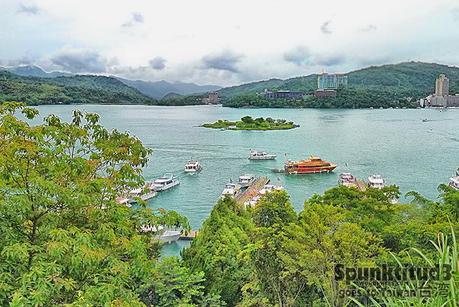 Lalu Island 拉魯島
This tiny green island located in the middle of the lake is considered ancestral ground for the Thao tribe. In legend, Thao hunters discovered Sun Moon Lake while chasing a white deer through the surrounding mountains. The deer eventually led them to the lake, which they found to be not only beautiful, but abundant with fish. Today, the legendary white deer is immortalized as a marble statue on Lalu Island.During the Japanese occupation, it was called "Jade Island". In 1978 the local government renamed it Kuang Hua ("Glorious China") and built a pavilion where annual weddings took place, until the 921 earthquake destroyed the pavilion and sunk most of the island. Due to increasing social and political awareness given to Taiwanese aborigines, it was renamed Lalu Island in recognition of the Thao tribe.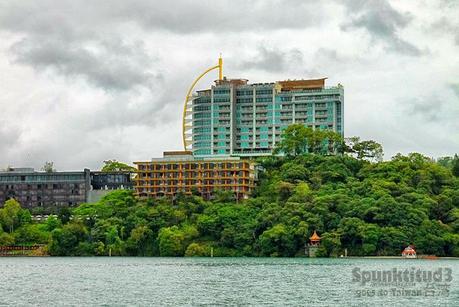 The Wen Wan Resort Sun Moon Lake is renowned for being the accommodation for Mr. Chiang Kai-Shek. Located at the highest point of Hanbi Peninsula, it is also the most expensive accommodation in the area.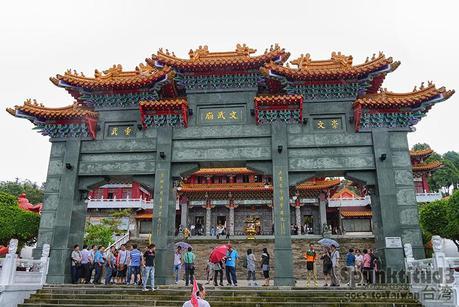 Wenwu Temple文武廟
Wen Wu Temple was built in 1938 after rising water levels from building a dam forced several smaller temples to be removed.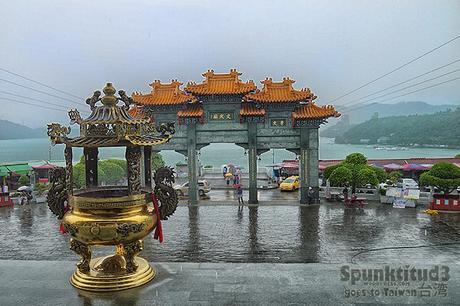 You can get a relatively good view of the lake from here.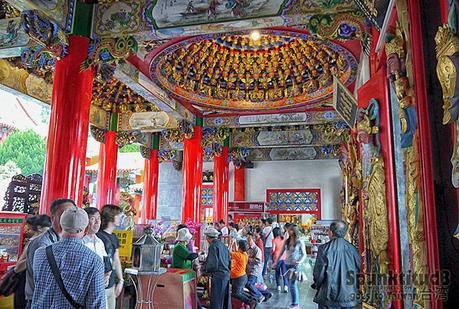 Consisting three halls, they house the First Ancestor Kaiji and the God of Literature, Guan Gong the God of War, Yue Fei the Warrior God and Confucious. The temple is popular among students.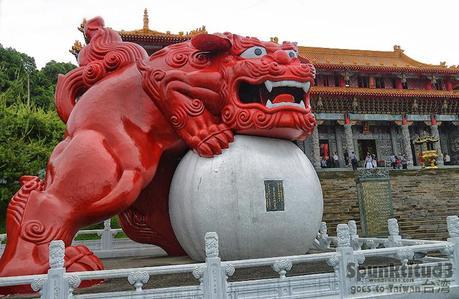 Hello, kitty
The two vermillion stone lions on the two sides of the entrance were donated by Wu Huo Shi, the late chairman of Shin Kong Life Insurance Company, whose name meant "fire lion."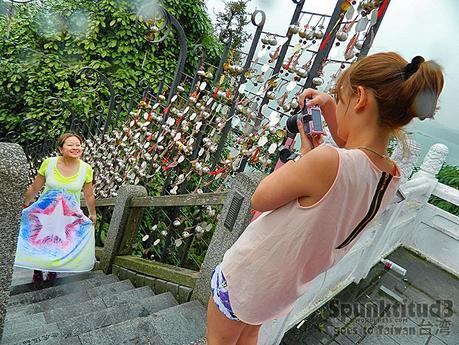 Stairway to Heaven
Just below Wenwu Temple you can spot a flight of steep stairway called "Year of Steps" made up of 366 steps, with each step representing one day of the year. A date is carved on each of the steps, along with names of internationally famous people born on the corresponding date. Information related to the 24 solar periods is also carved into the steps, so that visitors can learn something about China's traditional folk culture as they slowly ascend the steps.Before the road to the temple was built, the only way to get to Wenwu Temple was to take a boat to the pier below the temple and climb up the steep flight of steps, thus gaining its nickname "Stairway to Heaven."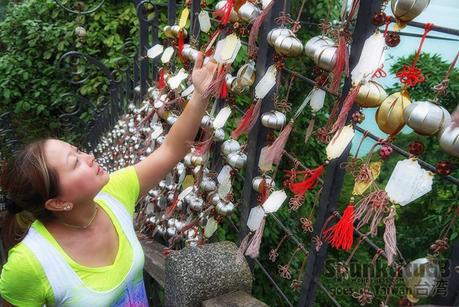 Chimes of Blessings
Look out for the wind chimes hung along the steps by visitors. Visitors buy a wind chime for their specific Chinese animal zodiac, pass the chime through incense smoke, write their names and wishes on the chime, ring the chime at top of the Year of Steps, and lastly hang the chimes at the step representing their birthday. That sounds like a lot of effort, I hope their wishes do come true.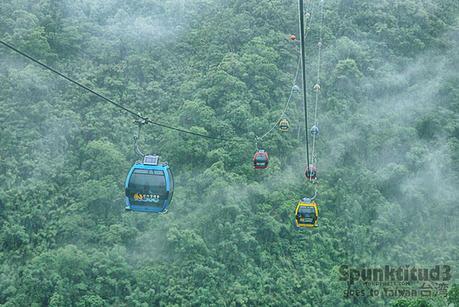 Picturesque Ropeway ride to Formosa Aboriginal Culture Village
After visiting Sun Moon Lake, we took the Sun Moon Lake Ropeway to Formosa Aboriginal Culture Village. The station is a short walk from Ita Thao Village (you can take the lake bus here too) and is a popular way to get to the cultural village – it takes about 30 minutes to drive; and only 6.8 minutes via the Ropeway. Moreover, who can say no to a picturesque aerial ride going over two mountain passes? Do buy the combined ropeway + cultural village ticket which is much cheaper.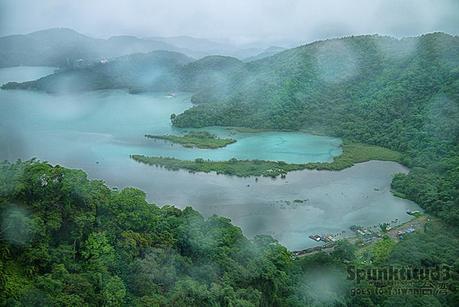 Enjoying our ride until we reach our next destination!
More on Taiwan:
Taiwan – Blooming Delights and Cultural Richness in Daxi 大溪
Taiwan – Nature's Wonders at Yehliu Geopark 野柳地質公園
Taiwan – Jiufen's 九份 Golden Nostalgia
Taiwan – Urban Respite at Beitou Hot Springs 北投溫泉
Taiwan – Tamsui 淡水:Of Romantic Sunsets & Tantalizing Snacks
Taiwan – Jingguashi 金瓜石:Goldmine of Yesteryear
Taiwan – SHIFEN十分放天灯: Sending Wishes to the Sky

Sun Moon Lake
Address: Jhongshan Rd., Yuchih Township, Nantou County
Tel: +886 49 285 5668
Latitude/Longitude:120.916667, 23.866673
General attractions' opening times: 8:00AM to 6:00PM
Website: http://www.sunmoonlake.gov.tw/English/
Getting there http://www.sunmoonlake.gov.tw/English/TravelInfoEng/TrafficInfo.htm
There are many ways to get to Sun Moon Lake:
1. Take the High Speed Rail train to Taichung Station, then take the Nantou Bus or Renyou Bus to Sun Moon Lake stop. The bus stops at the Visitor Information Center in Shuishe Village. Hop on the bus at this same stop for the return trip to Taichung Station. You can also take a bus from Taichung to Puli, then transfer buses for a 30min ride to Sun Moon Lake.
- NanTou Bus (南投客運) Daily from Taichung Kan-Cheng Station (干城站) at Shuangshi Road (雙十路 near the railway station) Cost is about NT$200 one-way. Contact +886 49 2984031 (Puli) for timetable and other details.
- Renyou Bus (仁友客運) has less frequent departures from Liouchuan East Road (柳川東路) for NT$200 one-way and NT$350 for a return ticket.
2. From Taipei Railway Station, take the Green Transit Bus or GuoGuang Bus to Sun Moon Lake stop.
- Green Transit Bus (Feng Jung Bus): Runs daily from Taipei MRT ZhongXiao FuXing Station (No. 274, Fuxing East Rd, near SOGO department store) and Sun Moon Lake. Contact + 886 2 27522988 (Taipei) or + 886 49 2990407 (Puli) for timetable and other details.
- GuoGuang Bus (國光客運): Four buses run daily from Taipei West Station (directly accessible underground from Taipei Train Station) to Sun Moon Lake. +866 2 23119893 (Taipei), or + 886 49 2990407 (Puli).
3. Taiwan Tour Bus http://www.taiwantourbus.com.tw (English-language Sun Moon Lake trips by local tour agencies – dummy-proof)

Departing from Sun Moon Lake
There is a company with hourly bus service that stops directly at the Taichung high speed rail station. Tickets for this and most other buses are sold at the Sun Moon Lake Visitor's Center. The last bus to Puli departs at 7:30pm, from where you can transit to a bus to Taichung. Buses are often very full at the end of the day, so prepare to stand or share a taxi with other travelers.
You can also take a taxi from Sun Moon Lake or Puli to Taichung. Cost is around NT$1500 from Puli and NT$2000 from Sun Moon Lake.
More information: http://www.sunmoonlake.gov.tw/English/TravelInfoEng/BusInfo/BusInfo01.htm
Getting around Sun Moon Lake: Lake Tour Bus Fare – one day pass NT$80
Ita Shao Village
Address:Ita Thao, Rih Yue Village, Yuchih Township, Nantou County 555, Taiwan
Latitude/Longitude:120.936167、23.853419
Wenwu Temple
Address:No.63, Jhongshan Rd., Yuchih Township, Nantou County, Taiwan
Latitude and longitude:120.9149926、23.8668669
Tel:+886 49 285 5122
Opening Timing:Open all day long(Use side entrance after 8:00PM)
Sun Moon Lake Ropeway Service
Ticketing: http://www.ropeway.com.tw/en/introduce_2.php
Opening hours: 10:30AM – 4:00PM during weekdays; 10:00 ~ 16:30 during holidays and weekends.
There is the return ticket to just take the cable car and view Sun Moon Lake (NT$300) and a package that included admission to Formosan Aboriginal Culture Village (NT$780). Get the package which is cheaper.
Driver
If you are looking to hire a driver, you can consider Mr Liu 刘先生. He's a burly uncle who used to be a truck driver, and very honest. He charged us a very reasonable per day rate, brought us to all the places where the locals went, and none of those touristy crap. And we felt safe with him. You can give him a try if you wish. Mr Liu's Mobile: (0)92-0266-276