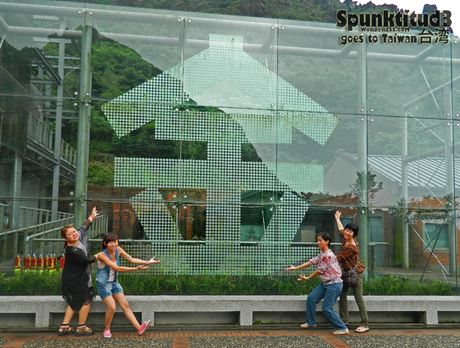 Getting into the gold rush at Jingguashi – 5 decades too late
Travel in a Day by car: Yehliu 野柳 > Jiufen 九份 > Jinguashi 金瓜石 > Shifen 十分
Snuggled amongst the slopes of a valley between Keelung and the Teapot Mountains along the scenic northeast coastline, the small towns of Jiufen and Jinguashi were both booming centres of gold and copper mining during their heyday of the Japanese era. Jinguashi later became notorious during WWII (1942-1945) as the site of the prisoner-of-war camp Kinkaseki.
Both degenerated into ghost towns after the minerals were depleted, and Jiufen found new life as a tourist destination after being a set location for the award-winning movie "A City of Sadness", attracting throngs of visitors interested to learn more about Taiwan's golden past. Jinguashi only recently hit the travellers' radar after long-term efforts to restore the old mining town into its 1930s glory, culminating in the opening of the Gold Ecological Park in October 2004.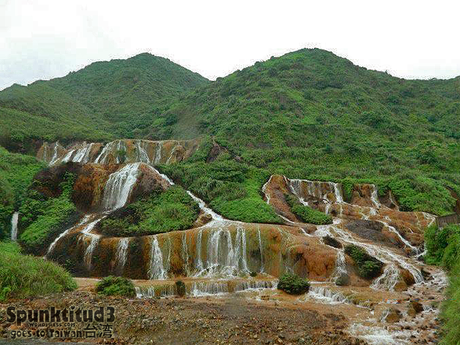 Golden Waterfall/ Shuinandong黃金瀑布
Located off the Jinguashi-Shuinandong Highway near the Gold Ecological Park, the water from the Golden Waterfall has a yellow hue from the copper and iron deposits it picks up seeping through Jinguashi's old mines. The insoluble minerals then produce riverbed rocks that are yellowish-brown in color, creating this unique sight. As the water is heavily laden with metals, it is toxic so please do not dip your hands in. One thing for sure – you will not turn into Ironman.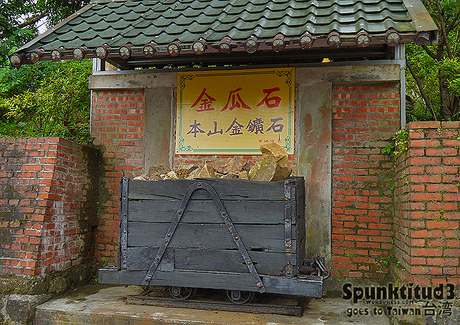 A must-go destination at Jingguashi – Gold Ecological Park 黃金博物園區
The first ecology museum park in Taiwan, the Gold Ecological Park was opened in 2004 to preserve the gold-mining heritage and natural surroundings of the area and serve as a venue for environmental education.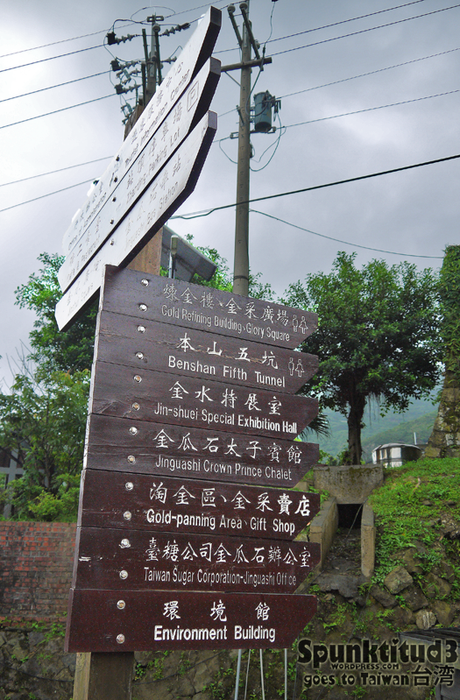 Places of interests in the park include the Museum of Gold, Benshan Fifth Tunnel, Gold Refining Building, Environmental Building, etc. You should try gold panning and the Benshan Fifth Tunnel if you have time.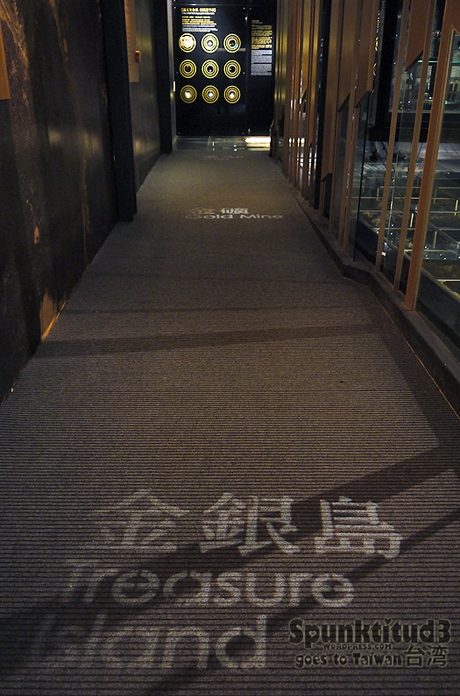 Stepping into all things gold. Versace would be so proud.
The Museum of Gold is housed in the former offices of the Taiwan Metal Mining Corp. The first floor exhibitions include gold discovery journey, Benshan tunnels (1-9), ore seam display and old mining equipment, mining transport systems and cultural artifact display.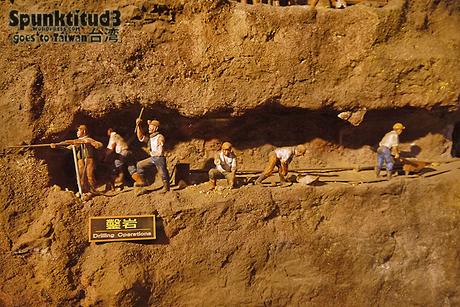 Waxworks depicting how gold was mined in the past. The working conditions were pretty harsh, I must say.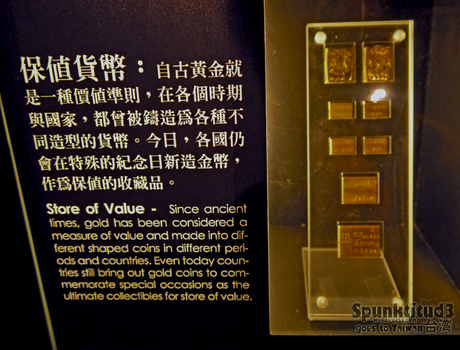 The second floor of the Museum of Gold showcases the use of gold and its characteristics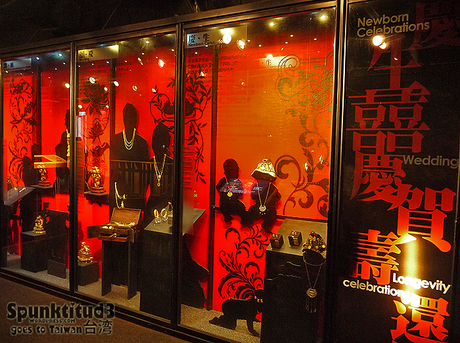 Much gold jewelry is used in Chinese wedding as good blessings. Yellow was the color of Imperial China and it also represents freedom from worldly cares and is thus esteemed in Buddhism where monks' garments and many elements of a Buddhist temple are yellow in colour.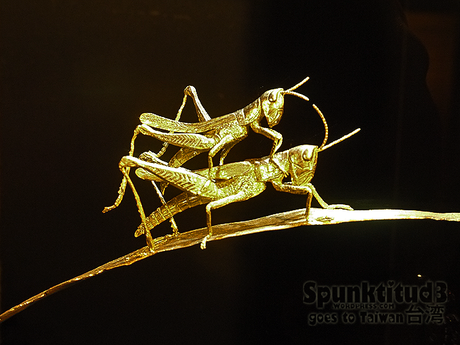 Gold is also very flexible in its uses, such as artworks as seen from this pair of mating grasshoppers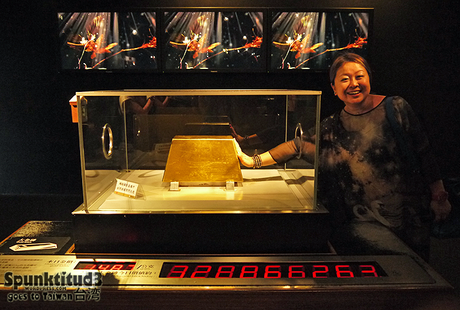 Feeling rich – literally
The highlight of any visit would be the 220.3kg solid 999 pure gold ingot that made the Guinness World Record in 2004.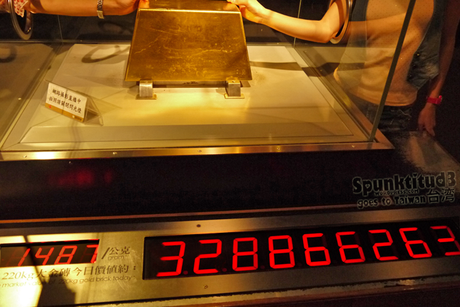 There is a real-time counter on the worth of this block of high-grade gold, and it is about NT$328.9M (which is equivalent to S$14million)! What's also equally mind-boggling is – you would probably need to dig 40,000,000 tons of rock in order to gain 220 kilograms of gold. That's A LOT of digging!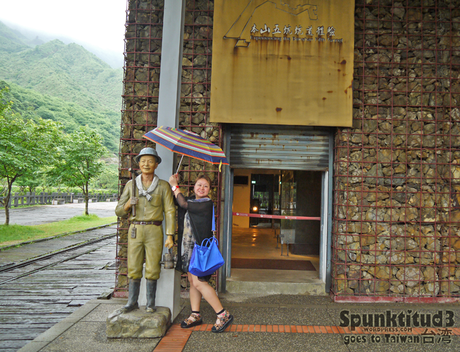 Benshan Fifth Tunnel
Get a first-hand experience of tunnel working conditions in the past walking through a part of the original mining tunnel now fitted with waxworks and recordings of miners' conversations to depict everyday life in the mine. Come in proper shoes (no sandals, no slippers, no heels) though as the tunnel can be slippery.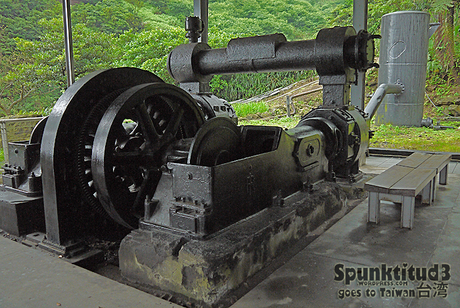 Mining equipment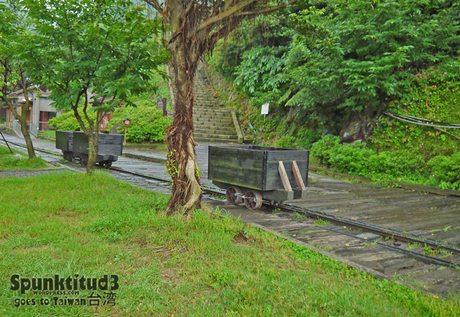 I was tempted to jump into one of these and go for a theme park ride before we left :p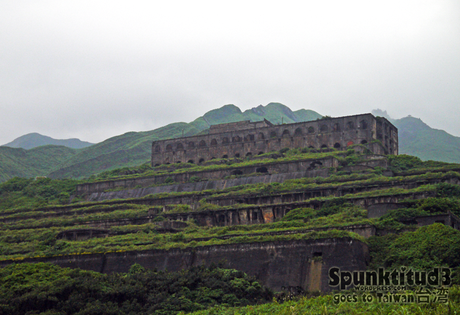 Ruins of Shisancheng (13-level)/ Shuinandong Smelter 十三層遺址
Located above Liandong Bay on the Coastal Highway, this abandoned copper-smelting refinery previsouly owned by Taiwan Metals Mining Corp. was built during the Japanese occupation period to process mineral sand and blister copper into 999/00 pure gold from 1933 to 1987. Its heavy, industrial atmosphere has been used as a background for music videos.Another sight to look out for would be the three large flues – the longest in the world – criss-crossing the hill. These were used to direct toxic fumes away from the refinery to the hills above where there were no residents. They were abandoned when Taiwan Metals Mining Corp. closed down. Large quantities of accumulated secondary minerals have made it unsafe to enter.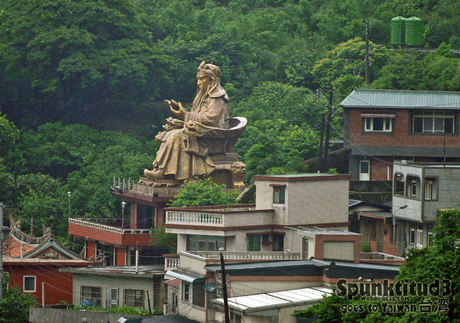 Check out the world's largest statue of Guan Gong (God of War) on top of the Quanji Temple.
The copper statue weighs 25 tonnes – that's about 11 elephants on your roof!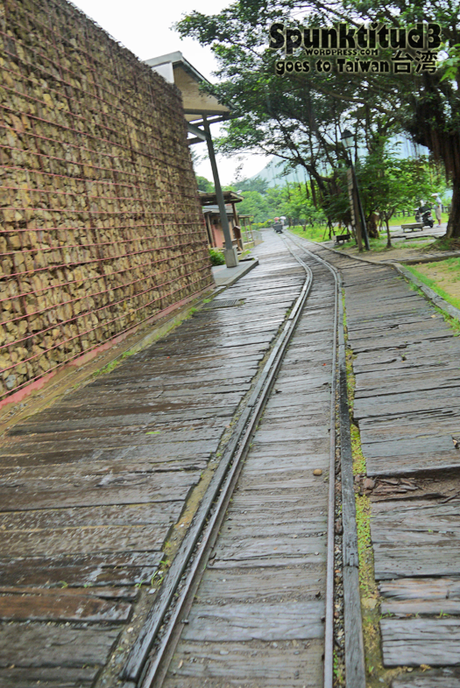 What future holds for Jingguashi?
The revived small mining town seems to be settling well into its new role as a tourist destination together with another nearby old mining town Jiufen. I think the challenge for this destination, would be how to encourage repeat visitorship since I think you can see most of the sights in one visit. That said, it's still worth a visit. Afterall, it's an integral part of Taiwanese history and culture that deserves to be properly preserved.
More on Taiwan:
Taiwan: Blooming Delights and Cultural Richness in Daxi 大溪
Taiwan – Nature's Wonders at Yehliu Geopark 野柳地質公園
Taiwan – Jiufen's 九份 Golden Nostalgia
Taiwan – Urban Respite at Beitou Hot Springs 北投溫泉
Taiwan – Tamsui 淡水:Of Romantic Sunsets & Tantalizing Snacks

Places of interest in Jingguashi
Gold Ecological Park, Golden Waterfall, Yin Yang Sea, Ruins of Shisancheng, Teapot Mountain, Keelung Mountain, Jinguashi Shinto Shrine, Quanji Temple, Changren Tunnel No. 3 flue pipes, POW Memorial
Getting to Jingguashi
By Train:
Take the train heading towards Yilan/Hualian and alight at Ruifang station. Take the Keelung bus directly opposite the station to Jinguashi (ticket price NT22).
Web Site:http://www.railway.gov.tw/
By Bus:
Taipei -> Jinguashi: Take the train to Zhongxiao Fuxing Station and take the Keelung bus bound for Jinguashi to Jinguashi (ticket price NT95).
Keelung -> Jinguashi: Take the Keelung bus from Keelong train station (in front of I-Mei Foods Co. Ltd.). This passes through Jiufen and passengers should alight at Jinguashi station.
Web Site: http://www.klbus.com.tw
Gold Ecological Park 黃金博物館區
Add: 8 Jinguang Rd., Jinguashi, Ruifang District, New Taipei City (新北市瑞芳區金瓜石金光路8號)
Tel: (02) 2496-2800
Opening times: Mon – Fri: 9:30AM – 5:00PM; Sat & Sun: 9:30AM – 6:00PM. Closed on 1st Mon of the month.
Entrance fee: NT100 / NT70 with Youth Travel Card
Gold Panning Experience NT100, Tunnel Experience NT50
Website: http://www.gep.ntpc.gov.tw/
25.109115
121.857684