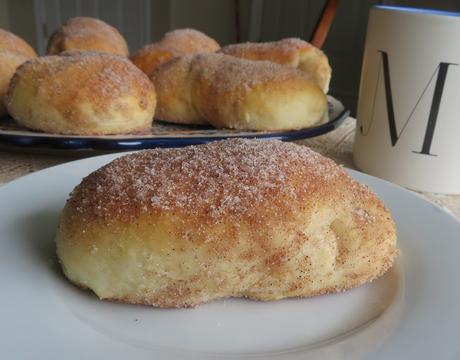 Tahiti is not a place I have ever traveled to, although we have entertained many LDS Tahitian Missionaries in our home through the years.  Tahiti is the largest of the French Polynesian Islands in the central part of the Pacific.
I have to say in all honesty, I haven't actually had any desire to visit any of the Pacific Islands, not even Hawaii.  I am more of a European holiday fancier.  I've never been interested in traveling any further East than Austria.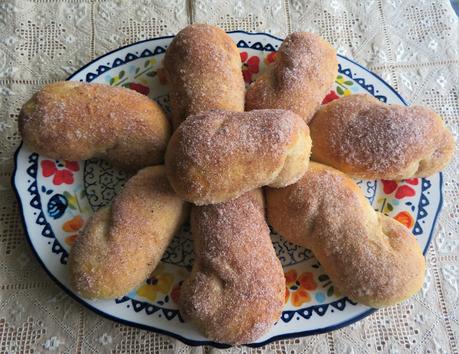 I do love food however, and enjoy foods from many cultures and nations.  I do love Asian flavours of all kinds.  Chinese, Japanese, Indian, Polynesian.  Its all yum.
I am just not a fan of hot and humid.  It must be because of my cold Canadian blood!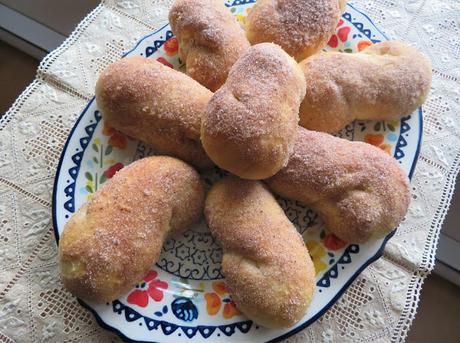 The recipe I am sharing with you today for these Tahitian Coconut Breakfast Rolls is a non-fried interpretation of the Tahitian donuts called Firi Firi! 
Firi Firi are Tahitian Coconut Donuts  shaped like figure eights, deep fried, rolled in sugar and traditionally eaten for breakfast.  They do sound very yummy.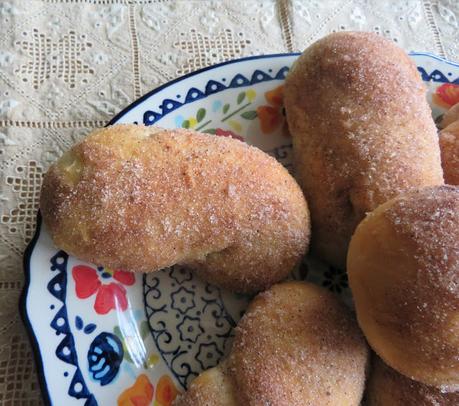 I adapted this recipe from one I found in a Taste of Home Magazine. It purports to be a healthier version of the deep fried donuts, and is a yeast roll, rather than a donut.
But they are filled with lots of coconut flavours, from the coconut milk in the sponge to the shredded coconut which is also used.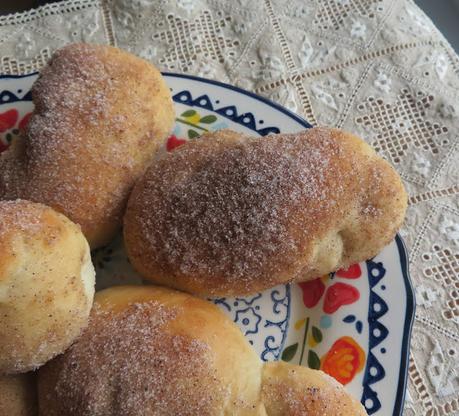 The dough itself was very easy to make. I used my Kitchen Aid mixer. My Kitchen Aid was a gift from Jen and I have to say it is really being well utilized these days! 
I really love it.  Its the star of my kitchen for sure!  I have been making beautiful bread and rolls with it, and cakes too.  Its an incredible piece of kit!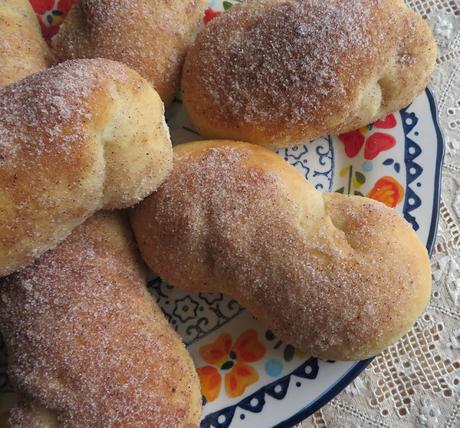 Last winter I bought the meat grinder attachment for it when my sister and I wanted to make ground pork for our Christmas Meat Pies. We could not find ground pork anywhere, so I said to her, lets make our own.
Since then I have also been grinding my own steak, etc.  Nobody could have given me a nicer gift than my kitchen aid. It has been very much appreciated. Now back to the bread.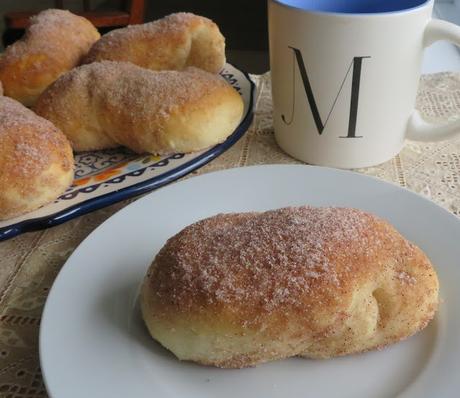 The most difficult part of making these rolls was shaping them into figure eights.  I did not do so good at that as you can see. 
The dough went onto my baking sheet looking like figure eights, but when it rose, any resemblance to a figure eight disappeared!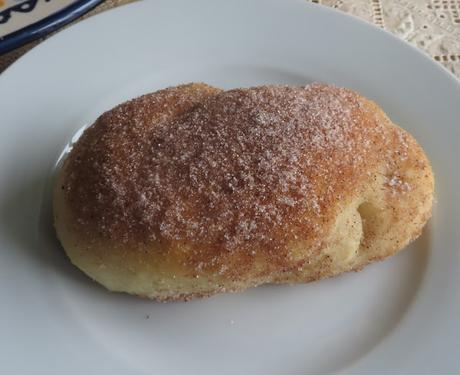 This is as close to a figure eight as I got! haha  Not very eightish, but a rose by any other name and all that, they still taste fabulous! 
The dough it made rich and sweet from the use of coconut milk.  You will not need the full can, but you can freeze what you don't use today to use in another recipe in the future.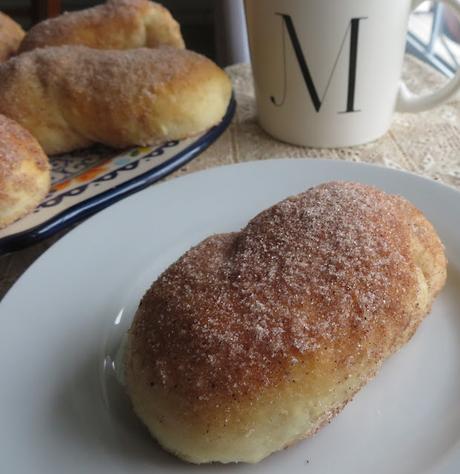 Every time I open a can of coconut milk, it is separated. I have coconut solids at the top and then clear liquid at the bottom. I just remove it all to a jug and whip it back together with a small wire whisk.
Easy peasy. I used full fat coconut milk.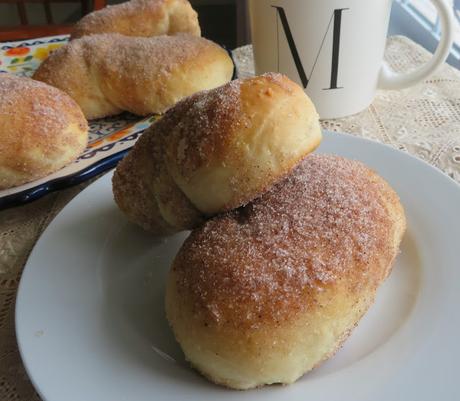 You also need shredded sweetened coconut for these rolls. Not flaked, or long shred.  Just shredded.
I dare say you could also use sweetened desiccated coconut. What you don't want is long shreds or flakes.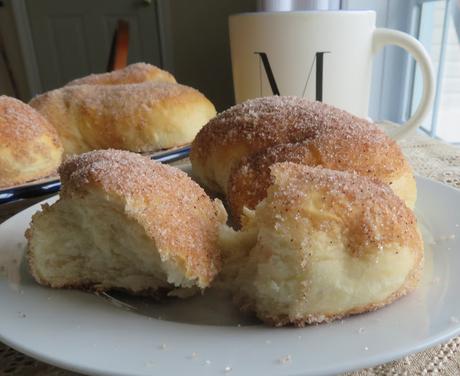 The appeal of these buns is the coconut flavors and their beautiful texture.  Once baked you brush them with melted butter and roll them in a sweet spiced sugar.
Spiced with cinnamon, ginger and vanilla. You will need a vanilla bean for this. You just cut it in half and scrap out the seeds, mixing it together with the sugar and other spices.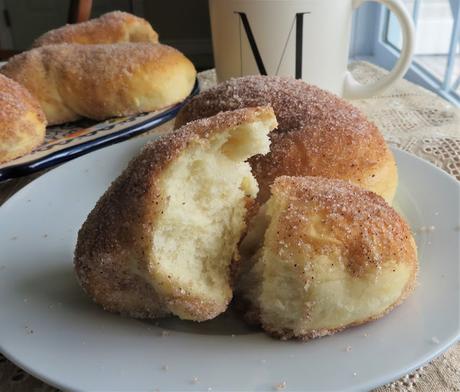 The sugar itself sure smells nice.  You will have a bit extra.  Why not save it to use for cinnamon toast, or better yet, double the quantities and you have it to use whenever.
I love cinnamon toast.  When we were children if we ran out of breakfast cereal, my mother would make us bread and butter with cinnamon on it, sometimes with some milk poured over top.
A favorite dessert was also jello with sugar and milk on it. Its a wonder we had any teeth left in our heads!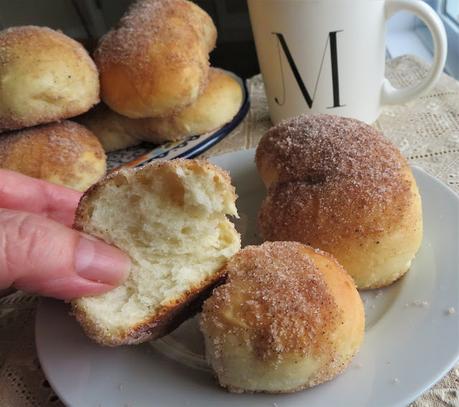 In any case these were lovely with a nice mug of hot chocolate and I think they would also go very well with a frothy cup of milky coffee or tea.
Served warm as is, or with some butter and jam. I don't think it could get much better than this!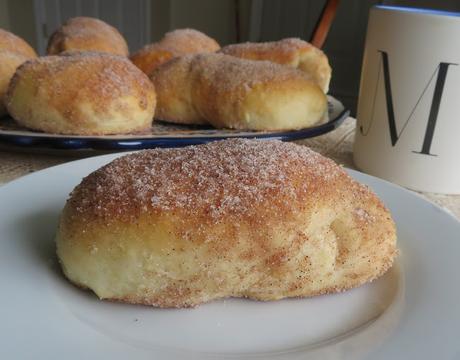 Tahitian Coconut Breakfast Rolls
Yield:
Makes 8 rolls
Author:
Marie Rayner
Prep time: 35 Min
Cook time: 15 Min
inactive time: 2 Hour
Total time: 2 H & 50 M
A popular Tahitian breakfast treat, normally fried, but baked in this healthier version. They are delicious!
Ingredients
1 package active dry yeast
1/4 cup (60ml)warm water
1/2 cup (120ml) full fat coconut milk, warmed
1/2 cup (35g) shredded sweetened coconut
1/3 cup (57g) granulated sugar
1/2 tsp salt
2 to 2 1/2 cups (280g to 400g) strong bread flour
Spiced sugar:
1/2 cup (95g) granulated sugar
1 tsp ground cinnamon
1/2 tsp ground ginger
1/2 vanilla bean
1/4 cup (60g) butter, melted
Instructions
Stir the yeast into the warm water. Leave to bubble for 5 to 7 minutes. Stir to dissolve. Add to the warm coconut milk.
Combine the coconut, sugar, salt, yeast mixture and 1 cup (140g) of flour together in the bowl of your stand mixer. Stir on medium speed until smooth.  Add enough of the remaining flour to make a stiff dough. Knead for 6 to 8 minutes. Tip out onto a lightly floured surface. Knead a few times (dough will be sticky), and then pop into a buttered bowl, turning to grease the dough.  Cover with plastic cling film and set aside in a warm place to rise until double, about 1 1/2 hours.
Tip the risen dough out onto a lightly floured surface and knock it back. Divide into 8 equal pieces.  Shape each piece into a 12 inch long rope. Curl ends in opposite directions to make a figure 8. Tuck each end underneath and pinch together. Place onto a large baking sheet which you have lined with baking parchment.
Repeat until you have shaped all the rolls. Cover lightly and set aside to rise for a further half an hour.
Preheat the oven to 375*F/190*C/ gas mark 5. 
Bake the rolls in the preheated oven for 12 to 15 minutes until risen and light golden brown.
While they are baking whisk the sugar, ginger, cinnamon and seeds from the vanilla pod together. 
Let the rolls cool for a few minutes. Then brush the tops of each roll (one at a time) and roll in the cinnamon sugar to coat.  Let cool on a wire rack.  Serve warm or at room temperature.
Did you make this recipe?
Tag @marierayner5530 on instagram and hashtag it #TheEnglishKitchen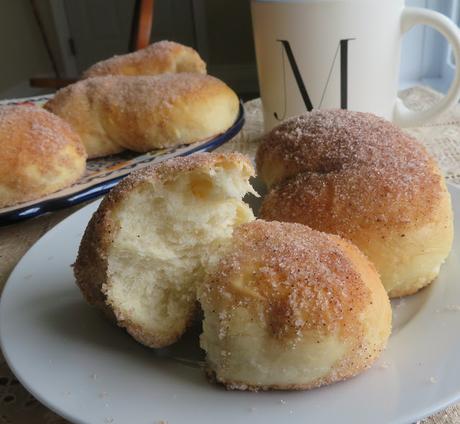 This content (written and photography) is the sole property of The English Kitchen. Any reposting or misuse is not permitted. If you are reading this elsewhere, please know that it is stolen content and you may report it to me at: mariealicejoan at aol dot com 
Follow me on Bloglovin