Tahini.  Seems simple enough.  Pureed sesame seeds in a jar, kind of like the peanut butter of sesame seeds.  But, the thing is, there are some differences in taste, color, and even texture between varieties of tahini.
The first time I tasted tahini I thought it was truly awful stuff.  "
What on earth are these hippies eating
?!!", I thought.  That was about 15 years ago when we moved out west.  My sister's husband was having quite an ordeal of digestive troubles, and saw a naturopath.  This doctor essentially put him on a vegan diet at the time, though we didn't really classify it as such.  We just knew that he couldn't eat "dairy, eggs, meat"... and that his "
life was over
" (his words!).  Off to a health food store we went and out we came with a jar of tahini.  Blech!  It was pasty, bitter, and I think we tasted it with something like a melba toast.  Truly not the best way to initiate someone into eating vegan.
*((As a side note, boy have times changed.  Health food stores are abundant, fresh, fun places to shop.  And, you can now try almond, pecan, cashew, sunflower, macadamia, and a host of other nut and seed butters.  And that's just the tip of the iceberg for plant-based foods and healthful products.  
You newbie vegans have it easy, I tell you
!!))
If tahini is your first taste of food outside of dairy and meat, you are probably going to think the same thing I did - "
friggin' hippies
" (okay, you might say 'freaking', but the Newf in me says "friggin").  But, as we know, our palates change with eating vegan.  Foods that once tasted weird and off, now have a different flavor, and can be used in recipes that are full-out delicious!  But, as you also may know, brands of tahini can taste different, and that's worthy of some discussion.
Here's my rundown on three brands of tahini that I've used, comparing color, texture, and taste: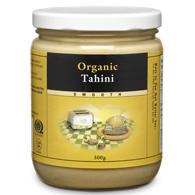 Nuts To You Tahini
.   We have this brand for all sorts of nut and seed butters, but I don't know if I've ever seen it in the US - the company doesn't appear to have a website, which is strange.  But, this is my most-used tahini, for recipes and otherwise.
Color
: Light beige/caramel.
Texture
: Thick and somewhat dense, and not quite as silky-smooth as other two brands.
Taste
: Medium-sesame flavor, slightly bitter but also earthy-nutty.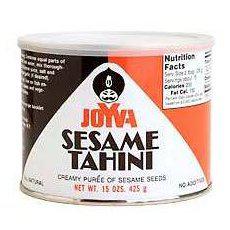 Joyva Tahini
.  This brand I have never seen in Canada.  I picked it up in the US, and couldn't believe the difference between this and my standard 'nuts to you' brand.  I've sometimes heard people say that you can sub tahini for peanut butter, and I've thought "
no way, not close enough in taste
"... but, if they've been using this brand, I can see why they'd make the comparison.
Color
: Darker beige, more caramel in color.
Texture
: Very thick at the bottom, requires more stirring than 'nuts to you'.  Without good stirring, you might get very loose/oily tahini at the top, and a very dense, dry paste at the bottom.
Taste
: Roasted sesame flavor, very nutty, almost peanutty, less bitter.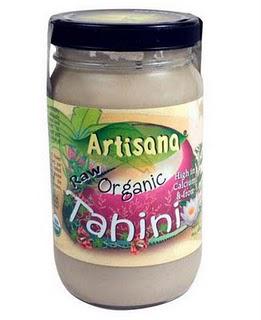 Artisana Raw Tahini
.  This is a more specialized tahini.  Can be found in the US and Canada, but is far more pricey, double or more in price.  The price might be worth it to you if you want a very mild, subtle, creamy tahini.  This is your guy.  Since it is made from raw sesame seeds, its color is much lighter.  They claim to use 'carefully selected seeds' to reduce bitterness, and this appears to be true!
Color
: Light, creamy-beige.
Texture
: Smooth and creamy.
Taste
:  Very mild sesame, minimal bitterness, creamy.
To give you a better idea of some of the difference, I snapped a photo of the three brands of tahini side-by-side.  (
Yes, this is how much I love you.  Or the tahini.  Or I am simply bonkers with three girls fighting in the background.  It's true, ask my mom who's visiting
.)
Here you can see the Joyva brand (far left) is darker than the others, and as I didn't stir the tahini much it is also looser (stir your butters, folks!).  Then, Nuts To You is in the centre, and you can see the texture is just a little thicker and not as silky.  Then, the raw Artisana tahini on the left, with its light color and smooth texture.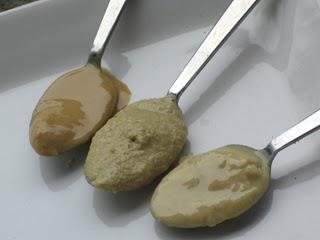 (left to right): Joyva,  Nuts To You,  Artisana 
Which one should you use?  Well, that's entirely up to you.  Which flavor you like best, which brand is in your area, and your price-point.  In my recipes, I generally use the Nuts To You brand.  It is most accessible, and for consistency in testing I try to use the same brands.  If only a small amount of tahini (say 1-2 tbsp) is used in a recipe, you may not notice any taste differences between brands.  But, if you are making a tahini sauce where maybe 1/2 cup of tahini is used, certainly the taste and color variations will be noticeable.
And, I will finish with saying that the hippies had something right.  Clean up your diet and your palate follows.  I never would have imagined after tasting some horribly bitter paste from that incense-filled health food store years ago, that I'd be lopping up said-stuff through my third pregnancy.  Or, writing a post about it to spread some sesame love.  Yep, my palate changed.  I now love tahini.  (Am I a hippie?) 
Enjoy.  :)