It's no secret that I love Middle Eastern foods~~Moroccan, Algerian, Turkish and more~~the spices, cooking ideas and cooking techniques.   Soon I will have the fabulous opportunity to learn more about Israeli foods because I'll be one of 7 international bloggers to travel to Israel as part of Taste of Israel! Yep, I'm one giddy girl!!
One of my favorite cookbooks is 'Cooking at the Kasbah' ~~not only do I love it for the recipe ideas, but I'm in love with the photos! I've wanted for so long a tangine and to learn more about cooking in a tagine, and now that I finally have one~~found a gorgeous and reasonably priced one at Williams & Sonoma~~I'm creating and cooking away!  This dish of veggies lasted a couple of days, and, yes, got better and better!  So very easy and healthy~~something about the tagine cooking is vastly different from a crock pot, slow cooker or pot with a tight lid~~I'm not sure what, but I'm hooked on tangine cooking!
As for this recipe, you can boho it to your heart's desire!  Change up the veggies~~add different spices~~the tagine will work magic! But, IF you don't have the 'tagine' then not to fret, you can put all of this yummmeee goodness in a cast iron skillet, copper skillet, or your favorite skillet, pop a lid on it and cook real slow!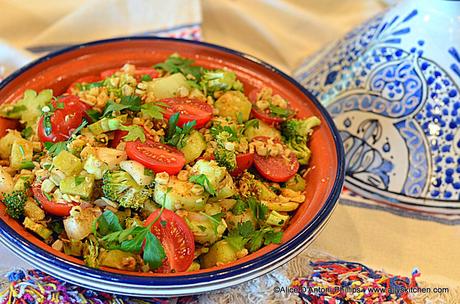 Preheat oven to 300
What you need:
1/3  cup extra virgin olive oil
1/4 cup chicken broth
5 cloves of smashed garlic
2 cups corn kernels (frozen or fresh)
2 cups broccoli flowerettes cut into small pieces
1 medium onion chopped into small pieces
1 cup squash or Chinese okra cut into pieces
1 cup cherry tomatoes (sliced in halves)
1 lemon sliced very thin
1/4 cup chopped fresh mint
1/4 cup chopped flat parsley
2 tsp cumin
1 tsp harissa dry spice
1/2 tsp red chili flakes
2 tsp sea salt
1 tsp coarse ground pepper
1/4 cup melted butter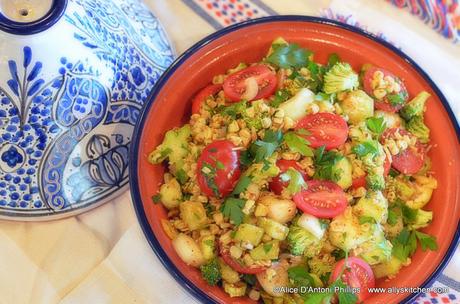 What you do:
Combine all of the ingredients, EXCEPT the melted butter,  in a large mixing bowl and toss well. Place in bottom of tangine.  Drizzle the melted butter on top.  Cook in a preheated 300 oven for about 1 hour.  Remove and serve!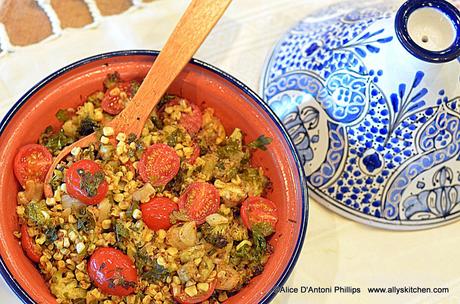 ©alice d'antoni phillips   www.allyskitchen.com

Comments
comments