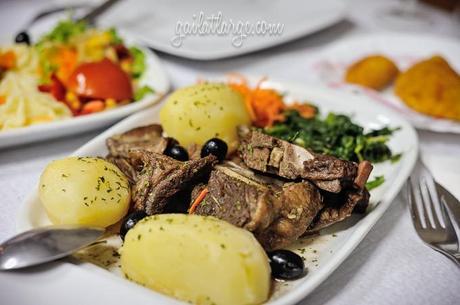 chanfana
Last Friday, I brought the Canadian visitors to Taberna Stº. António for some traditional Portuguese tasca food. Tascas, also called tabernas or tavernas, are the various names in Portugal given to taverns, the traditional places that serve up small plates of food to share with friends over drinks. There, I finally got to try chanfana for the first time, a dish of goat or lamb (or pork) marinated in red wine and garlic. It's not that I've avoided it — to the contrary! I just never see it on a menu in these parts.
Verdict: chanfana is delicious, but I must admit I've never met a wine-marinated meat dish I didn't like. I was expecting it to be a stronger flavour and served up more like a stew, but perhaps this version is intentionally milder and drier.
---
A note about taverns:
The terms of the establishments here can be confusing when translated to English. In Portugal, you will see the words taberna, taverna, and bar used interchangeably. I realize the connotations of the word 'bar' to Americans or Canadians can be less than favourable compared to, say, 'pub' to British folk. Pubs in Britain and the Antipodes are mostly multi-generation-friendly, serving both meals and drinks. That's what you'll find in Portugal, versus what bars can be like in the USA or Canada, i.e., not particularly child-friendly, emphasis on drinks and not food, which is served largely to satisfy liquor licensing requirements. (An example of these occasionally stark cultural differences was brought home to me when I was 20, when I discovered in Australia that 'hotel' was often a euphemism for a pub with strippers!)
---
I'm always pretty torn when it comes to suggesting what Portuguese food to try because individual tastes vary so widely. Add to that the increasing prevalence of food allergies and dietary restrictions for visitors to Portugal, and it can get problematic. Food labels are EU-standard when it comes to products found in grocery stores, but when it comes to places which serve food, you have to know what to ask and how to ask it in Portuguese. And as a person with no food allergies or dietary restrictions living in a country of people who were raised similarly, I regularly forget to ask if such-and-such is in the food…
Take, for example, this dish below which was roti de frango, which bears no resemblance to the Caribbean roti but is more like a chicken roulade. The server described it as chicken but neglected to mention it had fiambre (ham). Not having seen it before, I didn't even think to ask if it had anything besides chicken. The ham was picked out. I didn't try this dish, but I heard it was tasty.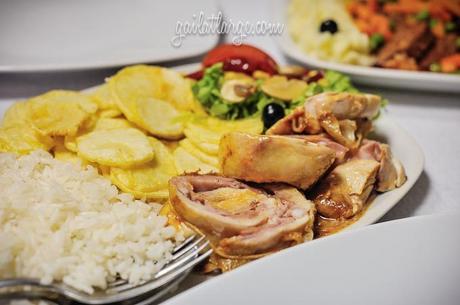 roti de frango (chicken roulade)
A heads-up to anyone who can't/doesn't eat meat of any kind, because in Portugal the word carne generally covers just red meat, and you might still be served up variants of meat such as frango / peru / porco / peixe (chicken / turkey / pork / fish).
The next dish — lingua, or beef tongue — had better reception. I sampled it, and the texture was good (not rubbery), the sauce had a good strength. My main quibble was that they used canned mushrooms in the salad, but that's one of my pet peeves (fresh mushrooms or none!). That said, this is a taberna, after all. It's not fine dining, and the prices at Taberna Santo António are reflective of that. The menu is short, maybe 10 items, all under 10 euros and most in the range of five to eight.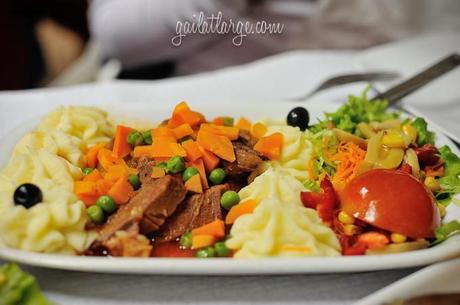 lingua (beef tongue)
When it came time for dessert, we were all pretty full but entertained a look at the dessert menu. When I asked if the bolo de bolacha was homemade, the owner pretended to be insulted.
"Everything is homemade!"
We ordered two desserts between three of us. I told him I had high expectations for the bolo, but afterwards when he asked me how I liked it, I was honest and said it was good (I ate it all) but it still didn't beat my favourite one in Peso da Régua. I don't think he believed that one could be better, but then again he didn't see the wonderful concoction that Paulo whipped up. Now that's a bolo de bolacha! The Taberna's version has fewer layers, lacks cream, and while I do like coconut, it doesn't need coconut. It was also on the sweet side. But you may prefer it that way.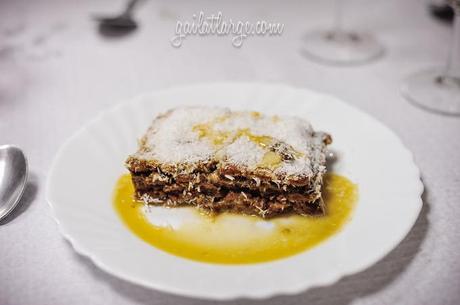 All told, our outing to Taberna Santo António was mostly a success, and the bill was exceptionally small for dinner: €33.30 for three people, including wine and appetizers (of which we ordered extra) and dessert. I will definitely return to try more of their fare.
ONE FINAL NOTE: Taberna Santo António is VERY popular, and although they take reservations, they don't push people along so you might still have to wait for a table if you book during peak times.
Taberna Santo António (Facebook)
Rua das Virtudes 32
4050-630 Porto
Phone: 22 205 5306
May 20, 2016
Album: Portugal [Spring 2016]