By Susan Duclos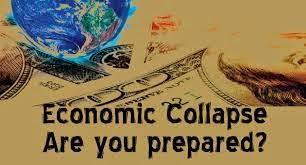 The US has just suffered the "
worst Q1 GDP since recession
," with a revision downward of negative 2.9 percent, from January to March, according to the Bureau of Economic Analysis, making it the "weakest quarter for the U.S.
economy
since the Great Recession".
There is no recovery, there has been no recovery, there has been an "illusion" of recovery using manipulated numbers and schemes in order to prevent the general public from understanding that the crash, the meltdown, the collapse is here, now.
Of course the White blames..... the weather, which was succinctly debunked by Stephen Moore from The Wall Street, with
one simple tweet
:
Winter 1985 was colder than winter 2014; #GDP expanded at 4% rate in Q1 1985- plunged 2.9% in Q1 2014. #GDP #Vortex pic.twitter.com/7gL2kPi8KS
— Stephen Moore (@StephenMoore) June 25, 2014
Exports dropped by 8.9 percent, real sales dropped by 1.3 percent,  and business investment dropped as well. A horrible report across the board.
According to Tyler Durden at
ZeroHedge
, this is the worst report since 2009 and "far below the worst expectations."
Via the report itself:
The decrease in real GDP in the first quarter primarily reflected negative contributions from private inventory investment, exports, state and local government spending, nonresidential fixed investment, and residential fixed investment......
More explained in the videos below about how bad this really is and what to expect.
Sign Up To Live Free or Die and Susan Duclos' News Letter! For all our latest articles delivered once a day.