Kathleen Joyce, intern in American Art's Research and Scholars Center, recaps our symposium American Art in Dialogue with Africa and its Diaspora made possible by the Terra Foundation for American Art. The symposium took place on October 4-5, 2013. If you missed it, view the webcast of the entire event.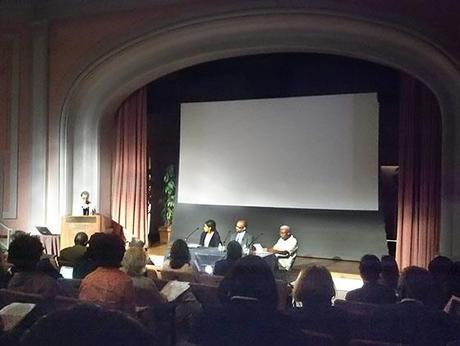 Renée Ater, Associate Professor of Art History, University of Maryland, College Park, responding to presentations by (from left to right): Krista Thompson, Associate Professor of Art History, Northwestern University; Tobias Wofford, Assistant Professor of Art History, Santa Clara University; and Ikem Stanley Okoye, Associate Professor of Art History, University of Delaware. Photo by John Bowles.
Not even the government shutdown could stop our symposium American Art in Dialogue with Africa and its Diaspora from taking place on October 4th and 5th. Though the Smithsonian American Art Museum was closed, the National Museum for Women in the Arts saved the day by generously offering us the use of its auditorium. Museum directors Elizabeth Broun of the Smithsonian American Art Museum and Johnnetta Cole of the National Museum of African Art welcomed an enthusiastic group of 175 scholars, artists, collectors, and students from across the United States, Europe, and Africa. Attendees filled the NMWA's auditorium to discuss Africa's influence on American art. The intimate venue encouraged attendees to mingle and actively engage with each other's work.
The speakers delivered papers on a wide variety of topics, from nineteenth-century portraiture to the influence of African textile design on contemporary art. While most speakers examined the contributions of one or two artists in context, Krista Thompson presented a new methodology she termed "critical fabulation"—postulating what might have happened to light artist Tom Lloyd in an alternate history of his career. Her unusual paper demonstrated an inventive mode of scholarship that could shed light on previously invisible artists.
There were resonances between many of the talks. University of Delaware professor Camara Dia Holloway spoke about photographer F. Holland Day's 1897 self-portrait posed next to an exoticized black male nude. She engaged both with the tonal and compositional details of this particular photograph as well as Day's oeuvre in its late nineteenth-century context, working on both micro- and macroscopic levels. James Smalls seemed to pick up where she left off, discussing the influence of Senegalese dancer and muse Feral Benga on the modernist imagining of the African male body. University of Maryland's David C. Driskell opened Saturday's talks by highlighting the role African artistic forms and practices have played in his own work, while Rebecca Keegan VanDiver turned her attention to former Howard University professor Loïs Mailou Jones' "routes to her roots."
The audience and the speakers made for a diverse group: scholars and students of American, African American, and African art from three continents were able to meet and compare notes. Amelia Goerlitz, the event's organizer, says that she could not have pulled it off without the aid of many museum interns, volunteers, fellows, and trust-funded staff members. The government shutdown, which coincided with the scheduled symposium, was quite a curveball, but in the end proved no match for the quick thinking and positive attitudes of the organizers and participants. Thanks to their hard work, everything went off without a hitch!